Rural Health Research Support Network
Evidence is lacking on the best practices for community-engaged translational research in rural communities associated with underserved, multiethnic, and vulnerable populations. The U.S. Census Bureau defines rural areas as all territory outside of defined urbanized areas that can have population densities that range from 1-999 persons per square mile. Nineteen percent of the U.S. population and over 95% of the land area were classified as rural. In New Mexico, 30 of 33 counties are Health Professional Shortage Areas, and 60% of the population lives in rural communities. Living in rural America is associated with health disparities not seen in urban areas, and only 10% of physicians practice in rural areas. CTR is a complex and multifaceted science and methods to accelerate it in rural populations are needed. These vulnerable populations need to be represented in translational research, but methods to engage rural providers and community populations in translational research are not well defined.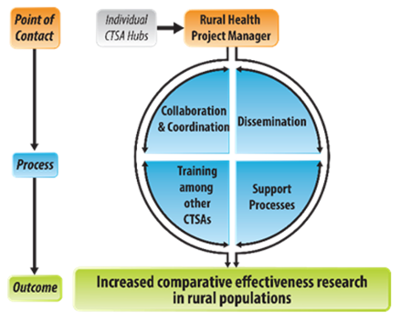 The goal of the Rural Health Research Support Network (RHRSN) is to build productive collaborations to address rural health priorities and accelerate best practices into rural communities. This goal aligns with the UNM CTSC mission and IOM Report to "engage communities in all phases of clinical and translational research."
We propose to leverage the rural health expertise of the UNM, Utah, KUMC, and UNC CTSA hubs by forming a network that will serve the entire CTSA Consortium. This network will experimentally determine the best methodology for recruiting rural populations into research projects and performing rural translational intervention research studies.
Our objective is to make the RHRSN an efficient and sustainable infrastructure that can deliver rapid-response best-practice methodology to perform translational research in populations and primary care practices serving rural, underserved, multi-ethnic populations.