SCAETC Education & Training
The South Central AIDS Education and Training Center offers comprehensive, collaborative educational opportunities designed to increase the size and strength of the HIV clinical workforce, improve outcomes along the HIV Care Continuum and reduce the incidence of HIV infection by optimizing rates of virologic suppression.
Don't see a training opportunity that you're looking for? Contact the SCAETC Central Office and we will work with our Regional Partners to possibly offer support.
Access Your SCORE Dashboard
The South Central Online Registration and Evaluations (SCORE) database is utilized by partner sites to manage training events and evaluations, as well as by training participants to manage their individual user accounts.
Local Partner Site Program Coordinators SCAETC Participants: Dashboard
Training Events
Browse our Training Calendar to see events happening this month in your area!
Simply click on the event that interests you and you will be taken to a page to learn more about it and to self-register.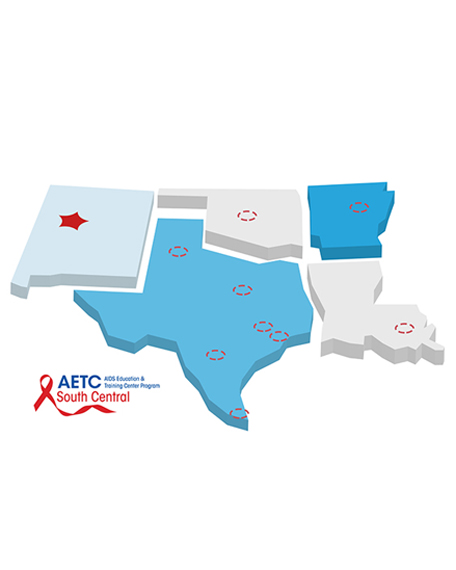 About SCAETC
The South Central AIDS Education & Training Center (SCAETC) is one of eight regions and two national centers, covering all 50 states, U.S. Territories and Jurisdictions. We are a member of the National AIDS Education and Training Center.
The SCAETC serves Arkansas, Louisiana, New Mexico, Oklahoma, and Texas through its central office and regional partners.
This project is supported by the Health Resources and Services Administration (HRSA) of the U.S. Department of Health and Human Services (HHS). Under grant number U1OHA33225 (South Central AIDS Education and Training Center). It was awarded to the University of New Mexico. No percentage of this project was financed with non-governmental sources. This information or content and conclusions are those of the authors and should not be construed as the official position or policy of, nor should any endorsements be inferred by HRSA, HHS, or the U.S. Government.