Stay Involved
As a graduate of the University of New Mexico College of Nursing, you have a deep understanding of our commitment to providing exemplary and innovative education, research, practice, service and leadership. We prepare nurses to improve health one patient at a time — at state, national and global levels.
Our continued success is possible thanks to the generosity of alumni and friends who share your vision and invest in our future.
College of Nursing Priorities
The University of New Mexico and the College of Nursing are dedicated to changing lives.
Whose life will you change? Explore your options.
Student Scholarships
A great nursing education requires a significant investment. When you help alleviate students' financial burden, you make a powerful impact on their ability to complete their education. Students are our top priority.
Additional Priorities
Other priorities include:
Faculty and staff development
Faculty research
Academic program support
Ways to Give
Invest in UNM College of Nursing with a gift to the UNM Foundation. Choose the method of giving that's most comfortable for you:
Send a check payable to the UNM Foundation to:
College of Nursing 
1 University of New Mexico 
MSC07 4380 Box 9 
Albuquerque, NM 87131
If you'd like to designate your gift for a specific College of Nursing fund, write the name of the fund on the check's memo line.
Contact Us
To contribute to student success, program development and improved health care in New Mexico communities contact:
Marlena Bermel, MBA
Director of Alumni Relations
505-272-4438
Connor J. Adams, MA
Director of Development
505-272-0200
Signature Events for Alumni & Donors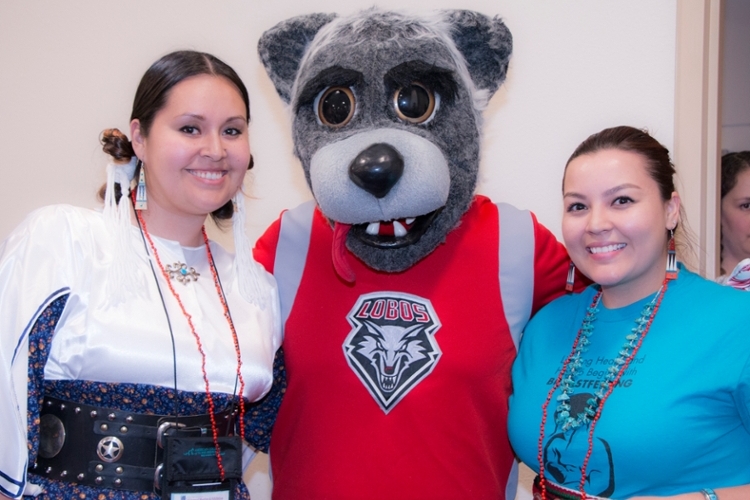 College of Nursing Alumni Students Nichelle Salazar and Brittany Simplicio pose with Lobo Louie
Reconnect with former classmates and fellow supporters at our annual events.
Dean's Reception
In appreciation of generous donors like you, the dean hosts an annual spring reception for them and their beneficiaries. It is a wonderful opportunity for donors, students, and faculty to gather and celebrate the continuing success of quality nursing education.
Golden Grads
Each year, UNM College of Nursing honors nurses who graduated 50 years ago. Our golden grads are invited back to UNM to participate in a variety of activities such as the College's spring convocation ceremony as well as activities sponsored by the UNM Alumni Association.
Breakfast for Alumni Working at UNM Hospitals
Alumni employed by UNM Hospitals are invited to join the dean for breakfast. We'll have to-go foods if you don't have time to sit and eat, College of Nursing representatives discuss educational opportunities for advancing your career.
Alumni & Clinical Educator Award Reception
Each autumn, the college honors a distinguished alum, a new alum and outstanding preceptors at the undergraduate and graduate levels. The awards recognize the positive impacts these individuals have made in health care and nursing education.