Executive Vice Chancellor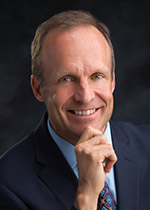 Roles of the Executive Vice Chancellor
As the champion for excellence across the Health Sciences Center, the Executive Vice Chancellor plays a key leadership role in developing and guiding the implementation of HSC strategic plans and programs. The EVC works closely with the Chancellor and an executive group of campus colleagues in guiding strategic and policy development, in promoting campus-wide academic initiatives and in defining budgetary and development priorities.
Innovative Leadership and Collaboration
The EVC directly reports to the chancellor, and works with an extensive group of campus colleagues in:
Overseeing non-college, affiliated offices; Office of Public Policy, the Health Sciences Library and Informatics Center; the Privacy Office and the Office of the HSC CIO.
Overseeing non-college, affiliated centers; Center for Memory and Aging; Institute for Resilience, Health and Justice; and Center for Geriatrics.
Chairs the New Mexico state workforce analysis committee.
Serves on the Health System Executive Board.
Works closely with many units including the Office of Research, Office of Diversity, the Office of Community Health and the Office of Academic Affairs to fulfill the HSC strategic objectives.
Oversees and directs activities related to economic development in coordination with the VCR, including Healthy Neighborhoods Albuquerque and the Bioscience Authority Unit at the HSC.
In coordination with the HSC Deans, coordinates strategic educational and research activities in colleges and schools.
Leadership of numerous special projects.