Anesthesiology Residency
Continue your medical school training with an ACGME accredited anesthesiology residency at the University of New Mexico.
UNM's anesthesiology residency program has produced a steady stream of excellent graduates who practice across the nation in both private and academic environments. Our graduates are fully prepared to enter a variety of careers including:
Academic medicine
Additional fellowship training in a subspecialty
General anesthesiology practice
Your UNM residency will last four years—one year of a transitional internship and three years of clinical anesthesiology rotations.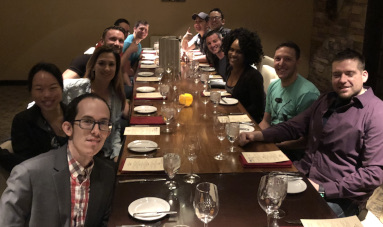 Hone Your Expertise
Take the next step in your medical journey. Choose UNM for your anesthesiology residency. 
Train with Experts
Combine science and clinical research at our laboratory. We run an ASA-accredited MOCA simulation center that trains residents in real world crisis management skills.
Currently, we offer eight spots per year in clinical anesthesia. The Department of Anesthesiology employs a ratio of 2:1 of faculty members to residents. In addition, the Department of Anesthesiology employs midlevel providers. Our faculty represent all subspecialties of anesthesiology.
During your residency, you may train at one or more of these sites:
UNM Hospital, the state's only Level I Trauma Center
Outpatient Surgery and Imaging Services
Residency Program Options
There are two options for residency:
You may apply for a spot in our categorical program where you will complete the transitional year as well as three advanced years at UNM.
If you have completed an internship or transitional year elsewhere, you may apply for an advanced spot to complete only three years at UNM.
After finishing your internship year, the clinical anesthesia (CA) years will begin. Residents begin with a one-month orientation that includes closely supervised time in the operating room (OR) combined with multiple days of simulator practice.
What You'll Learn
In the first year of anesthesiology training, you will be incrementally exposed to challenging surgical anesthetics. The first month is a one-on-one orientation period with close supervision and additional specialized daily didactic sessions.
The majority of the first year is spent in the main operating room of UNM Hospital. However, you will also rotate through obstetrics, the Outpatient Center and SRMC. Additional subspecialty months during the CA1 year include airway, neuroanesthesia and acute pain service.
In the second year of anesthesiology training, you will be required to do subspecialty rotations. Typically, you will gain knowledge and experience in:
Advanced airway management
Cardiothoracic anesthesia
Critical care
Neuroanesthesia
Pain management
Pediatric anesthesia
Postoperative care units
Regional anesthesia 
The CA3 year is designed to allow you to:
Deepen knowledge through special projects and advanced didactics
Experience more complicated and advanced cases
Hone in on areas of specific interest
Participate in research
Prepare for independent practice
Contact Medical Education Program
Medical Education Program Specialist
Rossela Martinez
Department of Anesthesiology & Critical Care Medicine
UNM Hospital
2211 Lomas Blvd NE
Are you a patient looking for care?