Internships For Undergraduates
What better way to prepare for your nursing career then to jump right in? An internship allows you to do just that. Explore a specialty, develop professionalism and practice communication and collaboration skills.

As an intern you will work with a nurse preceptor, perfect your skills and experience the daily realities of this challenging and rewarding profession.
Becoming an Intern.
To be an intern, you must be:
A student in good academic standing at the UNM College of Nursing.
Level 4 or 5 UNM HSC Albuquerque or Rio Rancho BSN students. Level 5 only CNM/UNM, Valencia/UNM and SFCC/UNM dual enrollment students. The intern program is limited to no more than 2 semesters.
Hired as an intern by UNMH and complete all required items as defined by the hospital.
Available to work a certain number of shifts per week/month/semester. Requirements are dictated by UNMH.
Enrolled in the Nurse Intern Professional Knowledge Development course (N421 for level 4 students, N422 for level 5 students).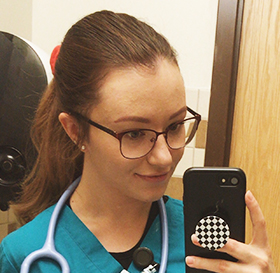 Being a Nurse Intern taught me patience, planning, and prioritization. If I could offer only one piece of advice about nursing school, it would be to get a nursing internship!
—
Mikayla Hernández-Boyd, RN
, BSN 2020
How to Apply?
Internship hiring happens once a semester. Check out the UNMH Career Center for available positions.
For information regarding eligibility and the internship course, please contact Maggie Faber. 
For information regarding the application and hiring process, or to inquire about hiring units, please contact Karim Kassam.
We have high expectation of our internship facilities.
You should expect the facility to hold to these standards.
The facility must have a clinical faculty member to oversee the interns.
A preceptor must be identified on hire.
The expectations of the preceptor include assessment of patient status, assessment of intern performance, being available for assistance and questions, checking meds and completing the intern evaluation.
The preceptor must complete an evaluation of the student, which will be based on the CBO, or similar document. It is understood that the CBO is not expected to be completed, but that progress is made through the program.
If an appropriate preceptor is not available to the student, that student should consult the nurse educator immediately. If the problem persists, the nurse manager and the faculty will consult keeping the executive director of that unit involved in the discussions. If an adequate preceptor is not available or the problems persist, the intern is required to transfer to another unit.
Our Internship Contact
Maggie Faber, MSN, RN, PCCN
Lecturer 1
College of Nursing
Building Number 228 Office 237
1 University of New Mexico