Scholarship & Fellowship Opportunities
HSC Ethics is committed to pursuing conceptual and empirical scholarly endeavors. We promote opportunities that broaden our perspectives about the human condition and seek to expand existing inquiries related to special populations.
Scholarship
Current topics of study include
Ethical aspects of hospital-based care
Ethical aspects of rural health care
Cross-cultural understanding of ethics
Psychiatric ethics
Ethics in healthcare training
Ethics and Covid-19
Medical decision-making
End of life ethical issues, including Aid-in-Dying and suicide
"The current climate of health care rising costs, increasing lack of coverage, a focus on medical mistakes and 'physician flight' to name a few illustrates the great need for a rigorous interdisciplinary approach to issues that affect us all, personally and professionally."
—
Dr. Joan Gibson
, Retired Senior Bioethicist for HSC Ethics
Travel Fellowship
The David and Judith Bennahum Medical Humanities Travel Fellowship is an initiative sponsored by a generous gift from Drs. David and Judith Bennahum and Dr. Ernest and Mrs. Eve R. Simon. Their vision is to provide opportunities for physicians in training and junior faculty to expand their knowledge of the arts in order to broaden their perspectives about the human condition.
The fellowship provides up to $2,000.00 for travel to a medical/humanities conference, workshop or project. Varied numbers of learners will be selected each year dependent on available funding.
Awardees must be medical students enrolled at UNM School of Medicine, participating in a UNM SOM residency or fellowship program or be a non-tenured SOM junior faculty member who has been in their position for three years or less.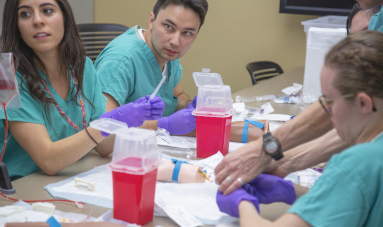 Create Learning Experiences
Awarded yearly, the fellowship provides opportunities for UNM School of Medicine physicians in training and junior faculty to have practical experiences in the "art of medicine," a complement to the science of medicine.
Previous Awardees
2019 - 2020:
Dorothy Bowers Wu (MS2) Neurological Music Therapy Training, Aurora, Colorado.
Olivia Shadid MD (Department of Psychiatry) To create a training video of best practices for mental health evaluation of asylum seekers.
2018 - 2019:
Tomoko Hamma, D.O., Ph.D., Child and Adolescent Psychiatry Fellow, attended the Expressive Therapies Summit in Los Angeles, CA in 2020 to learn more about these art therapies with plans to incorporate these therapies at the Children Psychiatry Center in collaboration with the Art in Medicine program and to teach fellow colleagues about this holistic approach.
Jillian Moore, MD, PGY-1, Family & Community Medicine conducted anthropological research on death, dying, and palliative care in rural Guatemala and wrote about these experiences through an ethnographic account and book of poetry in fall of 2019.
Glenda Lopez Portillo, MD, PGY2, Zachary Pek, MD, PGY1, and James Vondenberg, MD, PGY1, all from Internal Medicine attended the Taos Writing and Wellness Retreat for Health Professionals with the goal to learn and develop their creative writing skills.
2017 - 2018:
James Cotton, MD, PGY-2, emergency medicine resident, attended the New York Film Academy Hands-On Intensive 1-Week Filmmaking Workshop to develop his filmmaking skills with the hope to create films about the state of health care.
Megana Dwarakanath, MD, PGY-1, pediatrics resident, attended the Disquiet International Literary Program in Lisbon, Portugal to develop her writing and collaborate with other writers.
2016 - 2017:
Ellen Walford Hatch, UNM SOM MSII, MD, PhD candidate, used interviews and photography with a project goal of transforming how the Albuquerque homeless are viewed.
Erin Rush Ortegon, MD, PGY-1, psychiatry resident, visited and learned about the Creedmoor Psychiatric Center and Living Museum in Queens, NY, with a goal to replicate the project here.
Ariel Scott, MD, PGY-3, family and community medicine resident, attended the Taos Writers Retreat, with an ultimate goal to integrate and embed narrative medicine into the current medical education curriculum.