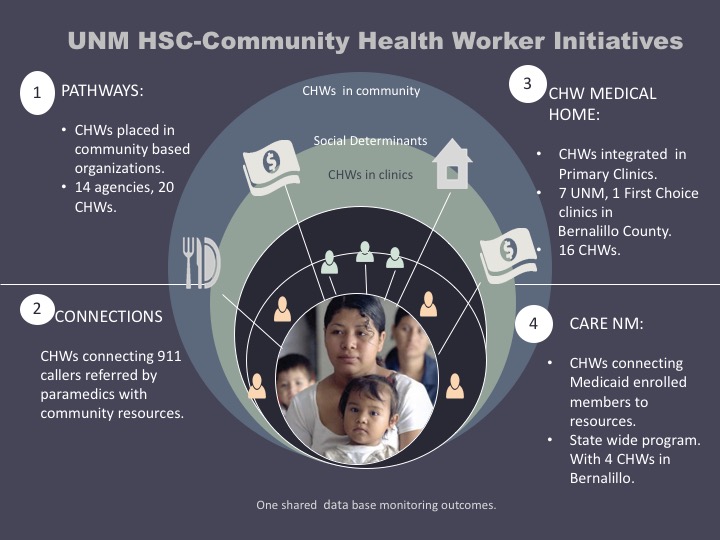 The Community Health Worker Initiatives Unit was created in 2014 as part of the University of New Mexico, Office for Community Health with the mandate to design, implement and evaluate projects that utilize Community Health Workers (CHWs) as a strategy to increase New Mexican's well being, promote health equity, and minimize the negative impacts associated with the social determinants of health.
According to the American Public Health Association, a CHW is a front line public health worker who is a trusted member of and/or has an unusually close understanding of the community served. This trusted relationship enables the CHW to serve as liaison/intermediary between health/social services and the community to facilitate access to services and improve the quality and cultural competence of service delivery.
The CHWI oversees several innovative programs that engage the support of CHWs to address community health issues primarily impacting low-income populations. Some of our programs are statewide in scope and some are based only in Bernalillo County.
The programs implemented in Bernalillo County are part of a comprehensive system and every one of them serves as an entry point for underserved families to get connected with needed resources. A resident of Bernalillo County may be seen by a CHW who is working for any of the 14 agencies that are part of the Pathways network, or may be referred to one of our Connections CHWs from a Paramedic responding to a call from 911, or may come to one of the clinics where we have CHWs, or may be seen by one of our CHWs doing home visits on behalf of one of the Managed Care Organizations that contract with us. Whatever the entry point, this person is going to be screened for social needs and will be connected to services and resources in the community by one of our team members. The CHWI is in the process of developing a database to track outcomes achieved by those individuals being seen by one or more of our programs. The Pathways Program already has such a system in place.
We believe that the system we have developed in Bernalillo County is replicable in other parts of the state and our Unit is making efforts to pilot some of these programs in other counties with the hope that communities learn from our approaches and decide to replicate them.
Our Programs
Pathways to a Healthy Bernalillo County
Through a network of approximately 20 community health navigators (CHWs) employed by the 13 partner organizations contracted by our office, Pathways focuses its efforts on identifying and working with the most difficult-to-reach residents of Bernalillo County, and connecting them to a wide variety of health and social services. This program follows an outcomes-based step-by-step national model (Pathways). Our office serves as the "Hub" and provides ongoing training and support of the CHWs, collects and analyzes data to ensure that participants of the program are having many of their needs met, and addresses system problems that inhibit access to these important services. The Program is funded by UNM Hospital through funding received from the Bernalillo County mill levy. Pathways to a Healthy Bernalillo County Web Site
Community Access to Resources and Education (CARE NM)
Through contracts with Managed Care Organizations (MCOs) our office employs twelve (12) CHWs covering 13 of New Mexico's 33 counties. The CHWs find and connect high-risk Medicaid Centennial Care enrollees from around NM with resources aimed at improving their health, reducing Emergency Department visits, hospitalizations, and drug costs. The CARE NM model has been adopted by Federally Qualified Health Centers across NM that receive their own contracts from Medicaid MCOs. Community Access to Resources and Education (CARE NM) Web Site
Connections
Through a partnership between our office and Albuquerque Ambulance Services, New Mexico Highlands, and New Mexico State University, undergraduate and graduate level Social Work students work with community members referred by Albuquerque Ambulance's paramedics, and connects them with a variety of health and social services aimed at improving their health and decreasing their over-utilization of 911 services. Connection Web Site
Integration of CHWs in Primary Care Clinics
Our office, in partnership with MCO's and primary care clinics in NM, places CHWs side by side with healthcare personnel from participating clinics to educate, support and connect their patients with needed resources. As part of this effort the Office for Community Health has created a "Social Determinants Prescription Pad" — a tool that allows health care providers to identify non-medical social determinants for each patient and refer her/him to CHWs co-located at the same healthcare clinic. This tool is being used in the five clinics where our CHWs are co-located: In Bernalillo County - First Choice Community Healthcare in the South Valley, and three UNM Hospital primary care clinics (South East Heights, Southwest Mesa and North Valley), and two Hidalgo Medical Center clinics in Grant and Hidalgo counties. Integration of CHWs in Primary Care Clinic Web Site
Health Promotion and advocacy through CHWs
In addition to these core programs, the CHWI unit also employs CHWs to do outreach, health promotion and work as advocates for systemic change. Currently we have three CHWs concentrating their efforts in three geographic regions of Bernalillo County (Southeast Heights/International District, South Valley and Pajarito Mesa). These CHWs are collaborating with multiple partners in Bernalillo County who are part of ""Healthy Here," the locally defined name for the Centers for Disease Control and Prevention (CDC) REACH (Racial and Ethnic Approaches to Community Health) grant. Healthy Here is a collective impact initiative in Albuquerque/Bernalillo County that is committed to reducing chronic disease in the Hispanic/Latino and Native American populations in the International District and South Valley through environmental and systems changes that increase access to healthy food, physical activity and self-management of chronic disease. Partners include Presbyterian Healthcare Services (PHS), Bernalillo County, First Choice Community Healthcare, the International District Healthy Communities Coalition, Adelante Development Center, and numerous other partners.
Another geographic area where we currently have CHWs working on advocacy and Health Promotion is Pajarito Mesa in the Southwest area of Bernalillo County. This community is an unincorporated "Colonia" similar to the ones along the U.S.- Mexico border that lack adequate infrastructure, such as roads, water and sewage, and have a large immigrant population with high rates of poverty. We estimate that at least ninety percent of Pajarito residents are Latinos, primarily of Mexican origin, and most of them live below the poverty level. Pajarito also has high unemployment and under-employment rates, low educational levels, and frequent incidence of household food insecurity. Our CHW in Pajarito works with leaders of this community and a group of volunteer healthcare providers to connect residents to resources and information and to engage in community level processes to identify solutions to their problems. The volunteer Healthcare providers (MDs) come once a month to provide free healthcare out of a mobile van furnished by Blue Cross Blue Shield of New Mexico. Our CHW connects patients seen by these doctors with resources. Our CHW also coordinates food distribution once a month (the same day the mobile clinic comes to Pajarito) through a collaborative with Road Runner Food Bank.