Pathways is designed to reduce unmet needs, address health inequities, and improve the overall health of the residents of Bernalillo County. It focuses on positive health outcomes by utilizing community health navigators as care coordinators who connect at-risk residents to resources and follow their progress toward improved health outcomes. Meaningful outcomes for the clients are reached by following a step-by-step approach (Pathways). While individual clients attain improved health, common systems issues are also brought to light and result in stronger service coordination.
Below is an info-graphic illustration demonstrating evidence on how completion of certain pathways, not usually considered health-related, actually result in a positive health impact for individuals who obtain housing, steady employment, or additional educational opportunities.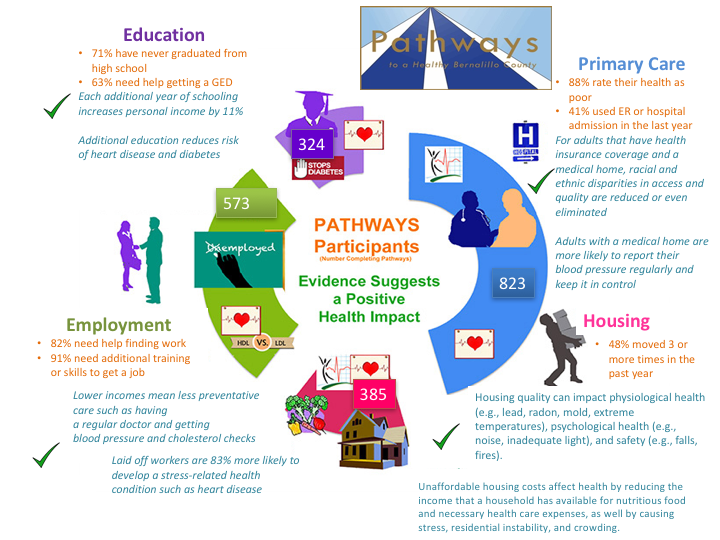 Pathways: A Model With Great Return on Investment
Since November, 2015, the Pathways Program has contracted with a local Health Economist, Dr. Kelly O'Donnell, to conduct a cost-benefit analysis on specific pathways frequently utilized with our program. Through her research, Dr. O'Donnell has produced the following Return on Investment documents directly below. If there are questions pertaining to these documents, Dr. O'Donnell can be reached at: kodonnell@unm.edu
Education: It Matters More to Health Than Ever Before
The video below by the Robert Wood Johnson Foundation illustrates the positive impact of having an education on a person's health.
Read more about the RWJF and the Virginia Commonwealth University Center on Society and Health's Education and Health Initiative study...
Related Information
"In order to significantly and permanently improve educational outcomes in our state, New Mexico must address child poverty. New Mexico consistently has some of the highest rates of child poverty in the country. The vast majority of New Mexican children are low-income. At the same time, New Mexico's schools consistently rank at the bottom of national averages on educational achievement and graduation rates. Child poverty and low educational outcomes are directly related. Research over the past 40 years has shown that poverty has a direct impact on cognitive development, resulting in low-income children starting school less ready to learn than higher-income students. In fact, economic status is the best indicator of a child's success in school..."
"The RWJF Commission to Build a Healthier America emphasized three areas essential to improving the nation's health: increasing access to early childhood development, revitalizing low-income neighborhoods, and broadening the mission of health care providers beyond medical treatment."
Below is an example of one of the many charts and graphics on the RWJF site. This graphic illustrates how parent's income can affect a child's chances for good health.