Focus Areas
Training
Our unit has developed curriculums and trained CHWs to advocate for individuals and communities, and has also trained community agencies, institutions and practitioners to better understand and value the work of CHWs.
As part of our training efforts we have developed:
Training for Primary Care Clinics to work with CHWs
CHWs' have identified a near-universal barrier to their work -the unfamiliarity of the healthcare system with the multiple roles that CHWs can perform, and adequately valuing their abilities as an integral member of the health team. As a result, the CHWI developed a curriculum to train primary care providers to work side by side with CHWs. We used the curriculum to train healthcare providers from the clinics at which we have integrated CHWs, and are available to train other clinics.
Train-the-Trainer curriculum
Spear-headed by a grant from Molina Healthcare, a curriculum was developed by the UNM Office for Community Health and our own CARENM to train staff members of this MCO in 11 states. For more than two years now, utilizing this training manual, one of the CHWI staff members had traveled to several states to conduct in-depth training to Molina's supervisors do they can train their own Field Support Coordinators (CHWs).
Collaboration
Our unit participates actively in different efforts at the local, state and national levels to increase awareness of the value of CHWs in reducing health inequities.
These are a sample of some of the networks members of our unit are part of:
Bernalillo County Community Health Council (County wide effort)
Building Movement Project (National effort)
NM CHW Advisory Council (Statewide effort)
NM CHW Association (Statewide effort)
Healthy Here (REACH Grant for Bernalillo County)
Health Systems Innovation (SIM Grant-Statewide effort)
J Paul Taylor Early Childhood Task Force (Statewide effort)
Community Health Access Project (National Pathways effort)
South Valley Partnership (Local effort)
International District Healthy Community Coalition (Local effort)
NM Public Health Association (Statewide effort)
Albuquerque Ambulance
Research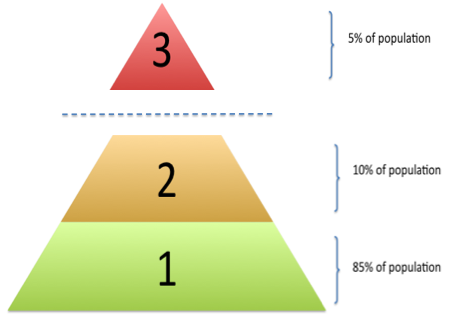 Community Health Workers and Medicaid Managed Care in New Mexico
An example of our work with CHWs and our evaluation efforts was captured in an original paper authored by several members of our team. This article describes the cost effectiveness and impact of CHWs who connect Medicaid enrolled members of MCOs with resources and education. The article summarizes a study on a sample of 448 enrollees who were assigned to field-based CHWs in 11 of New Mexico's 33 counties. The study concluded that there were significant reduction on both numbers of claims and payments after the CHW intervention. The article, Community Health Workers and Medicaid Managed Care in New Mexico, was published in J Community Health (2012) 37.