Hub Research Capacity (HRC)
Meaningfully engages and integrates special populations across the lifespan in all aspects of CTR, as well as to provide a comprehensive means to support participant and clinical interactions
About Hub Research Capacity (HRC)
HRC provides an infrastructure that enables efficient and effective support of clinical trials and participant enrollment, with emphasis on engaging special populations (pediatric, geriatric, racial/ethnic). HRC's efforts extend to participants who are geographically isolated (rural and frontier) or are otherwise hard to reach. HRC also includes a highly trained research staff to assist with recruitment, study performance, and regulatory assistance, thereby improving the efficiency of recruitment and enrollment and minimizing reportable compliance issues. HRC expands their already robust stakeholder involvement to provide rapid and responsive feedback, and advance community priorities to increase both investigator and participant satisfaction.
Provide exceptional services performed by highly trained staff so clinical trials and interventional studies are performed efficiently, effectively, ethically, and with low error rates, and inclusive of all special populations.
Provides a participant-centered environment that raises awareness, facilitates involvement, and is highly communicative. ISP also ensures that CTR breakthroughs are quickly translated and generalizable to benefit all New Mexico population. Successful inclusion requires community–researcher partnerships, stakeholder engagement, and understanding of participants' diverse contexts. The ISP team focuses on reducing logistical complexities and regulatory burdens. UNM CTSC will provide services, resources, policies, and procedures to overcome barriers and coordinate ISP activities across UNM HSC.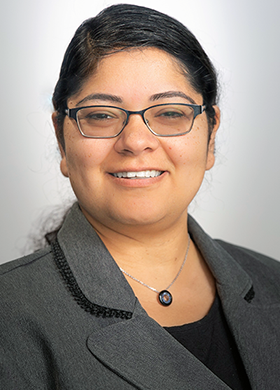 Associate Director, CTSC

Lead, Hub Research Capacity

Lead, Integration of Special Populations 
—
Nancy Pandhi MD, PhD, MPH
Request CTSC Services
CTSC Research Concierge

CTSC Research Concierge • 505-272-3183

CTSC Administration Office
900 Camino de Salud NE
Albuquerque, NM 87131
Phone: 505-272-6042