Giving to HSLIC
Generous donors like you help us support HSC students, faculty, researchers and New Mexico citizens. We are grateful for any amount towards our efforts. To donate, please use our secure online donation form.
Gifts are used to provide on-going library resources for UNM's Health Sciences Center community. Our resources are used by students, faculty and staff in the School of Medicine, College of Nursing, College of Pharmacy and College of Population Health.
Our other area of focus is on health care information and outreach to New Mexico's health care practitioners and citizens.
Book Donations
We accept:
Books related to the healthcare field published in the last five years
Books related to the healthcare field with historical significance
Materials relating to the history of the UNM Health Sciences Center or to the practice of healthcare in New Mexico
Due to the labor-intensive nature of gift processing and university imposed funding constraints, we may not accept every book. We do not accept print journals, either bound or unbound.
If your materials do not fit the donation criteria above or HSLIC has declined your gift, there are other donation programs you may want to investigate. Consider donating to the City of Albuquerque or through an international donation program.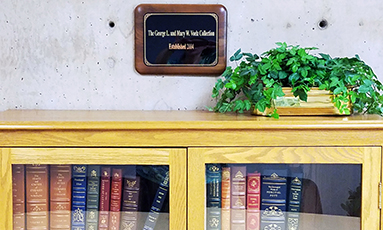 Book Donations
We recognize the importance of donations to fill gaps in the collections. Gifts that are timely in content and/or relevant to the HSLIC mission can provide depth to the collections, and may replace missing or damaged volumes.
Endowments 
An endowment is a type of gift that supports students, faculty and programs over an extended period. HSLIC invests the principal of the gift and uses a portion of the return each year to support the school, college or program that you designate for your gift.
By establishing a HSLIC endowment in your name or the name of a loved one, you will be supporting health care providers and students who depend on HSLIC's services. Annual payouts from your endowment will fund much needed initiatives that we would not be able to afford otherwise.
Demonstrate your commitment to HSLIC's mission and initiatives
Continue your legacy of support for our future health care providers for many years to come
Allow HSLIC to plan more confidently for the future.
HSLIC's Endowments
HSLIC has several established endowments you can contribute to, increasing the value of the corpus and the annual payouts HSLIC may use to purchase additional collection resources.
Read about three of HSLIC's current endowments.