HSLIC Endowments
HSLIC currently has three endowments. If you wish to learn more about any of the endowments or to donate to an endowment, please call the HSLIC Executive Director's Office at 505-272-0635.
Larry & Nedra Gordon Endowment for Environmental Health
In 2005, Larry and Nedra Gordon perpetuated their contributions to environmental health in New Mexico by setting up an endowment for the Health Sciences Library and Informatics Center (HSLIC). The endowment enables HSLIC to purchase library resources and promote new initiatives in the area of environmental health.
Mr. Gordon's career encompassed nearly every major aspect of environmental health and protection and of public health programs and agencies in New Mexico from 1950 to 1988.
Waldo H. Rogers Memorial Fund
The Waldo H. Rogers Memorial Fund is HSLIC's longest-standing established fund to support collection development. The fund, set up in 1964 by Mrs. Waldo H. Rogers (Evelyn), supports the purchase of books and materials in the area of forensic medicine.
Waldo Rogers began his distinguished law career in 1931 as a junior partner in the law offices of former New Mexico Governor M.C. Mechem. Mr. Rogers held several positions and appointments throughout his career, becoming a member of the New Mexico judiciary in 1951. He was appointed United States District Judge in May 1954 and held that position until his death in 1964.
George L. & Mary W. Voelz Endowment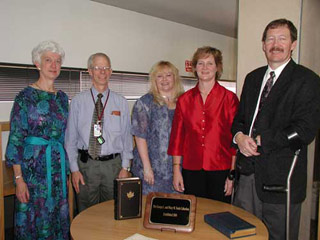 The George L. and Mary W. Voelz Endowment was established in 2004 to support the ongoing subscription costs to the Classics in Medicine Library. To inaugurate this effort, Dr. and Mrs. Voelz gifted nearly 200 volumes from the Classics in Medicine Library.
George Voelz, M.D., was an adjunct faculty member of the UNM School of Medicine. A resident of Albuquerque from 1998 until his death in 2003, Dr. Voelz contributed to world knowledge on the health effects of plutonium through the Manhattan Project Plutonium Workers and National Plutonium Workers Studies, based on his research as the Health Division Leader at the Los Alamos National Laboratory in the 1970s and 1980s.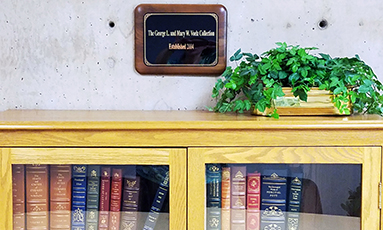 Dr. Voelz was a collector of the Classics in Medicine Library, which consists of leather-bound reprints of classical books from the history of medicine. This series of books retains the format and typeface of the original, making otherwise extremely rare materials available to today's readers. The Voelz Collection is housed in HSLIC Room 416.