Domenic A. Bruzzese, MD
Psychiatry
Bernalillo County Mental Health - Mental Retardation Center (UNM Psychiatric Center)
1939-1975
Education
Medical Degree: Georgetown Medical School
Internship: Benalillo County Medical Center
Written by Kathryn Fraser, MD with permission and information from Donna Bruzzese in October 2005
Dr. Bruzzese (pronounced Bru-zeez) was in the second group (1968-71) of psychiatry residents of the UNM Psychiatry Department, and after graduation he served as the Director of the Inpatient units at the then called Bernalillo County Mental Health Mental Retardation Center, now the UNM Psychiatric Center. He also worked in private practice with Alan Hovda, M.D. and did research with Robert Kellner, M.D. At the age of 35 he was diagnosed with pancreatic cancer and a few months later died of this illness on April 25, 1975.
"Dom" was married then to Donna Bruzzese and their four children were the ages of 10, 8, 6, and 4 at the time of his death. He was very interested in community outreach programs and was posthumously awarded one of the 1975 Brotherhood Awards, sponsored by the National Conference of Christians and Jews. Accepting his award for him, Donna said of her husband, that "loving his family and helping others were the most important things to him", and that he called himself an "eclectic psychiatrist, using anything that works to make that person well."
He was born July 28, 1939 in Steubenville, Ohio but his family moved to Las Vegas, Nevada, shortly afterwards and he grew up there, graduating from Bishop Gorman High School in 1957. Dom was an excellent student, and Donna recalled that as one of the best students, he was specially invited to watch the above ground nuclear testing that was being done in Nevada at the time. Sadly, of course, the radiation exposure may have contributed to the development of his pancreatic cancer at an unusually young age. Dom went on to Georgetown University in Washington, DC and graduated in 1961. He completed Georgetown Medical School in 1965. He did his internship at what was called the Bernalillo County Indian Hospital, then Bernalillo County Medical Center (now UNMH) in 1965-66, and then served as a lieutenant in the US Navy in 1966-68 before returning to Albuquerque to do his psychiatry residency.
As described by Donna, the psychiatry residency in the early days was a little like a big family. Robert Senescu, MD was the chairman: "charismatic, well-read, and liked being called 'Big Daddy.'" Donna recalls that he and his wife, Betty, would often have parties for the residents and spouses with seasonal swimming, dinner, and conversations about books. The faculty and residents often put on skits as part of their holiday parties, and a series of photos from that era shows Drs. Kellner and Senescu laughing heartily as then chief resident Dr. Bruzzese demonstrated some rather unorthodox teaching techniques, including one entitled the "laissez-faire" method!
Dom had a lot of fun in life, and when the artist, Beth Loring, painted the portrait in this room, she wanted to portray his love of life. Donna mentioned that when her husband posed for the portrait, he did not have a drink in his hand, but Beth painted in this glass of wine as a symbol for Dom's passion for people, causes, and life.
This room, formerly known as the Yucca Conference Room, was renamed in a dedication ceremony November 21, 1975 as the Dominic A. Bruzzese M.D. Memorial Room.
Donna Bruzzese, a psychotherapist in private practice, later remarried Jerry Ortiz y Pino, a Democratic state senator and social worker, and they work with the poor in El Salvador. Donna and Dominic's four children are all adults now, one in Chile, two in Durango, Colorado, and one in Albuquerque.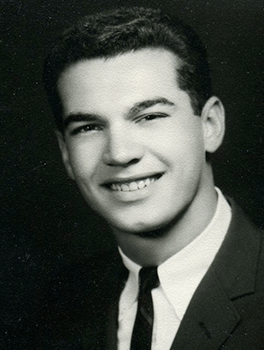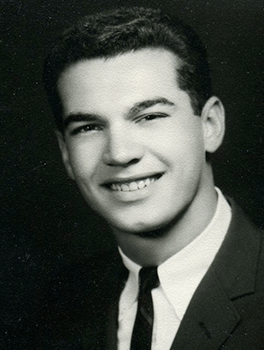 We have a "Bruzzese" conference room with a wonderful portrait and when some of us wondered who Dr. Bruzzese was, I found his widow and interviewed her for the information below, which is on a plaque in the room now. He was one of the first psych dept faculty.
—
Kathryn Fraser, MD
Additional Remembrances
I am the nephew of Domenic A. Bruzzese; I was named after him. I never knew my uncle personally; however, the amazing stories I hear about him resonate well with my passion to facilitate the growth and love of humanity. I recently went on a fishing trip with his son David and had the opportunity to learn more about my uncle's lifestyle and, furthermore, caught a glimpse of his personalized medical bag (brought tears to my eyes and warmth to my soul). I wish I could have met my uncle and shared in his brilliant conversations; however, I do not regret this missed opportunity, because his beautiful family diligently weaves the heart and soul of his embodiment into my daily routine. I hope only the best for Domenic and his loved ones.