The Dental Hygiene program at The University of New Mexico School of Medicine is a five-semester curriculum that starts in the spring semester. Each class of 24 students is selected through the Division of Dental Hygiene's admissions process.
Student selection is based upon grades in the pre-professional courses, state residency, work experience and a personal interview, whenever possible. Out-of-state applications are considered, but New Mexico residents receive preferential consideration. New Mexicans should be prepared to document state residency if requested to do so.
For additional information, including prerequisite requirements, read the attached brochure. BSDH Entry Level Brochure [PDF]
Application deadline Aug. 27, 2021, before 10 P.M. MST.
Official transcripts of all colleges attended.
A non-refundable application fee of $105 must be included with your application payable online at: TouchNet. Applications submitted without the application fee will be incomplete and will not be considered.
Verification of shadowing of a dental hygienist.
Completion of prerequisite requirements (first three semesters of DEHY curriculum). DEHY Entry Level Curriculum [PDF]
Apply for admission to UNM (if not already enrolled). This is a separate admissions process and requires a separate application packet from that of the Division of Dental Hygiene. You must contact the UNM Office of Admissions to obtain the correct information.
Transfer to the Division of Dental Hygiene (if already enrolled). Students transferring from another institution or those seeking admission to UNM for the first time must submit a formal application to the UNM Office of Admissions. Consult the UNM general catalog for information regarding application and transfer regulations. UNM pre-professional students accepted into the dental hygiene program who are registered in other colleges (such as University College or the College of Arts and Sciences) must transfer to the Division of Dental Hygiene in the spring semester of entry into the program. This means that Dental Hygiene candidates actually complete two separate application processes – one submitted to the University, with a second submitted to the Division of Dental Hygiene.
Complete application to the Division of Dental Hygiene through ADEA DH CAS online. Complete all portions of the online centralized application by the application deadline (September 1 of the academic year of anticipated enrollment in the Dental Hygiene program). Candidates are hereby notified that if any document is missing as of the deadline for application, the division cannot consider that candidate. Candidates are encouraged to begin this process early. Be aware that it takes considerable time for documents such as transcripts to be transferred from one institution to another.
Required Advisement
Sessions are held from 12 AM to 1 PM in room 261 at Novitski Hall on:
More Information
For more information about our bachelor's degree program, please contact Christine Nathe, at cnathe@salud.unm.edu. New Mexicans receive preferential consideration. Age, gender, disability, race, religion and/or national origin are not factors in admission considerations.
About transcripts: An overall grade point average of 2.4 or above on a 4.0 scale is required. Applicants without at least a 2.4 GPA will not be considered. A 2.4 GPA does not guarantee acceptance into the program, however.
About verification of shadowing or observation: Verification must be typewritten on official letterhead of the office/organization in which you have shadowed/observed. The letter should clearly state the hours and the name of the registered dental hygienist you shadowed or observed. Statements regarding the hygienist's opinion of your suitability as a dental hygiene candidate are also appropriate. The letter must be signed and dated by the dental hygienist and contain a phone number for verification purposes.
Fees
Dental hygiene students at The University of New Mexico School of Medicine are responsible for a number of expenses in addition to tuition, online course fees, housing, board exams, books and other usual college expenses.
A one-time fee of $4,000 covers the purchase of the student instrument kit and uniforms. This expense is due during the first week of classes in the first year of dental hygiene school. This fee may change without notice.
Other Expenses
Laboratory and clinical fees are $2,000 per year except in your junior year, where it's $2,600. Fees are subject to change on approval from UNM's Chancellor for Health Sciences.
Dental hygiene applicants should be aware that upon graduation from the dental hygiene program they must take licensing boards in order to practice. The Dental Hygiene National Board, which tests a candidate's competency in didactic material, costs approximately $400. Clinical proficiency is tested in a separate board examination commonly called the "State Board." New Mexico does not conduct a separate state board, but instead belongs to a regional licensing body called the Western Regional Examination Board. Although successful completion of this examination enables hygienists to practice in the states participating the regional board, it's quite costly –approximately $1,200. Please see the WREB website or visit Central Regional Dental Services for more information. New Mexico also administers a separate jurisprudence exam, which costs $110, and a state background check costs about $300.
Miscellaneous costs, such as graduation expenses and professional dues (including the student professional association) also arise. Such expenses can vary depending upon an individual student's preferences (UNM's graduation expenses are not optional, however).
Please note that all fees are estimates and are subject to change from year to year.
Goals
The University Of New Mexico School Of Medicine's Division of Dental Hygiene in Albuquerque educates future dental hygienists on improving New Mexicans' health by providing academic and clinical training. Students will finish the program as highly qualified dental hygiene professionals who:
Provide the highest quality oral health care services to the community
Advance the art and science of dental hygiene via research and other scholarly activities
Sponsor services that validate the programs of the university
Online Bachelor's Degree Completion in Dental Hygiene
The University of New Mexico offers an online BS Degree Completion Program [PDF] in Dental Hygiene as a continuation of a certificate or associate degree in dental hygiene. This program is exclusively available online. This program offers an innovative, personalized curriculum [PDF] that is designed to graduate dental hygienists with advanced skills.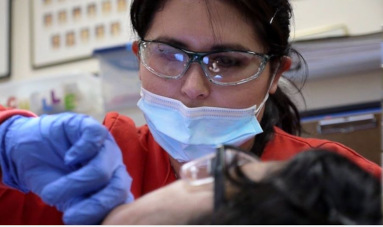 Find Out What It's Like! Watch Our YouTube Videos.
The program offers an opportunity to expand basic dental hygiene knowledge and skills into areas such as education, management, research, public health or advanced clinical training. The curriculum is designed to allow continuing students to complete the program on a full- or part-time basis.
The university requires the completion of a minimum of 128 semester hours in order to achieve a baccalaureate degree. Thirty of these hours must be completed at UNM. Fifteen of these hours must be completed after 92 hours have been earned. Degree candidates are also required to complete core curriculum courses.
Additional credit hours are elected to meet the interests of the individual student and to fulfill graduation requirements. UNM offers many exciting educational avenues to explore and students have the opportunity to design a curriculum according to personal career interests.
UNM degree completion students partake in a wide range of activities that may benefit future career endeavors, including graduate study.
Please see UNM tuition rates for more information.
Admission requirements
Completion of a certificate or associate degree program in dental hygiene that has been accredited by the Commission on Dental Accreditation and a regional accreditation agency, or a letter of approval from the director of a CODA and regionally accredited New Mexico community college program.
A satisfactory grade point average of at least 2.5 on a 4.0 scale
Official sealed transcripts of all prior college courses undertaken submitted to both UNM and the Division of Dental Hygiene
A non-refundable application fee of $105 must be included with your application payable online at:  TouchNet. Applications submitted without the application fee will be incomplete and will not be considered.
A copy of national board scores
A copy of current Dental Hygienist license
Interview with the Admissions Committee
Passport photograph attached to Dental Hygienist application
Fall Semester application deadline: July 31
Spring Semester application deadline: November 30
Summer Semester application deadline: April 30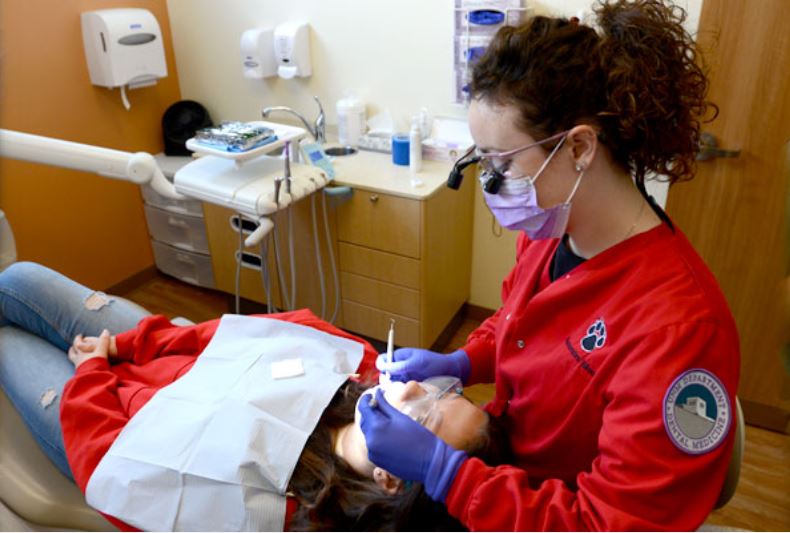 Join our Graduate Program
Enhance your career today.
Contact Us
Academic Advisor
Christine Nathe
Are you a patient looking for care?