Emergency Medicine Residency
Welcome to UNM! Although we are living in difficult times, we are excited to meet you all and hoping to make this recruitment season better than ever. We especially miss our away rotators and the opportunity to show folks a program and state that we are proud of. So we will do our best virtually. You can sign our guest list, let us know of specific interests, request a residency ambassador contact you, or just say hi.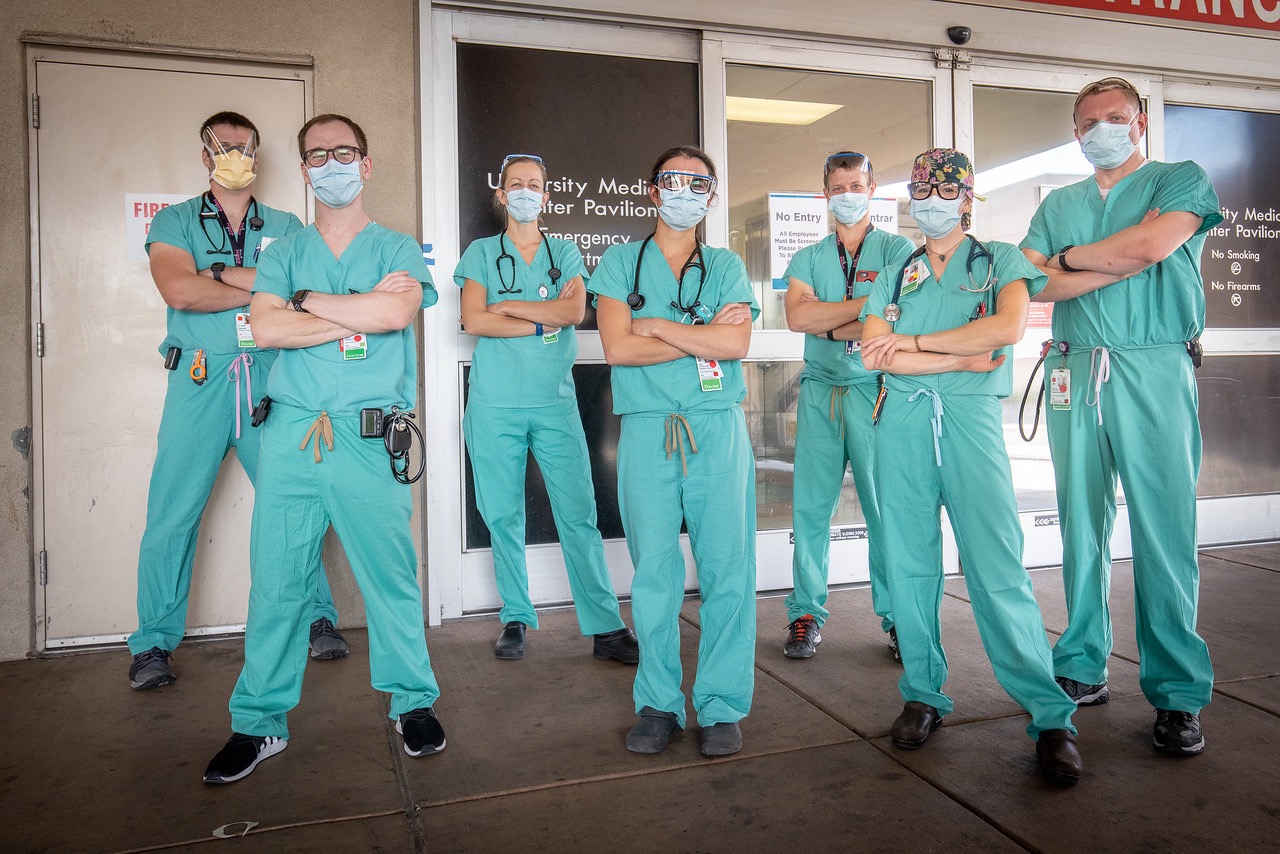 Our unique patient mix is a cornerstone of our program - a result of our history as first the Bernalillo County Indian Hospital, then the county hospital, and our current status as the state's academic referral center, only Level 1 trauma center, and safety net hospital. Our program founders conceived of a community project for every resident that would provide a connection to those they were serving, and this tradition continues today.  They also had a vision of critical care as a defining feature of emergency medicine and created a curriculum to reflect that. We have the largest cohort of EM dual-trained intensivists in the country who are all within our department. 
---
We have strong roots in EMS. Our faculty hold medical directorships for the majority of the agencies in the state, including our UNM-based Lifeguard Air Emergency Services, several tribal EMS agencies, and Grand Canyon National Park. Our ACGME-accredited fellowship along with our EMS Consortium Physician Field Response program allows us to give residents a rich EMS experience during our core 3-year longitudinal curriculum or a more focused EMS specialty track.
---
Our faculty are national experts in Wilderness, Austere, Disaster and International Emergency Medicine. Students from all over the country participate in our annual Wilderness, Improvisational and International Medicine clerkship each spring. We have one of the few UIAA-certified Diploma in Mountain Medicine courses in the country that has been attended by multiple residents, fellows and faculty. New Mexico had the first Disaster Medical Assistance Team (NM1-DMAT) in the country and several faculty are deployed annually. Motivated residents have an opportunity to become deployable during residency.
---
We are also nationally known for our unique location and culture, an innovative simulation center, injury prevention research, and international medicine. Our Office of Medical Education who support our residents has total support from a Chair who is a true educator and a prior program director.