Fellowships
Programs and Eligibility
A fellowship in UNM's division of Pulmonary, Critical Care and Sleep Medicine provides what you need to succeed: an expert multidisciplinary team, a supportive environment and opportunities to be a part of cutting-edge research.
Choose the specialty you're most passionate about—pulmonary/critical care medicine, critical care medicine or sleep medicine. We offer a three year pulmonary/critical care track, a one year sleep medicine track and our critical care track, which can be completed in a one or two year fellowship, to set you up for the next step in your career.
Requirements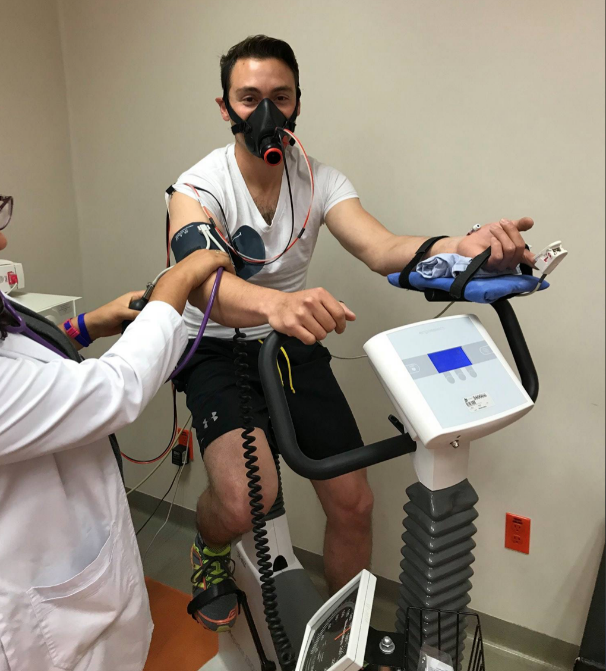 Three- Year Track: Our Pulmonary and Critical Care Program is a nationally recognized and accredited program that requires completion of an ACGME-accredited internal medicine residency program.
Two-Year Critical Care Track: Requires successful completion of an ACGME-accredited internal medicine or emergency medicine residency program. Potential fellows may apply during the last year of training.
One-Year Track: Requires successful completion of an ACGME-accredited internal medicine subspecialty training (e.g. cardiology, pulmonary, infectious disease or nephrology). Potential fellows may apply during the last year of training.
Sleep medicine: One-year track requires completion of an ACGME-accredited residency in either internal medicine, family medicine, emergency medicine, pediatrics, psychiatry or neurology.
In addition to applications from U.S. citizens and permanent residents, we also accept applications from potential fellows with J-1 visas. Unfortunately, we cannot accept fellows for training on H-1B visas.
How to Apply
All application materials must be submitted through ERAS (Electronic Residency Application Service). Keep this timeline in mind for Sleep Medicine and Pulmonary fellowships:
July 15th: We encourage prospective fellows to have applications submitted in ERAS by this time
Late August–September: Candidates selected will be invited to interview for positions
Late September–October: Candidates will be offered positions for the following year to begin on July 1
Critical Care Fellowships are not processed through the National Resident Matching Program (NRMP), therefore there is no specific date for positions to be filled.
NOTE: All applications will be considered. However, applicants with a demonstrated record of strong performance on clinical rotations, teamwork, standardized exams and scholarly productivity will have highest consideration.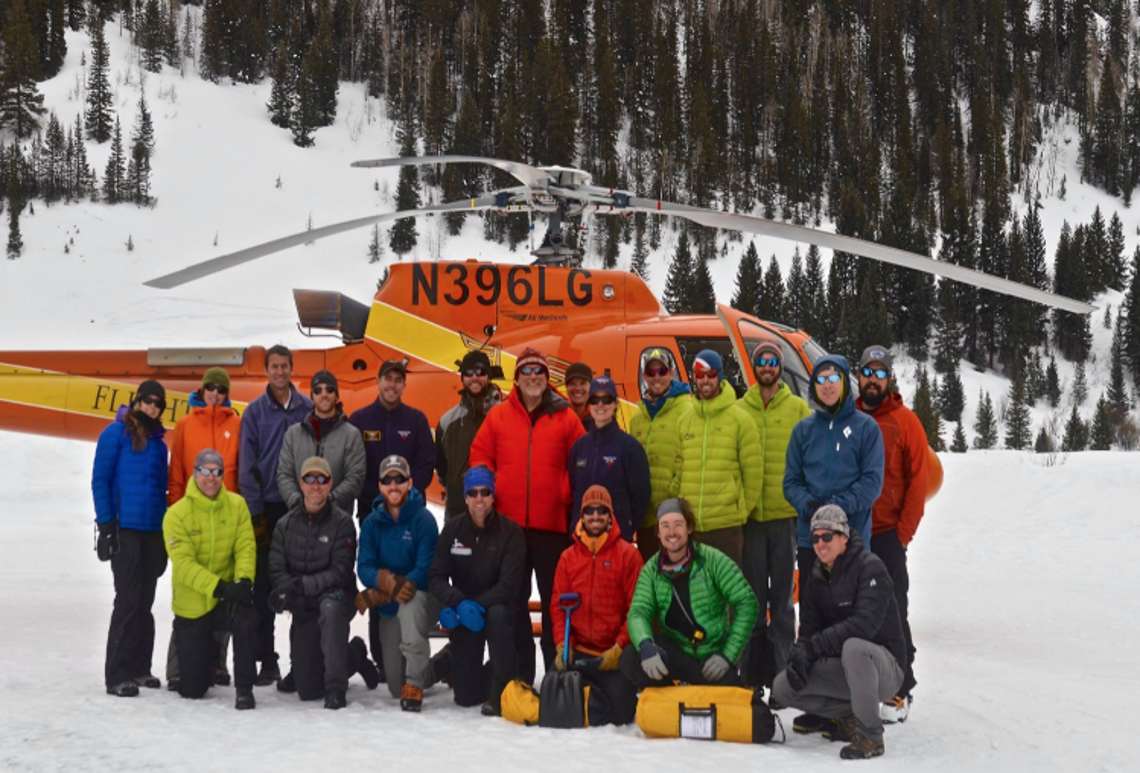 Fellows training with helicopter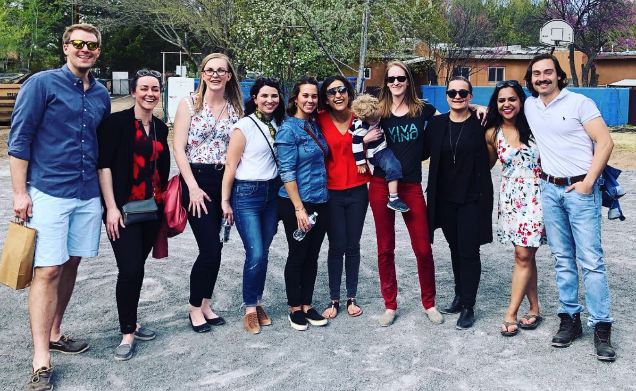 Group of fellows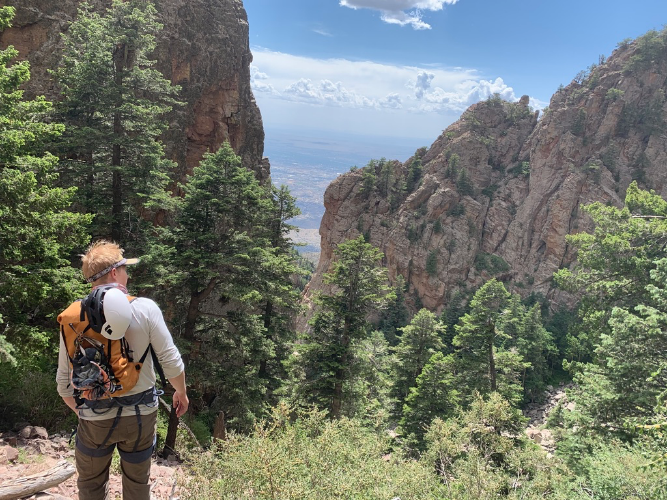 View during fellow hike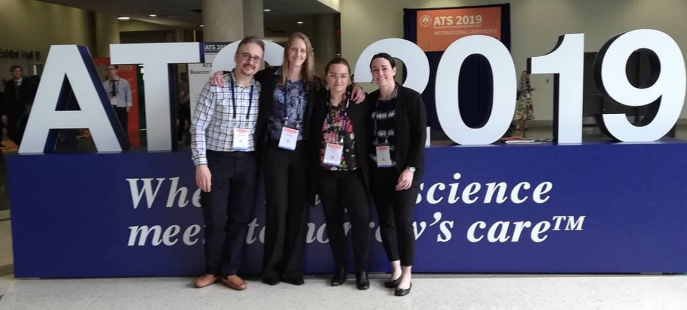 Fellows ready to present at conference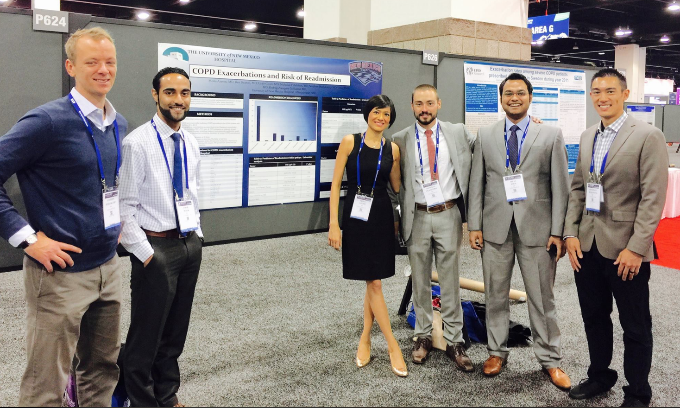 Fellows during poster presentation
The Department of Internal Medicine offers a fellowship in Pulmonary Medicine. Call 505-272-4751 for more information or  email Pulmonary-Staff@salud.unm.edu.
 We have two main training sites that provide a rigorous, diverse, and rewarding clinical training experience for our fellows.
1. The University of New Mexico Hospital which has, a dedicated bronchoscopy suite, pulmonary diagnostics lab and the BATCAVE, which holds our simulation lab and bronchoscopy simulator/ECMO simulation/Echocardiography simulator to name a few.
Fellows participate in a number of clinical rotations including medical ICU, a pulmonary consult service that encompasses an advanced lung disease consult service consisting of lung cancer, Cystic Fibrosis, pulmonary hypertension patients and an elective outpatient rotation consisting of multiple subspecialty clinics (interstitial lung disease, sleep, pulmonary hypertension, Mycobacteria other than TB and asthma/COPD).
We also rotate alongside the other critical care fellowships in the Neurointensive care unit, the cardiovascular/ECMO unit and the Trauma ICU. The fellows' own continuity clinics are also based out of UNMH or VAMC. At UNMH, our fellows routinely see cases that some pulmonary physicians only see once in a lifetime.
2. The New Mexico Veterans Affairs Health Care System (NMVAHCS) is a large (310 bed) Level-1 tertiary care Veterans Affairs hospital with two separate 12-bed multidisciplinary ICUs along, a 12-bed multidisciplinary step-down unit and is part of one of the largest VA systems in the Southwest.
At the NMVAHCS, fellows participate in a medical ICU rotation, an inpatient pulmonary consult rotation, an outpatient pulmonary consult rotation with advanced pulmonary diagnostics including interventional pulmonary and a PFT rotation. They also have opportunities to participate in sleep medicine at the VA. At this site, our fellows get an abundance of exposure to lung cancer and the specialized procedures used to diagnose lung cancer.
Also unique to our training program is the abundance of procedural training we offer. Fellows will graduate from our program proficient in the following:
Bronchoscopy including specialized bronchoscopy (transbronchial biopsies, endobronchial US, transbronchial needle aspiration as well as exposure to navigational bronchoscopy)
Pleural procedures including chest tubes and pleurx catheters as well as exposure to pleural biopsies through medical thoracoscopy
Airway management including direct laryngoscopic intubations, glidescope intubations, and fiberoptic intubations
Percutaneous tracheostomy
Right heart catheterizations
Advanced ultrasound training with a formal training curriculum in ultrasound
In addition, there are a number of electives available to include chest radiology, and rotations through the cardiothoracic, Trauma/Surgical and neuro-ICUs.
In our fellowship program, the first year is a mixed inpatient and outpatient clinical year with time available to allow the first years to meet mentors and pick their academic research projects.
Second and third year fellows have approximately 6 months of clinical rotations with the remainder of the year as protected time to work on their academic projects.
Throughout the entire fellowship, fellows will be exposed to both informal and formal didactic lectures at every site with certain conferences available to all sites via tele-conferencing, and the opportunity to take part in didactics offered at the BATCAVE including echocardiography, simulated bronchoscopy and formal courses including ACLS, CSU-ALS, ECMO courses and advanced airways courses.
Introduction
The focus of the program is to produce clinicians capable of practicing in all ICU environments and of providing complete care for critically ill patients. The program is built around the 72 adult ICU beds of UNM Hospital (UNMH) where fellows learn management of critically ill medical, surgical, trauma, neurologic and cardiac patients.
UNM Hospital is the state's only Level 1 Trauma Center, is one of only two hospitals in New Mexico performing kidney transplants. We operate the largest ECMO program in the state. The ECMO program is relatively unique among US academic medical centers in that it is run by a multidisciplinary team of intensivists, who both perform ECMO cannulations and subsequently manage the patients in the cardiothoracic ICU.
In 2019, the UNMH ECMO Program was designated a Center of Excellence by the Extracorporeal Life Support Organization (ESLO). The program provides VV-ECMO, VA-ECMO, ECPR and ECCOR (Extracorporeal CO2 Removal) to approximately 50 patients per year, providing interested fellows ample experience in the care of patients before, during and after extracorporeal support.
Fellows will also have extensive opportunities to develop proficiency in use of other advanced ICU therapies and technologies such as continuous renal replacement therapy (CRRT), plasma exchange and state-of-the-art devices for non-invasive hemodynamic monitoring and intracranial pressure monitoring.
In addition to being the primary tertiary referral center for critically ill patients in New Mexico, UNMH has a long legacy of caring for the state's large Native American population. UNMH was also at the forefront of the 1993 Four Corners hantavirus outbreak, and has become a leading center for the research and care of hantavirus infections, pioneering the use of adult ECMO for hantavirus cardiopulmonary syndrome a full decade before VV-ECMO became the standard of care for the treatment of refractory ARDS during the 2009 H1N1 influenza outbreak.
Additional strengths of the program include a robust procedural experience, as well as a truly multidisciplinary environment. The medical ICU alone at UNMH boasts critical care faculty from a wide range of training and subspecialty backgrounds, including internal medicine, emergency medicine, pulmonology, nephrology, infectious disease and anesthesia. Medical critical care fellows will also work in the other ICUs at UNMH alongside critical care faculty in the fields of trauma and acute care surgery, vascular surgery, neurology, neurosurgery and neuro-critical care.
The fellowship has a two-year track for fellows applying from internal medicine or emergency medicine training. There are also one-year fellowships offered for trainees who have completed or are completing subspecialty training in internal medicine.
Curriculum
Fellows will graduate skilled in bedside ultrasound and procedures, including difficult airway management, percutaneous tracheostomy and thoracostomy tube placement. The primary components of the didactic curriculum include a weekly fellows' conference, a weekly ultrasound/medical device conference and high-fidelity simulation sessions.
The fellows' conference is composed of case presentations, diagnosis-based lectures, morbidity and mortality, research presentations and journal clubs. Our state-of-the-art simulation lab is utilized to teach ventilator management, echocardiography (transthoracic and transesophageal), procedures, difficult airways and code management.
Rotations
Rotations are arranged in one-month blocks. Two-year critical care fellows will typically have a first year consisting of six medical ICU rotations, one trauma-surgical ICU rotation, one cardiothoracic surgical ICU rotation, one anesthesia rotation and one pulmonary consult rotation. Two months are allotted for research and scholarly activity or electives. The second year is flexible and consists of 3-4 ICU blocks and electives such as toxicology, palliative care, nephrology, and infectious disease. Up to six months are allotted for research.
One-year fellowships, for candidates already boarded in another subspecialty, will typically have five medical ICU months, one trauma-surgical ICU month, one neurosurgical ICU month, one cardiothoracic ICU month, one anesthesia month, one pulmonary consult month and two elective and/or research months.
Ultrasound
Ultrasound training centers on a weekly hour-long conference. Fellows learn all of the components of critical care ultrasound defined in the ACCP statement including basic and advanced echocardiography (transthoracic and transesophageal), lung and pleural ultrasound, vascular ultrasound, procedural ultrasound and abdominal ultrasound.
Procedures
Fellows gain competency in performing procedures related to critical care medicine. Nearly all airway and pleural procedures performed in the ICUs at UNMH are performed by the critical care team rather than another subspecialty service.
Research
A dedicated curriculum allows learners to develop research skills, and fellows participate in mentored projects with the goal of producing manuscripts and presentations at national meetings.
Introduction
Fellows rotate through the VA Medical Canter and UNM Hospital. We care for patients with a wide spectrum of sleep disordered breathing, hypersomnia, insomnia and sleep movement disorders.
We incorporate various PAP therapies, pharmacological management and cognitive behavioral therapy to manage patients. We also have resources with our otolaryngology, dental, psychiatry and psychology colleagues to help co-manage these patients. We have a 14-bed free standing sleep lab, beds in the Brain and Spine Hospital, and a busy home sleep testing program.
Our Sleep Medicine Fellowship is a one-year ACGME-accredited clinical fellowship that has two positions available each year. We have a diverse teaching faculty with backgrounds in pulmonary critical care, neurology, psychiatry, and internal medicine.
Adult Sleep Medicine Rotations
These rotations are comprised of sleep medicine clinics and sleep study interpretation time. There is also a weekly sleep medicine conference comprised of case conference, journal clubs, and didactics.
The sleep medicine clinics are staffed by sleep medicine physicians with backgrounds in pulmonary, neurology and psychiatry. The patient population is diverse with a mixed group of sleep disorders, including sleep disordered breathing, primary and secondary central hypersomnia, chronic insomnia, circadian rhythm disorders and sleep movement disorders.
Being a tertiary care medical center, the patient population ranges from straight forward sleep medicine cases to those having complicated co-morbid medical conditions.
Pediatric Sleep Medicine Rotations
During this rotation, fellows are at UNM Children's Hospital, where they will attend pediatric sleep clinics and interpret pediatric polysomnograms with the pediatric sleep specialists. Since it is one of the top children's hospitals in the region, a range of patients are seen with obstructive sleep apnea, narcolepsy, odd sleep behavior (parasomnias or seizures) and insomnia in children with congenital abnormalities leading to sleep difficulties. There is also exposure to neonates with sleep disordered breathing.
Multi-Specialty Sleep Medicine Electives
The fellows also participate in scholarship and quality improvement projects. They typically will attend and present at SLEEP in June.
There is a weekly sleep medicine conference that is comprised of an hour case conference followed by an hour didactic lecture. The case conference is a multidisciplinary and interactive conference where both sleep faculty and fellows will present interesting cases and polysomnography findings. The purpose of the conference is to share and learn the updated literature on topics as well as management of difficult cases.
The didactic lecture focuses on sleep physiology and clinical sleep medicine. There is also a monthly journal club where fellows present current articles pertinent to the practice of sleep medicine. The purpose of the journal club is to learn how to analyze and interpret the literature to improve practice and care of patients.
Clinical and Procedural Experience
Fellows manage a diverse patient population that span all sleep disorders both as primary and co-morbid conditions. They work with colleagues in psychology, otolaryngology and dentistry to co-manage patients. They also are exposed to neuromodulation in sleep medicine via hypoglossal nerve stimulator and phrenic nerve stimulator patients.
Scholarly Work
Fellows are expected to participate in scholarly activity as well as a quality improvement project during the fellowship year. The activity can be in the form of formal bench or clinical research, or submission of case reports, book chapters or review articles. There is an expectation of publication of the scholarly work. Exposure to faculty conducting research will be given in the beginning of the year so that the fellow can pick a mentor. Time will be given during elective months to work on the chosen project. In addition, the fellows will complete a quality improvement project that will be presented to the sleep medicine group at the end of the year.
Contact Us
Department of Internal Medicine
1 University of New Mexico
MSC10 5550
Albuquerque, NM 87131