Department of Ophthalmology & Visual Sciences
Message from the Chair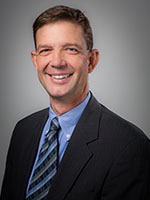 The purpose of the Department of Ophthalmology and Visual Sciences is to improve the eye health of all New Mexicans. We work to accomplish that purpose through the four fundamental missions of the UNM School of Medicine: Clinical Service, Education, Research, and Community Outreach.
From basic eye care to the most complicated eye diseases, our faculty offer comprehensive eye care. We include all major Ophthalmic specialties and provide compassionate, state of the art care at two outpatient eye clinics affiliated with UNM Hospital.
The Department is active in teaching UNM medical students, Ophthalmology residents,  and subspecialty fellows. We have a robust research program in basic science mechanisms of visual function and disease and clinical trials. Our research focus is on eye diseases that most affect New Mexicans. We reach into our communities using tele-retinal technology and through the student led Community Vision Project.
The strength of the Department of Ophthalmology and Visual Sciences is in our faculty. We are energized by academic curiosity and strive for continual improvement in our patients' experience and outcomes.
Bob Avery, MD
Chair of Ophthalmology 
Department Leadership
Chair – Robert B Avery, MD/PhD.
Medical Director – Amar Joshi, MD
Local Residency Program Director – Rachel Davis, MD
Medical Student Educator – Alexander Davis, MD/PhD
Interim Department Administrator – Misty Carpenter
Program Coordinator – Celia Baca
Are you a patient looking for care?