Jolee Suddock, D.O.
Email: jsuddock@salud.unm.edu
Introduction: I am a current fourth year pathology resident going into forensic neuropathology. I am originally from Oklahoma and went to Medical School in Tulsa. I will be staying in New Mexico to complete a forensic fellowship at the Office of the Medical Examiner, then moving to California to complete a neuropathology fellowship at the University of Southern California.
Interests
Pathology Interests: Forensic Neuropathology
Research Interests: Medical Education, Forensics, Neurodegenerative and Infectious disease
What do you like about living in New Mexico: Aside from the abundant sunshine, wonderfully warm summers, and mild winters, New Mexico has some fantastic restaurants and breweries to eat at. There are also numerous exciting places to visit and explore near Albuquerque including Carlsbad Caverns, White Sands, and Santa Fe.
Interests Outside of Pathology: My hobbies and interests include exploring Eorzea (the magical online world in final fantasy 14) with my partner in crime Mike, playing board games, and spending time with our dog Barnaby, 2 chinchillas, and 2 cats. I also enjoy occasionally traveling (when pandemic related restrictions allow) and binge-watching Netflix.
Why I enjoy the pathology program at UNM
What initially attracted me to UNM was their renowned sub-specialty training in forensic pathology, but after interviewing I realized that there was much more to the program including supportive and engaging faculty, and friendly, welcoming residents. The program honestly had everything I was looking for in a residency. It was my first choice and I couldn't be happier with my decision. If I had the chance to go back, I would definitely choose UNM again.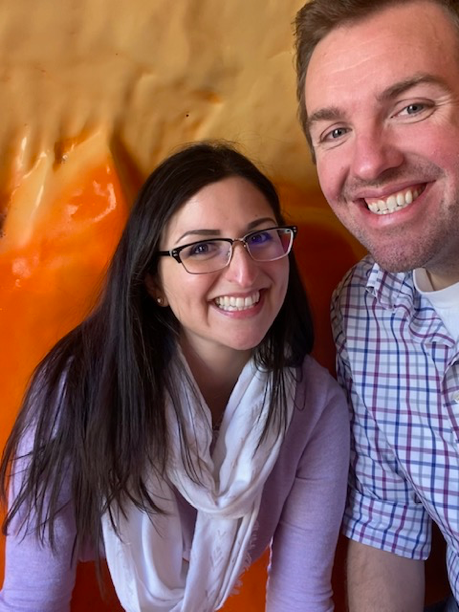 Education Information
Residency:
Anatomic and Clinical Pathology
University of New Mexico School of Medicine
Albuquerque, NM
Medical School:
Oklahoma State University
Center for Health Sciences
Undergraduate Education:
University of Central Oklahoma
B.S. in Forensic Science
B.S. in Biology
Edmond, OK