Michael Harrell, M.D.
Email: MiHarrell@salud.unm.edu
Introduction: I'm a PGY-4 pathology resident with prior residency training in diagnostic radiology, and will be doing my fellowship in forensic pathology at the OMI in Albuquerque. I have a passion for the gross anatomic - histologic correlate and am driven by the spectrum of surgical and autopsy pathology diagnoses we are privy to in our specialty. I'm originally from California, but did much of my medical training in the Midwest.
Interests
Pathology Interests: Hematopathology, Transfusion medicine, Forensic pathology
Research Interests: Medical education, translational work with immediate clinical implications
What do you like about living in New Mexico: As a San Diego native, I love the warm, dry climate of New Mexico. The cost of living is substantially less than many other large cities, especially on the coast. Traffic is generally non-existent. Also, New Mexico has a number of great outdoor activities that are readily available throughout much of the year.
Interests Outside of Pathology: When Jolee and I aren't playing our favorite MMO (Final Fantasy XIV at the moment), we can be found rolling the dice in board games (D&D 5th edition, terraforming Mars, and Cthulhu based games), reading/watching sci-fi and fiction, rough-housing with our chihuahua, or seeing the sights of New Mexico. I'm also an avid snowboarder and grilling enthusiast.
Why I enjoy the pathology program at UNM
The pathology program at UNM promised early exposure to multiple specialties within pathology, which was essential in confirming my subspecialty choice. The Office of the Medical Examiner is widely known amongst the forensic pathology community as a center of excellence and has a massive alumni presence throughout the United States. Finally, the program and its residents had a very open, welcoming feel, which is something we continue to strive for.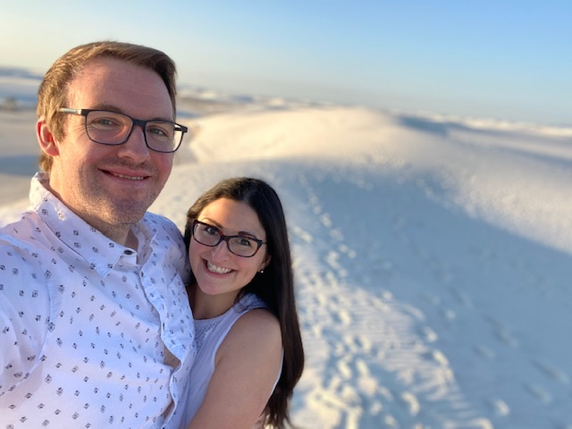 Education Information
Residency:
Anatomic and Clinical Pathology
University of New Mexico School of Medicine
Albuquerque, NM
Medical School:
Case Western Reserve University School of Medicine
Cleveland, OH
Undergraduate Education:
California State Polytechnic University, Pomona
B.S. in Biotechnology, minors in food science, chemistry
Pomona, CA
Publications:
Wright, K. L., Harrell, M. W., Jesberger, J. A., Landeras, L., Nakamoto, D. A., Thomas, S., Nickel, D., Kroeker, R., Griswold, M. A. and Gulani, V. (2014), Clinical evaluation of CAIPIRINHA: Comparison against a GRAPPA standard. J. Magn. Reson. Imaging, 39: 189–194. doi:10.1002/jmri.24105