Combined BA/MD Degree Program
We're looking for New Mexico high school seniors interested in an educational path that will lead to a doctor of medicine (MD) degree from the UNM School of Medicine.
The degree is designed to help address the state's physician shortage by assembling a class of diverse students who are committed to serving New Mexico communities. This partnership program, between the UNM College of Arts & Sciences and the UNM School of Medicine, is open to New Mexico high school seniors planning to begin college in the fall semester after their high school graduation.
This program is open to high school students graduating from a New Mexico high school as well as members of an Indian nation, tribe or pueblo located wholly or partially in NM, and graduating from a local school. 
Students will first earn a baccalaureate degree through the College of Arts & Sciences in a challenging four-year curriculum specifically designed to prepare them for medical school and, ultimately, to practice medicine in New Mexico.
Upon successfully completing the undergraduate academic and eligibility requirements of the program, students will then transition to the School of Medicine to complete their doctor of medicine degree.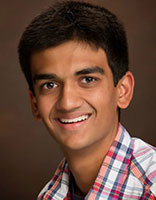 I come from one of the furthest New Mexican towns from Albuquerque, and I'm always asked the same questions back home. Why did you go to school at UNM? Why this program? Yes, I had several far-reaching choices regarding where to take my life after high school, but I could not have opted for a better destination. Speaking on behalf of all of my peers, we are the most fortunate students around. A reserved seat in the School of Medicine at an extremely low cost with the comfort and security of being close to home – that is a package no college can offer except The University of New Mexico's Combined BA/MD Degree Program. 
—
Rushi Mankad
, Hobbs, NM (2014 Cohort)
Contact
Location
Physical Address
Health Sciences and Services Building, Suite 102
2500 Marble Avenue

Mailing Address
MSC09 5231
1 University of New Mexico
Albuquerque, NM 87131
Hours of Operation
Monday - Friday 8 am - 5 pm
Are you a patient looking for care?