Investigations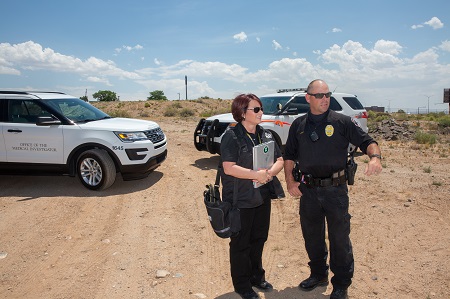 The Office of the Medical Investigator directs all investigative activities statewide. Specially trained and certified Field Deputy Medical Investigators (FDMI) conducts field investigations.
Every county in New Mexico has FDMIs who conduct investigations at the scene of death to collect information used to determine jurisdiction, possible cause and manner of death, and in the absence of a physician provide the pronouncement of death, as well as taking custody of the body to ready for transport to our office in Albuquerque where an autopsy can be performed.
They often travel to the scene of homicides, suicides, accidental, questionable, and/or unattended deaths as required, and conduct on-scene investigations as required by taking photos, fingerprinting bodies, and processing evidence on behalf of the Office of the Medical Investigator (OMI).
The FDMIs present the results of each investigation to Deputy Medical Investigators who make the ultimate decisions regarding jurisdiction and the need for further medicolegal investigation.
Office of the Medical Investigator