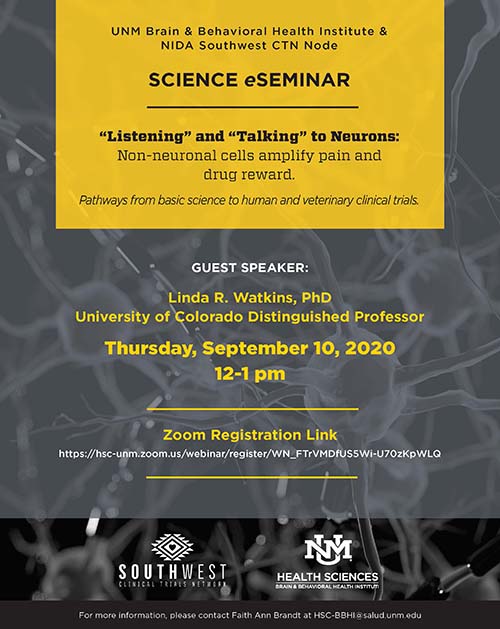 Thursday, September 10, 2020
12:00 PM
Zoom Webinar
Linda R. Watkins, PhD
University of Colorado Distinguished Professor
"Listening" and "Talking" to Neurons:
Non-neuronal cells amplify pain and drug reward
Pathways from basic science to human and veterinary clinical trials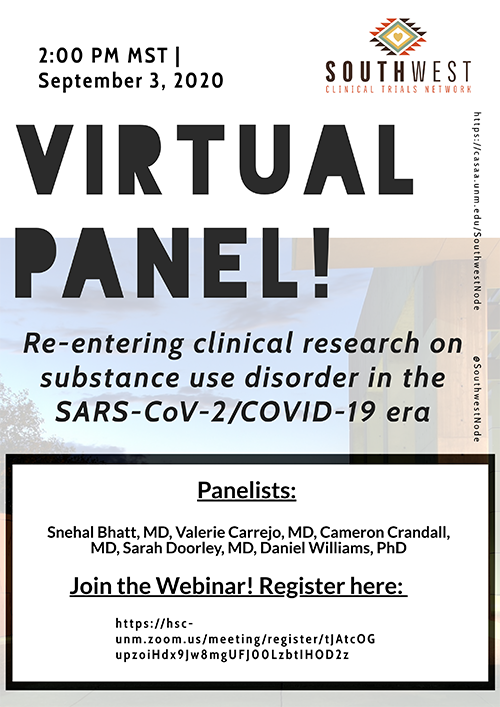 Thrusday, September 3, 2020
2:00-3:00 pm
Zoom Meeting
Re-entering Clinical Research on Substance Use Disorder in the SARS-CoV-2/COVID-19 Era.  
Panelists: Snehal Bhatt, MD, Valerie Carrejo, MD, Cameron Crandall, MD, Sarah Doorley, MD, Daniel Williams, PhD.
The Southwest Clinical Trials Network is excited to announce an upcoming opportunity to interface with a virtual panel of frontline clinicians and researchers to discuss tips, tricks, and practice changes in response to SARS-CoV-2/COVID-19 that have occurred in their work with patients with substance use disorders. This event is co-hosted with the UNM Brain & Behavioral Health Institute (BBHI).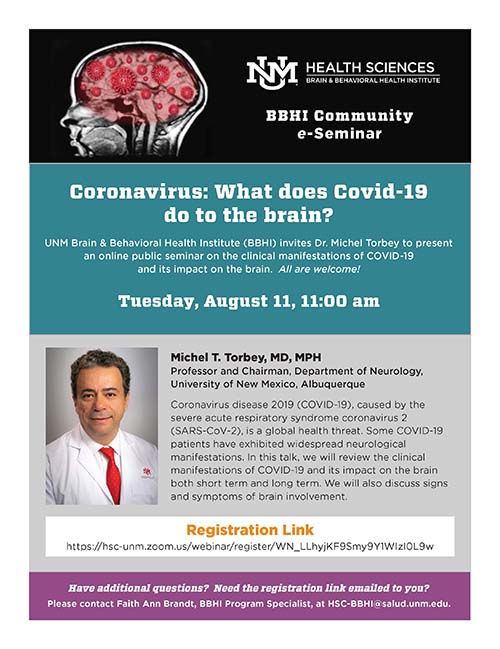 Tuesday, August 11, 2020
11:00 am - 12:00 pm
Zoom Webinar
Michel T. Torbey, MD, MPH
Professor and Chairman,Departments of Neurology,
University of New Mexico, Albuquerque
Coronavirus: What does Covid-19 do to the brain?
Coronavirus disease 2019 (COVID-19), caused by the severe acute respiratory syndrome coronavirus 2 (SARS-CoV-2), is a global health threat. Some COVID-19 patients have exhibited widespread neurological manifestations. In this talk, we will review the clinical manifestations of COVID-19 and its impact on the brain both short term and long term. We will also discuss signs and symptoms of brain involvement.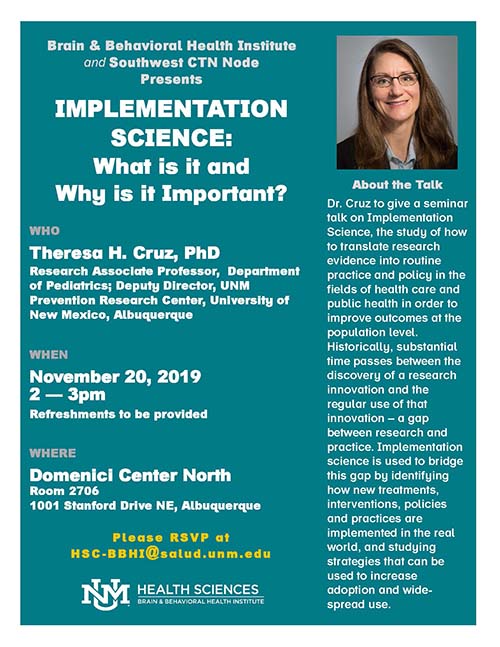 Wednesday, November 20, 2019
2:00 pm - 3:00 pm
Domenici Hall North
Implementation Science: What is it and why is it important?
Theresa H. Cruz, PhD 
Research Associate Professor, Department of Pediatrics,
Deputy Director, UNM Prevention Research Center,
University of New Mexico, Albuquerque
Implementation science is the study of how to translate research evidence into routine practice and policy in the fields of health care and public health in order to improve outcomes at the population level. Historically, substantial time passes between the discovery of a research innovation and the regular use of that innovation – a gap between research and practice. Implementation science is used to bridge this gap by identifying how new treatments, interventions, policies and practices are implemented in the real world, and studying strategies that can be used to increase adoption and wide-spread use.