Stay Connected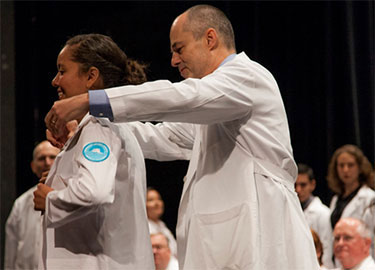 White Coat Ceremony
The White Coat Ceremony is a rite of passage for entering medical students as they are welcomed into the medical community. The ceremony emphasizes the importance of humanism, compassion and honor as integral parts of a medical career. In addition to receiving their coats, students also receive a gift certificate for their first stethoscope.
How can you help? $200 sponsors an incoming medical student with a white coat and stethoscope gift certificate.
Match Day
Every spring, graduating students gather to share in the excitement of learning where they will complete their medical residency. The School of Medicine Alumni Association sponsors a parting gift for graduates.
Travel Grants
The Alumni Association allocates $2,000 per school year to help sponsor students to further their education through conferences, research and professional development opportunities. Once a travel grant is awarded, the student is asked to share their experience with the Alumni Office and their peers.
How can you help? $500 assists with student travel grants.
Student Nook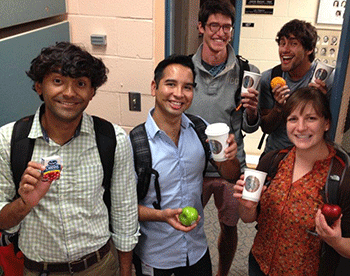 The Student Nook is a fun, friendly and healthy place for medical students to take a break between classes. Located in the Advancement and Alumni Relations Office, the Student Nook features Keurig coffee, fresh fruit and a variety of healthy snacks.
How can you help? $50 contributes to the Student Nook.
Emergency Loans
Residents are invited to apply for 90-day interest-free loans. These loans assist them with unexpected expenses. Residents can apply for Emergency Loans for up to $500 in the Advancement and Alumni Relations Office.
Other Alumni Association Activities
Resident Appreciation Day
The Med Ball
New student orientation
Various student affairs activities
How can you help? $1,000 assists with scholarships.
UNM School of Medicine Alumni Reunion
Reconnect with your School of Medicine classmates and fellow alumni at the annual reunion. Activities include campus functions with leadership, a family friendly event, class dinners and the alumni awards banquet.
2019 Alumni Reunion
Register for the 2019 UNM School of Medicine Alumni Reunion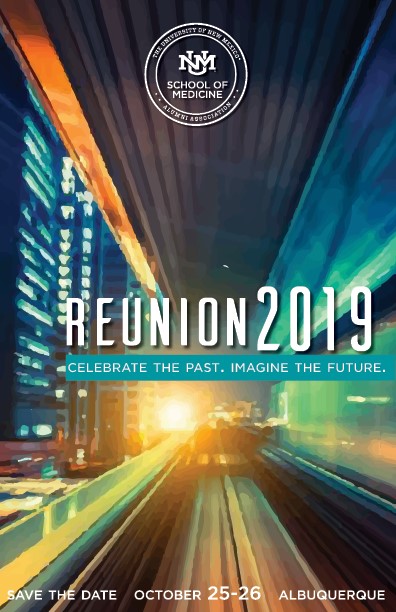 Alumni Award Nominations
Nominations for the 2019 School of Medicine Alumni Awards are now open. Awardees will be honored at the Alumni Reunion Awards dinner on Oct. 26, 2019, in Albuquerque. Submission deadline is May 31, 2019. Fill out a nomination form today:  Distinguished Alumnus of the Year,  Leonard M. Napolitano, PhD Award, and  Visionary Site of the Year.  For more information, contact abassett@salud.unm.edu.
Distinguished Alumnus Award
About the award: The true measure of the UNM School of Medicine's greatness is found in the achievements of its alumni. The Distinguished Alumnus Award recognizes an alumnus who has made significant contributions to society, and whose accomplishments, affiliations and career exemplifies the School of Medicine's legacy of excellence.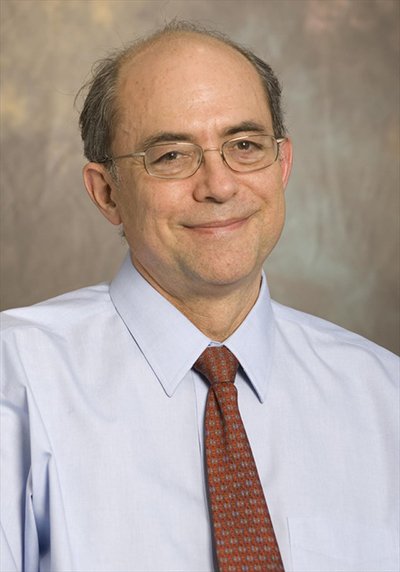 James F. Leckman, MD, PhD
Dr. James F. Leckman, Class of 1973, is currently the Neison Harris Professor of Child Psychiatry, Psychiatry, Pediatrics and Psychology at Yale University. He is the author or co-author of more than 470 original scientific articles published in peer-reviewed journals. Dr. Leckman has a longstanding interest in Tourette syndrome and Obsessive-Compulsive Disorder. His research on these disorders is multifaceted, from phenomenology and natural history, to neurobiology and genetics, to risk factor research and treatment studies. He and his team are currently working around the globe (Brazil, Turkey, Lebanon, Saudi Arabia, and six other low- and middle-income countries) to develop, implement and vigorously assess early parent-child programs to promote child development, social cohesion and peace within families and communities.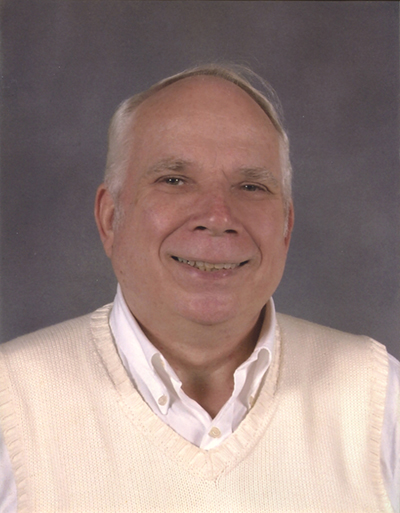 Alfred J. Mateczun, MD, CAPT, MC (FS) USN (Ret)
Dr. Alfred J. Mateczun, Class of 1978, is the director of the Biological Research Defense Directorate at the Naval Medical Research Center. Prior to attending medical school, Dr. Mateczun attended the U.S. Air Force Academy, earning a Bachelor of Science degree in engineering. He served in the Air Force as a pilot, with assignments taking him around the world, including Vietnam, in 1967-1968. He entered the U.S. Navy in 1977 through the Senior Medical Student Program and completed an ophthalmology residency at the Naval Regional Medical Center in Oakland, California.
Dr. Mateczun's medical accomplishments include developing vaccines for anthrax, plague and other agents, developing detection tools for ricin, improving biological detection tests, inventing and patenting a method of preserving dried bacteria, and successfully using bacteriophages – viruses that target and consume specific strains of bacteria – to treat a patient near death from a multidrug-resistant bacterium.
Recipients
2018: James F. Leckman, MD, PhD '73
2018: Alfred J. Mateczun, MD, CAPT, MC (FS) USN (Ret) '78
2017: Christopher Braden, MD ('87)
2016: Alfredo R. Vigil, MD ('77)
2015: John Mateczun, MD ('78)
2014: Anthony Yeung, MD ('70)
2013: Manuel Archuleta, MD ('73)
2012: Karen S. Guice, MD ('77)
2011: Ernest T. Takafuji, MD ('71)
2010: Robert F. Melendez , MD ('00)
2009: Michael E. Kilpatrick, MD ('69)
2008: Margot H. Green, MD ('68)
Kathleen S. Kagan, MD ('68)
2007: Wilmer L. Sibbitt, Jr., MD ('77)
2006: Mario F. Pacheco, MD ('86)
2005: Diane J. Klepper, MD (HS)
2004: Jane W. McGrath, MD ('87)
2003: Gary D. Overturf, MD ('69)
2002: Cristina V. Beato, MD ('84)
2001: Allan L. Haynes, MD ('73)
2000: Donald E. Rodgers, MD ('68)
1999: Michael F. Hartshorne, MD ('78)
1998: Frank C. Cooper, MD (HS)
1997:
1996: Paul B. Roth, MD (HS)
1995: J. William Benge, MD ('74)
1994: Michael H. Trujillo, MD ('74)
1993:
1992:
1991:
1990:
1989: Drew Gaffney, MD ('72)
1988:
1987: George P. Bunch, MD ('68)
HS = House Staff
Leonard M. Napolitano, PhD, Award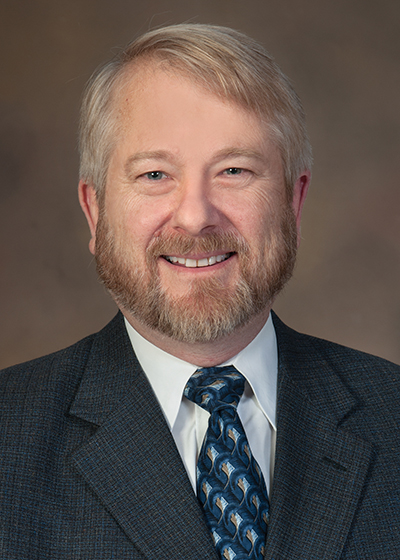 Daniel Derkson, MD
Dr. Dan Derksen is the Walter H. Pearce Endowed Chair and director of the Arizona Center for Rural Health and professor in the Community, Environment and Policy Department at the University of Arizona Mel and Enid Zuckerman College of Public Health. 
Dr. Derksen completed his family medicine residency at UNM and served on the faculty for 25 years. In 2007- 2008, he was a Robert Wood Johnson Foundation health policy fellow with U.S. Sen. Jeff Bingaman. He researched and drafted provisions to improve the supply and distribution of the nation's health workforce that were enacted in 2010.  Under New Mexico Gov. Susana Martinez's administration, he established New Mexico's health insurance marketplace, which currently covers more than 50,000 individuals. He continues to advise on health policy issues at the federal and state levels around issues of access, health coverage, rural health, workforce, interprofessional health professions training, quality improvement, health outcomes, policy legislation, regulation, program implementation and evaluation.
Recipients
2018: Daniel Derksen, MD (HS)
2017: Nancy Joste, MD ('89)
2016: Karen Armitage, MD (HS '81)
2015: Valerie Romero-Leggott, MD ('92)
2014: Albert Kwan, MD ('83)
2013: Catherine McClain, MD ('88)
Visionary Site of the Year Award
About the Award: Visionary Site of the Year is a new award recognizing New Mexico health systems that embody the mission of the UNM School of Medicine in their dedication to education, creating a diverse network of health care professionals and providing compassionate care to all New Mexicans.
Recipients
2018: First Choice Community Healthcare
2018: Piñon Family Practice
2017: Presbyterian Healthcare Services
2017: Southern New Mexico Family Medicine Residency Program
The role of the UNM School of Medicine Alumni Association is to:
Improve alumni participation.
Support current and prospective medical students and house staff.
Recognize achievements of alumni.
Raise funds to support the School of Medicine.
Board of Directors
The Board of Directors is dedicated to making a positive impact on the UNM School of Medicine by supporting medical students, house staff and alumni with activities, awards, scholarships, emergency loans and other special initiatives.
We are currently expanding our board into your region of the country. Please inquire about our web-conferencing opportunities for you to join as a board member.
Board Officers
President: Dr. Mario Pacheco, Class of '86
Vice President: Dr. Jennifer Phillips, Class of '01
Treasurer: Dr. Nate Roybal, Class of '07
Board Members
Dr. Robert Melendez, Class of '00 (Past Pres.)
Dr. Manuel Archuleta, Class of '73
Dr. Margaret McCreery, Class of '74
Dr. Valerie Carrejo, Class of '04
Dr. Valerie Romero-Leggott, Class of '92
Dr. Linda Stogner, Class of '83
Dr. Alisha Parada, Class of '08
Dr. Dion Gallant, Class of '99
Dr. Teresa Vigil, Class of '03
Dr. Angela Gallegos-Macias
Medical Resident/Student Board Members
Dr. Anna Jones, Class of '15
Dr. Daphne Olson, Class of '17
Sumit Patel, Class of '19
Jacqueline Cai, Class of '20
Ex-Officio Members
Paul Roth, MD, MS, 
Chancellor for Health Sciences and 
Dean of the UNM School of Medicine
Amanda Bassett, 
Director of Advancement and 
Alumni Relations