Anna Champlin, MD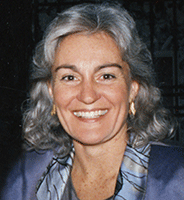 Radiology
1950-2009
Dr. Anna M. Champlin, MD, graduated from Downsville Central School as Valedictorian of the Class of 1968, and from Ithaca College, Ithaca, NY, Magna Cum Laude, 1972. After practicing physical therapy, in New York and Colorado, Dr. Champlin earned a medical degree from Rutgers Medical School in 1984. After completing a residency in Diagnostic Radiology at the Hackensack Medical Center in 1989, Dr. Champlin relocated to Albuquerque as, first a Fellow, and then as an Associate Professor and Chief of Interventional Radiology at UNM School of Medicine. 
---
Remembrances
Anna lived her life with a passion for the family and friends who loved her, the patients who received her care, the students who learned from her and the colleagues with whom she practiced medicine.
Anna is irreplaceable. She was caring, connected, intelligent, sweet and quirky. I fell in love with her when I was her interventional fellow and brought my family thousands of miles from NY to Albuquerque to visit with her and Laurel. She was an inspiration to those who knew her well.
I was one of Anna's radiology transcriptionists at UNMH. She was always kind and helpful and never made us feel like we were inferior to her. She was a diamond in the rough, and we all have lost a truly wonderful and remarkable lady, doctor and friend. We miss you.
I will always remember Dr. Champlin. She was an amazing MD and it was always my pleasure to care for any of her patients.
I remember Dr. Champlin from when I worked at the VA Medical Center under Drs. Mettler and Harstshorne. She was a very sweet woman and I enjoyed working with her very much.
I am truly sorry for the loss of this kind and caring lady. I knew Anna from my years of working with her in the Radiology Department at UNMH. She always made time for others and was a joy to be around. She will be missed.