Darwin Palmer, MD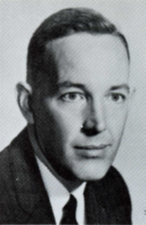 Internal Medicine
1930-2016
Dr. Darwin L. Palmer was born in Long Beach, CA, and attended Oberlin College in Ohio, graduating in 1953. After college, Dr. Palmer briefly considered a career in psychology, completing an MA at Columbia University in experimental psychology in 1954. He was drafted into the United States Army during the Korean war. He served most his service at Fort Ord, CA, where he helped the Army to conduct psychological studies to understand characteristics of successful soldiers.
After discharge from the Army, Dr. Palmer returned to the pursuit of his lifelong dream of becoming a physician. He obtained an MD at the NYU School of Medicine. Dr. Palmer then completed a Medical Internship (1961), Residency (1964), and NIH Postdoctoral Fellowship in Infectious Disease (1966), all at the University of Colorado Medical Center.
After completing medical training, Dr. Palmer moved to Albuquerque, NM. He became a Professor at the University of New Mexico School of Medicine and a physician at the Veterans Administration Medical Center where he served for many years as Chief of Infectious Disease. Dr. Palmer published numerous scientific articles. Among other things, he was an international expert on the plague, writing the chapter on the plague in Harrison's Principles of Internal Medicine.
Dr. Palmer was elected as the Governor for the NM chapter of the American College of Physicians (1987-91), where he worked to advance goals of universal healthcare at a national level. He also served on a panel advising NM Governor Bill Richardson on health policy issues. After retiring, Dr. Palmer spent two years in Zimbabwe teaching medicine and investigating drug resistant tuberculosis on a Fulbright grant.
---
Remembrances
Darwin Palmer was a colleague, friend, and academic pillar of "Infections Disease" teaching, treating, and investigating.  When he joined the faculty in the mid 1960's, we had at most, two professors for each medical specialty, so that each professor needed to be a "triple" threat.  Darwin was a tall formidable person, with commanding credibility in infectious disease.  Who else had spent a year in Dacca, Bangladesh as part of an international team battling cholera and smallpox epidemics?   Who else had written the chapter on Plague in Harrison's Principles of Internal Medicine?  Who else had worked at La Clinica in Tierra Amarilla New Mexico demonstrating his commitment to rural health care in our state?  It was highly appropriate that he was elected as the Governor for the NM Chapter of the American college of Physicians by his peers, where he worked to advance goals of universal healthcare at a national level.  He was logical to be selected to serve on a panel to advise NM Governor Richardson on health policy in our state.  With retirement, Darwin continued his love of teaching, treating, and investigating infectious disease by moving to Zimbabwe.  For two years he taught medicine, and pursued research on drug resistant Tuberculosis on a Fulbright grant in Africa.  What a perfect model for the values of being a doctor who cared about questions, answers, and understanding disease for the purpose of saving lives. 

R. Philip Eaton MD