Meilian Liu Lab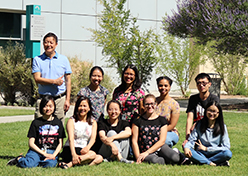 Contact the Laboratory
Lab Physical Address
Lab Mailing Address
Department of Biochemistry and Molecular Biology
MSC08 4670
1 University of New Mexico
Albuquerque, NM 87131-0001
Phone: 505-272-4036
Fax: 505-272-6587
E-mail: meilianliu@salud.unm.edu
Principal Investigator
Meilian Liu, PhD
Associate Professor, Department of Biochemistry and Molecular Biology
Research Interests
We have had a long-standing interest in adipose biology and immune-metabolism. We have devoted our research to the study of thermogenic programming and beige adipocyte differentiation in adipose tissue since we started at UNM in 2014. Our current study mainly focuses on the adipose immune response, sympathetic nerve innervation in fat, and browning of white adipose tissue.
Key words
Adipose tissue, adipocyte, thermogenesis, mTOR signaling, adiponectin, ILC2, type 2 immunity, Sympathetic nerve system
Major Funding
R01 DK110439-01, NIH/NIDDK, 07/18/2017-05/31/2022
Innovative Basic Science Award #1-17-IBS-261, American Diabetes Association, 01/01/17-12/31/19
P20 GM121176-01, mPI project/now co-director of Inflammation and Metabolism Core, NIH/NIGMS, 09/01/2017-08/30/2022
Recent Research
Brown adipose tissue (BAT) burns lipids and dissipates energy in the form of heat with anti-obesity property. Beige (brown-like) fat has potential thermogenic capacity, and offers a new target to battle obesity and its related disorders. Therefore, beige adipocyte development and activation, named as browning of white adipose tissue, has attracted great attention in the past decade. However, while there has been a great progress in our understanding of the mechanisms regulating beige adipogenesis at the transcription level, much less is known on the upstream signaling pathways that impose hormonal control over the transcription machinery. Our long term goal is to identify the key regulators of beige adipocyte development and energy expenditure.
mTORC1 signaling in adipose thermogenesis and remodeling
mTOR exists in two distinct complexes, mTORC1 and mTORC2, which differ in subunit composition and biological function. mTORC1 regulates important metabolic processes including protein synthesis, lipogenesis, energy expenditure and autophagy, and is highly active in tissues of obese and high fat diet (HFD)-fed rodents. However, how mTORC1 signaling regulates induction and activation of beige adipocytes remains largely unknown. My research goal is to characterize the role of mTOR signaling transduction in regulating thermogenic program, adipose remodeling and energy metabolism.
Type 2 Innate lymphoid cells (ILC2) and ILC2-mediated type 2 immunity in metabolism
Adipose-specific type 2 immune response, which is characterized by infiltration of group 2 innate lymphoid cells (ILC2s) and eosinophils and production of type 2 cytokine IL-4 and IL-13, plays a critical role in regulating beige adipocyte development, energy expenditure and adipose inflammation. ILC2s were recently shown to be present in adipose tissue and play a critical role in regulating browning of white adipose tissue (WAT). Moreover, increased ILC2 response limits the development of obesity. However, the mechanisms underlying the recruitment and activation of adipose resident ILC2s remains largely unknown. Our long term goal is to identify the novel roles and key regulators of adipose resident ILC2s in the context of beige adipogenesis and systemic energy homeostasis.
Selected Publications
Zhang X, Wu D, Wang C, Luo Y, Ding X, Yang X, Silva F, Arenas S, Weaver J, Mandell M, Deretic V, Liu M. Sustained Activation of Autophagy Suppresses Adipocyte Maturation via a Lipolysis-dependent Mechanism. Autophagy, in press. (2019)
Zhang X, Luo Y, Wang C, Ding X, Yang X, Silva F, Wang X, Yang Z, Wu D, Wang L, Boyd N, Spafford M, Burge M, Yang XO, Liu M. Adipose mTORC1 Suppresses Prostaglandin Signaling and Beige Adipogenesis via the CRTC2/COX-2 pathway. Cell Reports, 24:3180–3193. (2018)
Zheng H, Wu D, Zhang X, Wu X, Yang X, Zhou Q, Liu M*, Yang XO*. Leptin Promotes Allergic Airway Inflammation through Targeting the Unfolded Protein Response Pathway. Scientific Reports. 8: 8905. (2018) (* co-corresponding author)
Bai J, Cervantes C, Cai H, Liu J, He S, Yin D, Hu D, Li Z, Su X, Chen H, Gao X, Bialowas C, O'Connor J, Liu M, Dong LQ, Liu F. DsbA-L Protects Obesity-induced Inflammation and Promotes Beige Fat Thermogenesis by Suppressing mtDNA Release-induced Activation of the cGAS/STING Pathway. Proc Natl. Acad. Sci. USA., 114(46):12196-12201. (2017).
Luo Y, Liu B, Yang X, Ma X, Zhang X, Bragin DE, Yang XO, Huang W, Liu M. Myeloid Adrenergic Signaling via CaMKII is Required for Cold-induced Activation of Beige Adipocytes. Mol CellBiol, 9(5):422-434 (2017).
Zheng H, Zhang X, Castillo EF, Luo Y, Liu M*, Yang XO*. Leptin Enhances TH2 and ILC2 Responses in Allergic Airway Disease. J Biol Chem, 291(42):22043-22052 (2016). (* co-corresponding author)
Ding X, Luo Y, Zhang X, Zheng H, Yang X, Yang X*, Liu M*. ILC2/eosinophil Axis in Subcutaneous Fat Is Driven by Sympathetic Tone and Suppressed by Obesity. J of Endocrinol, 231(1):35-48 (2016). (* co-corresponding author)
Liu M, Chen H, Wei L, Jia W, Dong L, and Liu F. ER localization is critical for DsbA-L to Suppress ER Stress and Adiponectin Down-Regulation in Adipocytes. J Biol Chem, 17; 290(16):10143-8 (2015).
Liu M, Bai J, He S, Villarreal R, Hu D, Zhang C, Yang X, Liang H, Slaga T, Zhou Z, Yu Y,  Zhou Z, Blenis J, Scherer P, Dong L, and Liu F. Grb10 Promotes Lipolysis and Brown Adipocyte Gene Expression by Phosphorylation-dependent Feedback Inhibition of mTORC1. Cell Metabolism, 19(6):967-80 (2014).
Liu M, Xiang R, Wilk S, Zhang N, Kian, A, Sloane L, Zhou L, Chen H, Xiang G, Walter C, Austad S, Musi N, Defronzo R, Asmis R, Scherer P, Dong L, Liu F. Fat-specific DsbA-L overexpression promotes adiponectin multimerization and prevents mice from diet-induced obesity and insulin resistance. Diabetes, 61(11):2776-86 (2012).
Wang A, Liu M*, Liu X, Dong L, Glickman R, Slaga T, Zhou Z and Liu F*. Up-regulation of Adiponectin by Resveratrol: The Essential Roles of the Akt/FOXO1 and AMPK Signaling Pathways and DsbA-L. J Biol Chem. 286: 60-6 (2011). (*co-corresponding author)
Liu M*, Wilk S, Wang A, Zhou L, Wang R, Ogawa W, Deng C, Dong L, Liu F*. Resveratrol inhibits Amino Acid-induced mTOR Signaling by Promoting the Interaction between mTOR and DEPTOR. J Biol Chem. 285: 36387-94 (2010). (*co-corresponding author)
Liu M, Zhou L, Xu A, Lam KS, Wetzel MD, Xiang R, Zhang J, Xin X, Dong LQ, Liu F. A Disulfide-bond-A Oxidoreductase-like Protein (DsbA-L) Regulates Adiponectin MultimeriZation. Proc Natl. Acad. Sci. USA, 105: 18302-7(2008).
Affiliated UNM Researchers
Xin Zhang, PhD, Postdoc, XZhang1@salud.unm.edu
Liping Luo, PhD, Postdoc, LiLuo@salud.unm.edu
Xin Yang, PhD, Scientist, XinYang@salud.unm.edu
Chunqing Wang, MS, Research Assistant, chuwang@salud.unm.edu
Lu Wang, MD, Exchange PhD Student/Research Scholar, LuWang@salud.unm.edu
Sara Arenos, BSGP Student/Research Assistant, SArenas@salud.unm.edu
Huyen Le, Student Technical Specialist, HutLe@salud.unm.edu
Estevan Romero, Honor Research Student, estevan22@unm.edu
Lily Feldman, Honor Research Student, lrfeldman@salud.unm.edu
Brent Riley, PREP Scholar, rileyb@unm.edu
Samyuta Komaravolu, Pre-Med Student, samyutak@unm.edu