Department of Surgery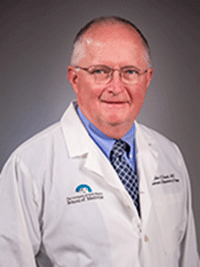 John C. Russell, MD
Chair, Department of Surgery
Our goal at The University of New Mexico is to provide excellence in surgical education and patient care. Our five year ACGME accredited program in general surgery achieves this in a setting unlike any other in the country - the beautiful high desert of the Southwest. Our referral base includes rotations at UNM Hospital, VA Medical Center, Lovelace Medical Center and Presbyterian Hospital. 
Department Highlights
More than a decade ago, we received our formal certification from the American College of Surgeons for the BATCAVE as a regional simulation center.
Our chief residents finish with over 1,000 major cases. Our comprehensive curriculum includes didactic and problem-based learning. Operative and laparoscopic surgical skills are addressed in technical labs as well as in the operating room. Scholarly activity is mandatory, with opportunities ranging from clinical research to quality assurance and innovations in education. 
Graduates from our surgical program have excelled as both community-based general surgeons and sub-specialists in large urban centers. We are proud to have prepared them equally well for either path.
Striving for Excellence
We strive not only to maintain our level of excellence, but to improve our program. We are innovators in education. The experience and learning are not limited to surgery - the distinct cultures that constitute our population enrich the educational experience.  All this takes place in the wonderful climate and breathtaking geography of this unique corner of the country. Welcome to our program. We hope that you will come and see what it is that sets us apart.