MD Alumni Association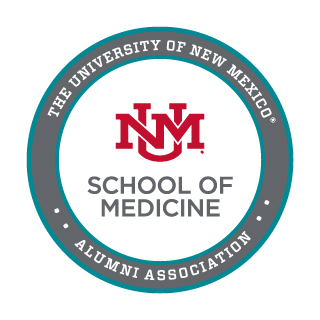 If you obtained a Doctor of Medicine (MD) at UNM, or if you completed your graduate medical education at UNM through residency and/or fellowship, you are a celebrated member of the UNM School of Medicine MD Alumni Association.  The association exists to improve participation of alumni, like you, in the various opportunities to give back and stay connected to the UNM School of Medicine Community. 
The role of the UNM School of Medicine MD Alumni Association is to:
Improve alumni participation.

Support current and prospective medical students and house staff.

Recognize achievements of alumni.

Raise funds to support the School of Medicine.

 
Stay Connected
White Coat Ceremony
The White Coat Ceremony is a rite of passage for entering medical students as they are welcomed into the medical community. The ceremony emphasizes the importance of humanism, compassion and honor as integral parts of a medical career. In addition to receiving their coats, students also receive a gift certificate for their first stethoscope.
Match Day
Every spring, graduating students gather to share in the excitement of learning where they will complete their medical residency. The School of Medicine Alumni Association sponsors a parting gift for graduates.
Travel Grants
The Alumni Association allocates $2,000 per school year to help sponsor students to further their education through conferences, research and professional development opportunities. Once a travel grant is awarded, the student is asked to share their experience with the Alumni Office and their peers.
Student Nook
The Student Nook is a fun, friendly and healthy place for medical students to take a break between classes. Located in the Advancement and Alumni Relations Office, the Student Nook features Keurig coffee, fresh fruit and a variety of healthy snacks.
Emergency Loans
Residents are invited to apply for 90-day interest-free loans. These loans assist them with unexpected expenses. Residents can apply for Emergency Loans for up to $500 in the Advancement and Alumni Relations Office.
Alumni Reunion:
Reconnect with your School of Medicine classmates and fellow alumni at the annual reunion. Activities include campus functions with leadership, a family friendly event, class dinners and the alumni awards banquet.
Alumni Awards:
Do you know a UNM School of Medicine alumnus who has made significant contributions to society and whose accomplishments, affiliations and career exemplifies the School of Medicine's legacy of excellence?
Do you know of a New Mexico health system(s) that embodies the mission of the UNM School of Medicine in their dedication to education, creating a diverse network of health care professionals and providing compassionate care to all New Mexicans?
Now is the time to recognize these amazing providers!
The UNM School of Medicine Alumni Association is calling for nominations for the 2020 Alumni Awards, including:
2020 Distinguished Alumnus Award
2020 Leonard M. Napolitano, PhD Award
2020 Visionary Site of the Year Award
The
Alumni Magazine
is a biannual publication showcasing the experiences and accomplishments of the UNM School of Medicine students, faculty and alumni.
MD Alumni Association Board
President: Dr. Jennifer Phillips, Class of '01
Vice President: Dr. Nate Roybal, Class of '07
Treasurer: Dr. Alisha Parada, Class of '08
Dr. Lawrence Andrade, Class of '00
Dr. Manuel Archuleta, Class of '73
Dr. Valerie Carrejo, Class of '04
Dr. Dion Gallant, Class of '99
Dr. Angela Gallegos-Macias, Class of '02
Dr. Albert Kwan, Class of '83
Dr. Mario Leyba, Class of '04
Dr. Robert Melendez, Class of '00
Dr. Mario Pacheco, Class of '86
Dr. Valerie Romero-Leggott, Class of '92
Dr. Linda Stogner, Class of '83
Jessica Benally, Class of '22
Deanna Gonzales, Class of '21
Dr. Daphne Olson, Class of '17
Questions?
Contact us today to get more involved with your MD Alumni Association. 
Erika Anderson, Program Manager
(505) 272-1913 office