AHEC Scholars Program   
Put your healthcare passion to work serving rural and disadvantaged communities in New Mexico. Apply for the two-year Area Health Education Center (AHEC) Scholars' Program—a federally funded, nationwide initiative to address shortages in health professionals.
Shortages are overwhelmingly found in rural and underserved communities. New Mexicans need providers to close the gaps in emergency medical care, nursing, pharmacy, lab technician services and more.
As an AHEC Scholar, you will be a leader in your field. You will gain the knowledge, skills and training to improve primary care practice outcomes through interprofessional and collaborative training.
To learn more about the program, please email our team at NMAHECScholars@salud.unm.edu.
Program Information
In New Mexico, the AHEC Scholars Program will enroll at least 45 health professions students from several colleges and universities.
The program focuses on six core topic areas:
Interprofessional education—Understand the coordinated, patient-centered model of health care and the roles of multiple health care professionals.
Behavioral health integration—Promote the development of integrated health services to address the needs of individuals with mental health and substance use conditions.
Social determinants of health—Learn the health impact of five key areas: Economic stability, education, social and community context, health and health care and neighborhood and built environment.
Cultural competency—Improve individual health and build healthy communities by recognizing and addressing the unique cultures, languages and health literacy levels of diverse consumers and communities.
Practice transformation—Support quality improvement and patient-centered care through a range of tools and methods. Adapt organizational tools and processes to support new team-based models of care delivery.
Current and emerging health issues—Understand the latest health issues affecting New Mexicans, such as behavioral health conditions, substance abuse and the COVID-19 pandemic.
How to Apply
Admission is open to college students currently enrolled in a health profession degree program with a duration of two years or longer. Cohorts run for 20 months, beginning each January and continuing through August of the next year.
Interested in becoming an AHEC Scholar? Please fill out an application and an eligibility verification form. Applicants must also submit a 500-word personal statement that addresses the following:
Why do you want to be a health professional in New Mexico?
What is your background, and how has it influenced your goals and preparation for a health professional career in New Mexico?
Upon completion of your program, you will receive:
A formal Certificate of Completion
Intensive leadership training and skill development
Expert mentorship and training by recognized faculty
Membership in the national AHEC Scholars Program
Program benefits, such as academic credit
Program Expectations
To finish the program, you will need to complete 40 hours per year of didactic training and 40 hours per year of community-based experiential (i.e., clinical) training. The two-year program total is 80 didactic and 80 clinical hours. The first three cohorts of the NM AHEC Scholars Program will be abbreviated to 19 months each, starting in late January and ending in August of the following year. Because of the reduced amount of time, scholars in these two cohorts will only be required to complete 70 hours of didactic instruction over the course of their time in the program.
A significant part of the didactic training will include intensive systems leadership workshops with your scholar cohort. The leadership and skill development program will include required training in Albuquerque with required quarterly follow-up video conferencing. In their second year in the program, scholars will mentor students entering the next cohort.  
Community-based clinical experiences will be part of the students' regular health profession programs curriculum. Qualifying clinical experiences will take place in an interprofessional primary care setting in a rural and or underserved area.
You will participate in a series of Interprofessional Primary Care AHEC TeleECHO (IPPC AHEC TeleECHO) clinics. This first clinic of its kind, TeleECHO will introduce you to interprofessional, problem-based clinical didactics that focus on the core topic areas as a part of common primary care case studies.
These case studies will be drawn from the experience of AHEC Scholars, other health professions students and clinic faculty.
In addition to clinic and didactic learning, you will:
Present or co-present with another scholar at least one case during your time at a TeleECHO clinic.
Provide feedback on various components of the program in evaluations and focus groups
Present a poster or participate in a workshop at a professional or academic conference or symposium.
Compile a portfolio of work with items such as case presentation forms, proof of completion of leadership training and completed evaluations of TeleECHO sessions and clinical experiences.
Respond to AHEC upon completion of the program for updates on practice locations and activities.
Partners in New Mexico's Health
We are proud to partner with the following institutions to help make this program achievable.
Contact
AHEC Scholars Program
MSC 09 5040
1 University of New Mexico

Albuquerque, NM 87131
Phone: 505.272.9761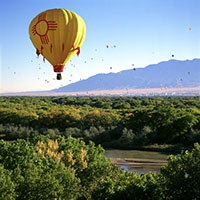 Are you a patient looking for care?