Addiction Medicine Fellowship
Our Mission
The mission of the University of New Mexico Addiction Medicine Program is twofold:
To produce outstanding clinicians, scientists and leaders in the field of addiction medicine, and
To produce primary care providers with an expertise in addiction medicine to help treat patients in our communities. 
UNM fellows learn to provide the highest level of addiction care with expertise, compassion and professionalism. Our patients span the continuum from birth to geriatric patient populations.
Engage in diverse clinical experiences such as inpatient and outpatient addiction treatment. Master core competencies through clinical rotations, case conferences and didactic lecture series. Here, you will receive carefully designed professional development and support in personal growth and physician well-being.
Fellowship Eligibility
To apply, you must meet the following criteria:
Completion of an ACGME, RCPSC, or CFPC accredited residency training program in family medicine, internal medicine, preventive medicine, emergency medicine, OB/Gyn, pediatrics or anesthesia.
The University of New Mexico has an Addiction Psychiatry program for applicants from psychiatry.
Board-certified or planning to be become board-certified (before fellowship start date) in Family Medicine, Internal Medicine, Preventive Medicine Emergency Medicine, OB/Gyn, Pediatrics or Anesthesia­­­­­.
Must be eligible to receive a New Mexico License and Federal DEA.
Must be eligible to be a Medicaid and Medicare Provider.
How to Apply
This program does participate in ERAS; however, does not participate in the match.
For All Applicants
Only ERAS applications are accepted, and you must sign up for NRMP.
Physicians who are not US citizens must have a valid work permit or be eligible for a J-1 visa (H-1 visas are not sponsored).
Please submit your application and the following supporting documentation via the ERAS system*:
A CV or resume. Be sure to include information such as:

Community service and volunteer work
DEA license information and buprenorphine license information (if completed)
Educational background from undergraduate training onward
Employment history and military service
Hobbies, special interests
Honors and awards
Licensure information—including any restrictions or history of restrictions
Presentations
Publications
Specialty certifications

A one-page personal statement describing your interest in addiction medicine and your potential plans after completion of the fellowship.
Three letters of recommendation.
Our program directors will review applications regularly. If you are selected, we will contact you directly to schedule an interview.
Application deadline is November 1st.
Interview spots fill quickly; we encourage applying as early as possible.
Given the need for all of us to support the nation's public health efforts, all interviews will be conducted in a virtual setting – either by phone or through video conferencing.
Meet our Leadership
Program Director
Valerie Carrejo, MD 
Associate Professor, Department of Family & Community Medicine
Director, Addiction Medicine Fellowship
Department of Family & Community Medicine
Assistant Program Director
Vanessa Jacobsohn, MD 
Assistant Director of Addiction Medicine Fellowship
Depts of Psychiatry & Behavioral Sciences and Family & Community Medicine
Work and Play in the Land of Enchantment
The city of Albuquerque is all about balance. Albuquerque's mountains, deserts and year-round sunshine offer incredible outdoor opportunities for sport and recreation. Our residents strive to be a force for modern day change while still preserving Albuquerque rich history.
Visit Old Town Plaza, one of the oldest and most haunted spots in the United States. Its original Pueblo-Spanish architecture is still preserved. A real must-see when visiting the city, it's a great place to walk around, shop and grab some traditional Mexican food.
Albuquerque is also the hot air ballooning capitol and home to the International Balloon Fiesta, the largest hot air balloon festival in the world and the current record holder for most balloons launched in an hour. The festival is held every October with visitors from all over the world.
With 310 days of sunshine a year and the nearby Sandia Mountains, Albuquerque is the perfect city for outdoor enthusiasts. The city is near several hiking trails and is considered one of the fittest cities in the U.S. As we like to say, "You're only bored here if you want to be."
Contact
Program Coordinator
Sandra Peters
Department of Family and Community Medicine Addition Medicine Fellowship
MSC 09 5040
1 University of New Mexico

Albuquerque, NM 87131
Phone 505.925.4488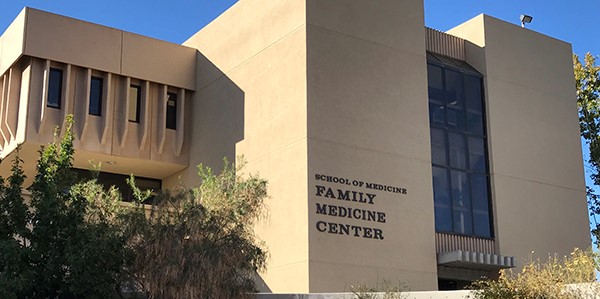 Are you a patient looking for care?