BATCAVE Healthcare Simulation Program
The Basic and Advanced Training- Computer Assisted Visual Experience (BATCAVE) Healthcare Simulation Program is a state-of-the-art program for medical education at The University of New Mexico School of Medicine in Albuquerque. Our facilities include two classrooms, three Adult Simulation Labs, a Pediatric Simulation Lab, three Infant Simulation Labs, a Birthing Simulator Lab, and several breakout rooms.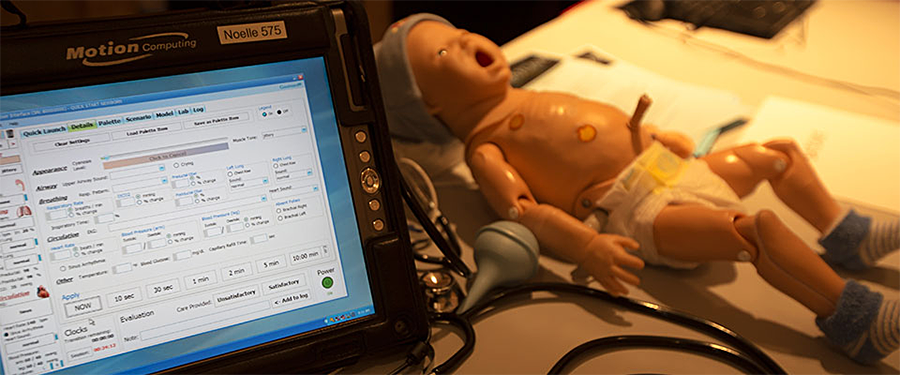 Our program also hosts online education for UNM and medical professionals across the state and it is accredited as a Level 1 Education Institute by the American College of Surgeons. We strive to create a partnership with health care community affiliates that will enhance and promote our mission.
To improve quality, safety, and learning through innovative multidisciplinary health care education.
Deliver life support classes and competency-based education and assessment to all health care providers.
Support and facilitate simulation-based learning, assessment and research for UNM Health Systems.
Provide outreach, education and service to the people of New Mexico.
Today in the BATCAVE

 UNMH Student/Staff Clinical Education classes


 Sponsored national courses


 Public education session (registration may be required)
Contact
Clinical and Translational Science Center (building 227) room B-50
See our Directions to the BATCAVE web page for more information.
Mailing/Shipping Address
University of New Mexico Hospitals
BATCAVE
2211 Lomas Blvd. NE
Room B-50
Albuquerque, NM 87106
Email Address
Phone: 505-272-5998
Hours of Operation
Monday - Friday
7:30 am - 4:30 pm
(Mountain Standard Time)
Are you a patient looking for care?