Alpha Omega Alpha (AOA)
The goal of the Alpha Omega Alpha Honor Medical Society at UNM is to promote service to others, support the ideals of humanism, and to recognize high educational achievement.
The current New Mexico Chapter AOA Councilor is Satyan Shah, MD (Associate Professor of Surgery). The Office of Medical Student Affairs provides administrative support to AOA. For more information about AOA, please contact OMSA or call 505-272-3414.
Election to AOA
Election to AOA is indeed a great honor. The process at UNM begins early in the fourth year of medical school. During the summer, approximately 25% of the expected graduating class will be nominated for AOA. This nomination will occur primarily based on academic performance (the average of Phase I and Phase II grades combined). Nominated students will be notified and will be requested to provide consent for the AOA selection committee to review their academic records.
In the summer/early fall, the selection committee (consisting of faculty and resident members of AOA at UNM) will meet to review all nominated students. The committee will elect up to 1/6 of the expected graduating class. Final selection will be based on academic performance, leadership capability, ethical standards, demonstrated professionalism, and record of service to UNM and the community at large.
Chapter Activities
AOA Giving Tree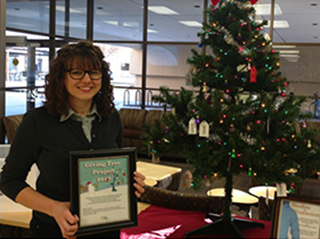 Every winter, the Chapter sponsors a "Giving Tree" where charities in our local community are given donations of food, clothing, or other needed items.
AOA Spring Banquet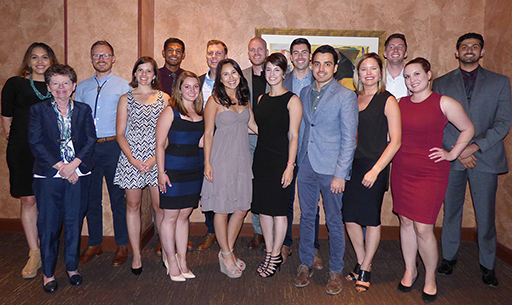 Every spring, AOA holds an induction banquet to welcome the newest AOA members. All AOA members are welcome to attend. For more information about the Spring Banquet, please contact AOA coordinator Chamonix Berry or call 505-272-0648.
AOA Specialty Career Night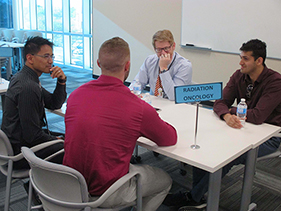 The newest addition to our AOA Chapter's activities, the AOA Specialty Career Night, is held in the spring and provides first-and second-year MD students with the opportunity to meet with faculty and residents from various specialties outside of their core curriculum, giving students the opportunity to explore their interests early and in a casual setting.
Chapter Newsletter
The New Mexico AOA Chapter issues a bi-annual newsletter to members which includes information about upcoming events and elections.
Chapter History
The New Mexico AOA Chapter has a long history. The first banquet and installation ceremony was held on June 4, 1968 in the Basic Medical Science Building. At that ceremony, four students were elected to AOA. Dr. Reginald Fitz, the Dean of the Medical School, presided over the program. To date, over 650 students, residents, and faculty have been elected to AOA at UNM.
UNM AOA Alumni
Were you elected to AOA at UNM? We would love to hear from you! Please consider attending our annual spring banquet. Contact Satyan Shah, MD (AOA Councilor) or call 505-272-6428.
Contact
Physical Address
Fitz Hall room 107
Mailing Address
UNM SOM Office of Medical Student Affairs
MSC 08 4700, 1 University of New Mexico
Albuquerque, NM 87131
Email Address
Phone: 505-272-3414
Fax: 505-272-8239
Hours of Operation
Monday - Friday
8:00 am - 5:00 pm
(Mountain Standard Time)
We are closed on holidays and during SOM event days.
Are you a patient looking for care?