Gold Humanism Honor Society (GHHS)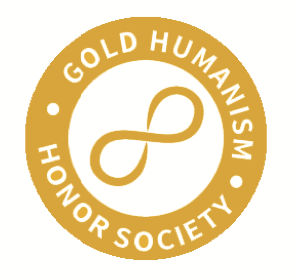 The Gold Humanism Honor Society is a recognition program established by the Arnold P. Gold Foundation to give students an opportunity to pay tribute to peers who are exemplars of compassionate patient care and who serve as role models, mentors, and leaders in medicine.
The current New Mexico Chapter GHHS Councilor is Cynthia Geppert, MD (Professor of Psychiatry and Director of Ethics Education). The Office of Medical Student Affairs provides administrative support to GHHS. For more information about GHHS, please contact OMSA or call 505-272-3414.
Election to GHHS
Election to GHHS is indeed a great honor. The process at UNM begins in the spring when peer nominations are solicited during the third year of the MD program. The top 25% of nominees will be asked to submit an essay to the GHHS Selection Committee for anonymous review and final consideration. Of the top 25%, 10-15% of the class will be inducted into GHHS.
Chapter Activities
GHHS Hoodies for Humanism
Every winter, the Chapter coordinates a hoodie donation drive to benefit Albuquerque Public Schools students in need.
GHHS Spring Luncheon
Every spring, GHHS holds an induction luncheon to welcome the newest GHHS members. For more information about the GHHS Spring Induction Luncheon, please contact OMSA or call 505-272-3414.
Chapter Newsletter
The New Mexico GHHS Chapter issues an annual newsletter to members which includes information about upcoming events and elections.
Contact
Physical Address
Fitz Hall room 107
Mailing Address
UNM SOM Office of Medical Student Affairs
MSC 08 4700, 1 University of New Mexico
Albuquerque, NM 87131
Email Address
Phone: 505-272-3414
Fax: 505-272-8239
Hours of Operation
Monday - Friday
8:00 am - 5:00 pm
(Mountain Standard Time)
We are closed on holidays and during SOM event days.
Are you a patient looking for care?