Alumni & Clinical Educator Award Reception
We are proud to honor our outstanding alumni and preceptors. They make a huge impact on our students and our community. An award is the least we could do. 
Each autumn, the College honors a distinguished and a new alumus, outstanding preceptors at the undergraduate and graduate levels and a exemplary clincial site. The awards recognize the positive impacts these individuals have made in health care and nursing education. 
ALUMNI & CLINICAL EDUCATION AWARDS RECEPTION

Friday, November 13, 2020
5:30-7:00 p.m.
Via Zoom
Please RSVP by November 6th to HSC-CON-Advancement@salud.unm.edu receive the link and password

(Click on the awards below to see the nominees.)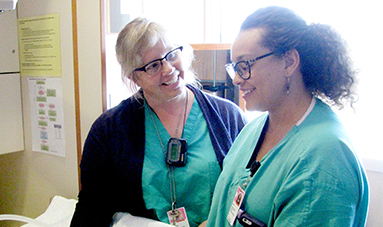 Nominate an Alumni or Clinical Educator
Know an Alumni or Clinical Educator who goes above the call of service?
Explore 2020 Nominees
Learn more about our most recent alumni and clinical educator nominees.
Celebrating & Educating Our Nurses.
Alumni Relations Contact
Director of Alumni Relations
Marlena Bermel, MBA
College of Nursing
Building Number 228 Office 346
1 University of New Mexico
Donate today, when our students need it most.