Undergraduate Simulation & Skills
Your simulation experience will start in the skills lab as you practice and learn the skills you need to care for your patient. You will take those skills with you into your simulation experience. All in a safe and low risk environment.
During your program, pre-licensure undergraduate nursing students participate in different simulations, from basic to advanced scenarios. The majority of undergraduate simulations are dictated by the New Mexico Nursing Education Consortium (NMNEC) Simulation Plan. This Simulation Plan stipulates the skills and competencies needed in each of the five undergraduate levels.
What sets us apart?
All students have access to high-fidelity manikins that they will interact with each semester.
Our undergrads take part in telehealth from our ECHO clinics
Quick to adapt. We implemented virtual simulation experiences during COVID and still use it as part of your education.
Center dedicated to learners. We are separate from the hospital so you will not compete for space.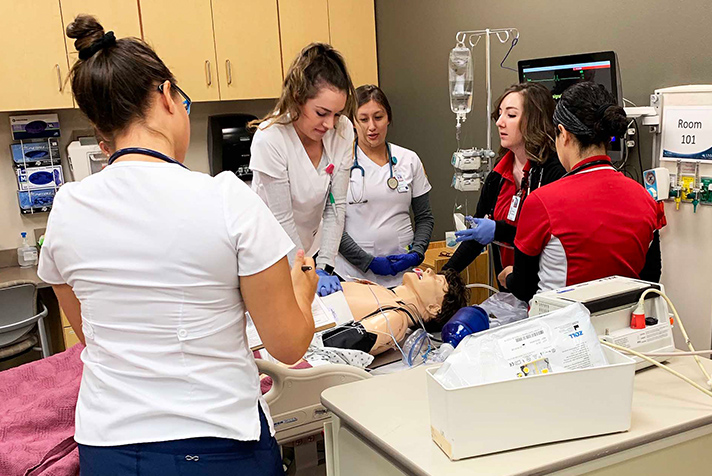 Our Space
Explore our simulation and skills labs. Notice how the space looks and functions like a real hospital. It was designed that way.
Simulation Experience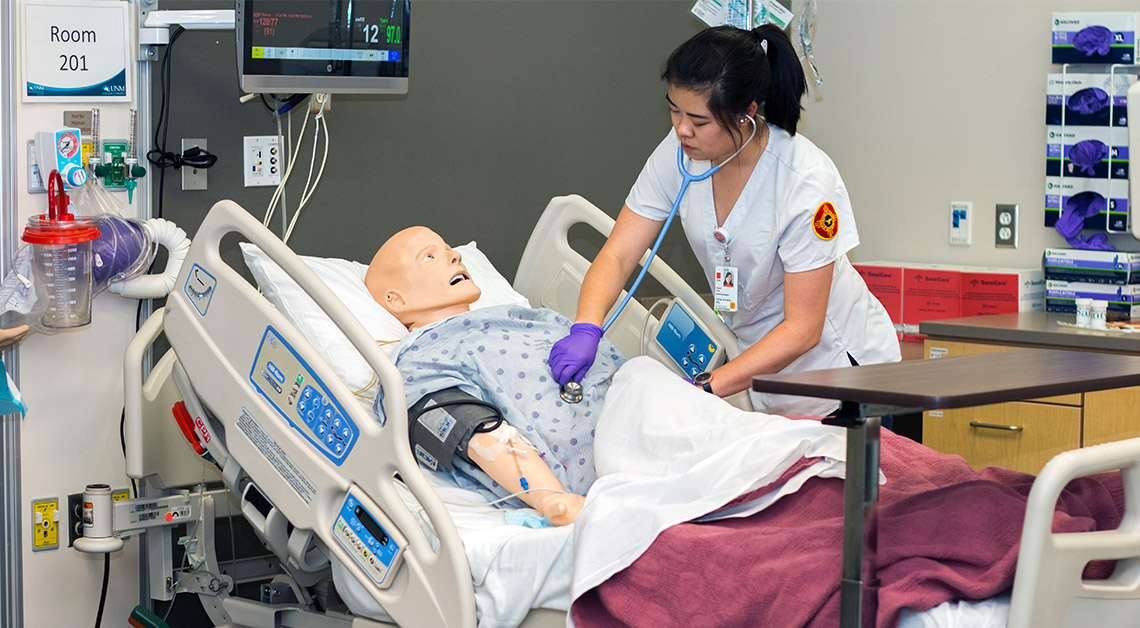 In the simulation lab your skills will be put to practice – literally. As you experience real-life scenarios with our high-fidelity manikins.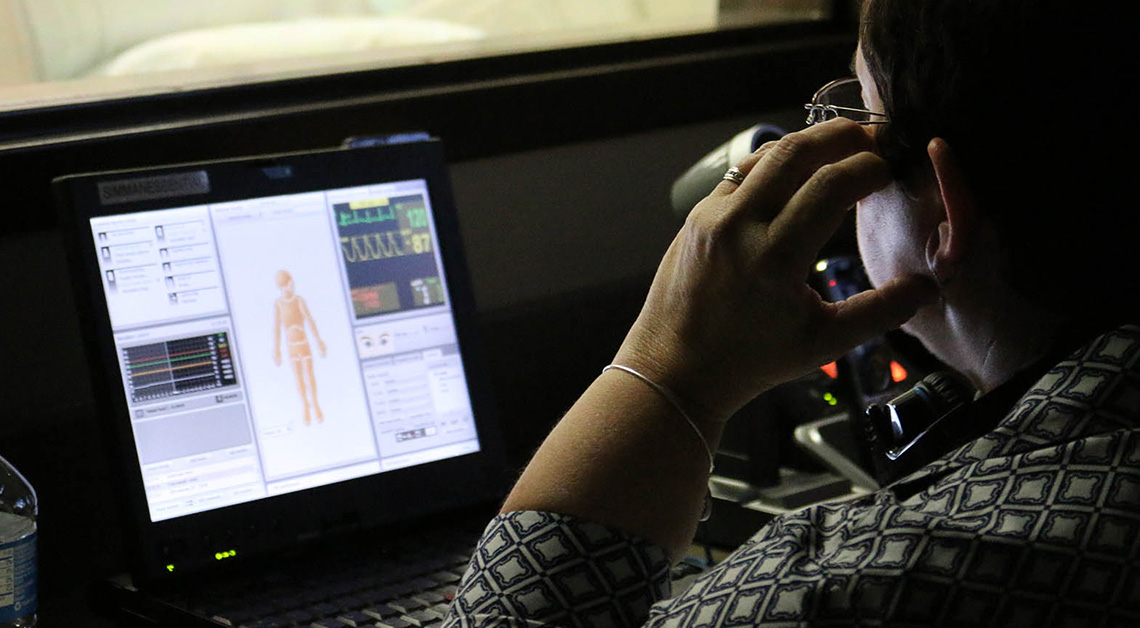 Behind the scenes in the control room your instructors operate the manikin – your patient. The patient feels like a feel person who talks, breathes, has a heart-rate and more.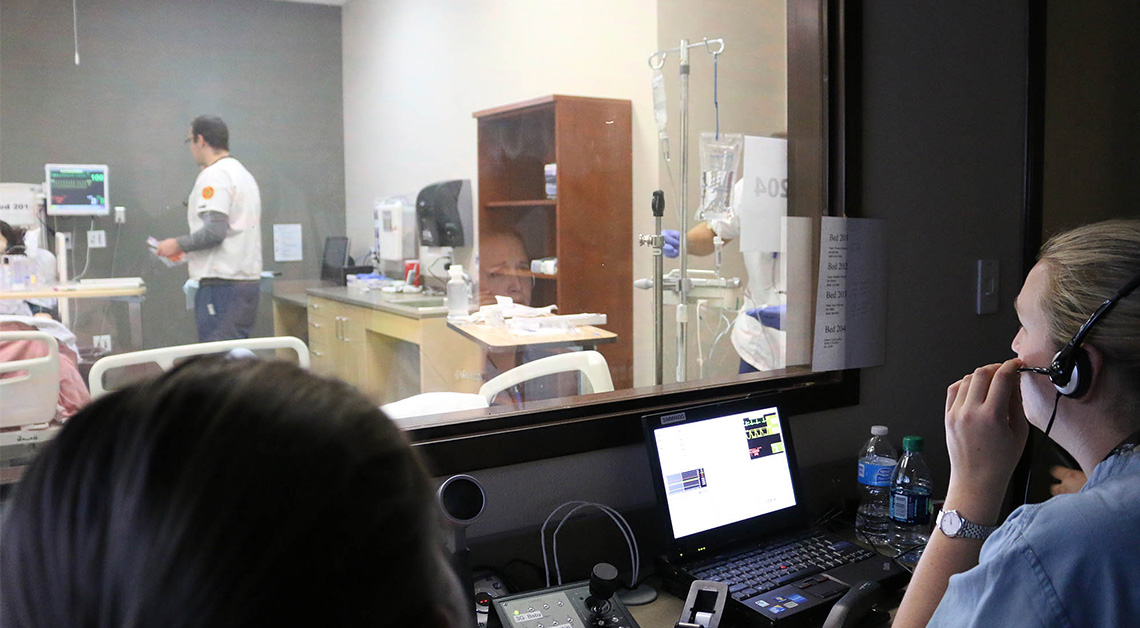 The 2-way mirror in the control room allows your instructors to customize the scenario for you. Modifying the manikins interactions with your nursing practice.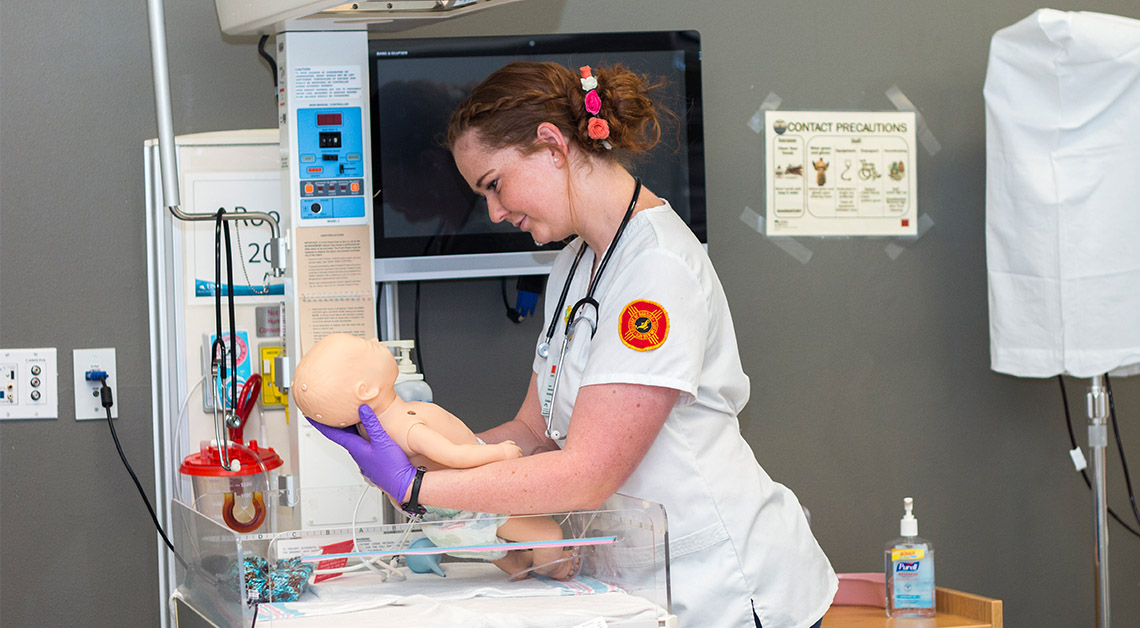 Take care of even the smallest patient. We have a diverse assortment of manikins in age, race and gender.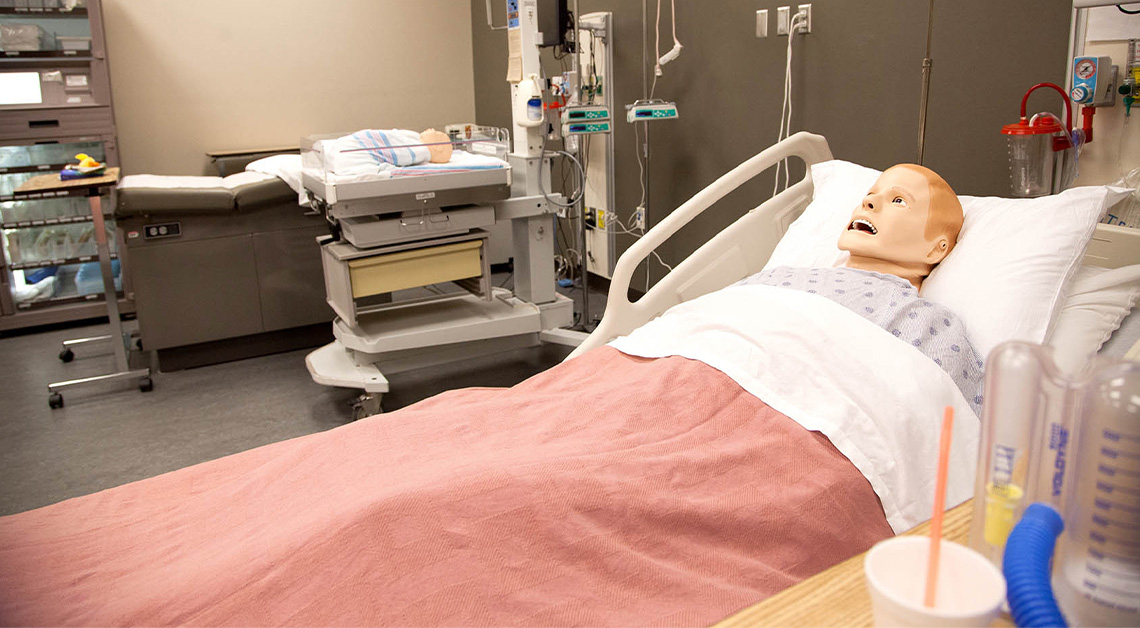 As real as a simulation scenario can get. Down to the smallest details – a cup of water waiting.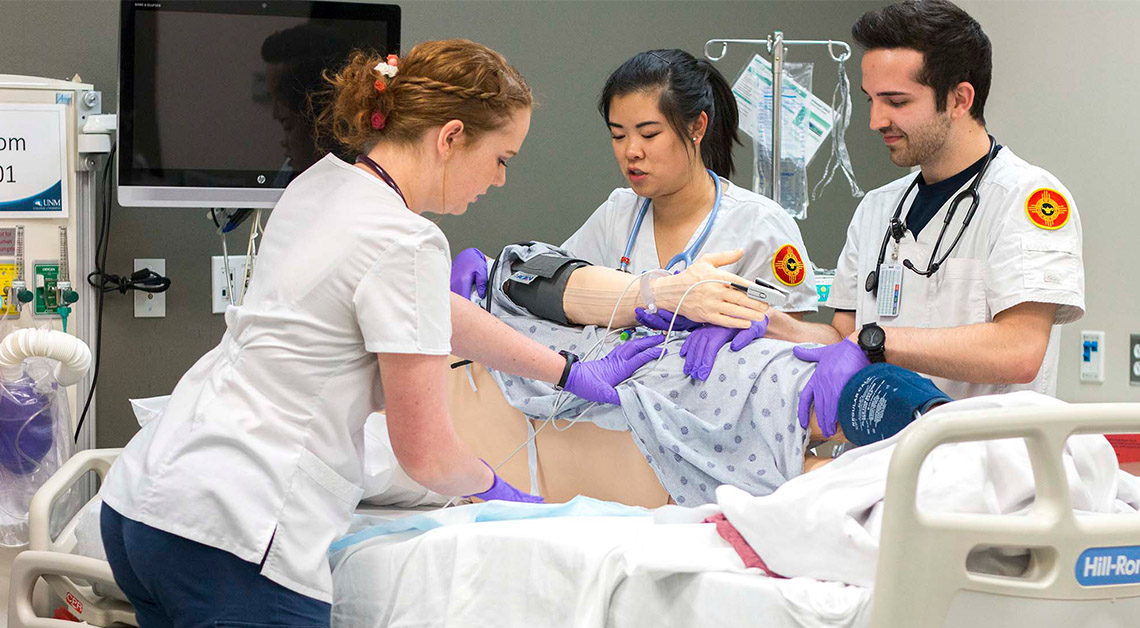 It is always a team effort to ensure the patient – manikin – receives the best care.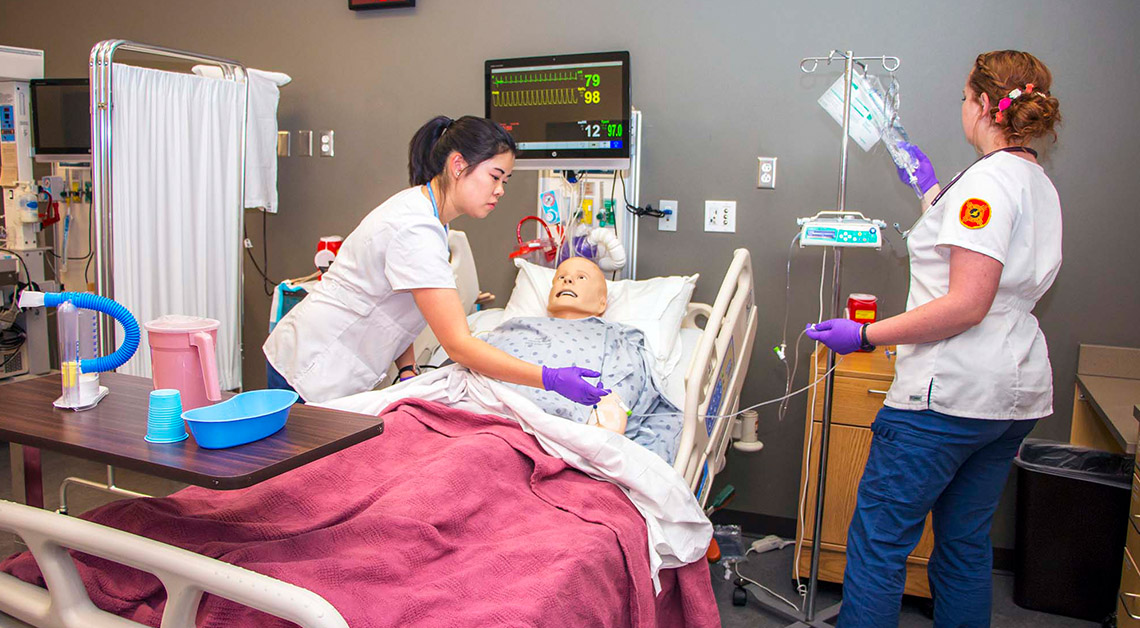 All the resources of a hospital at your full disposal – including IV and fluids.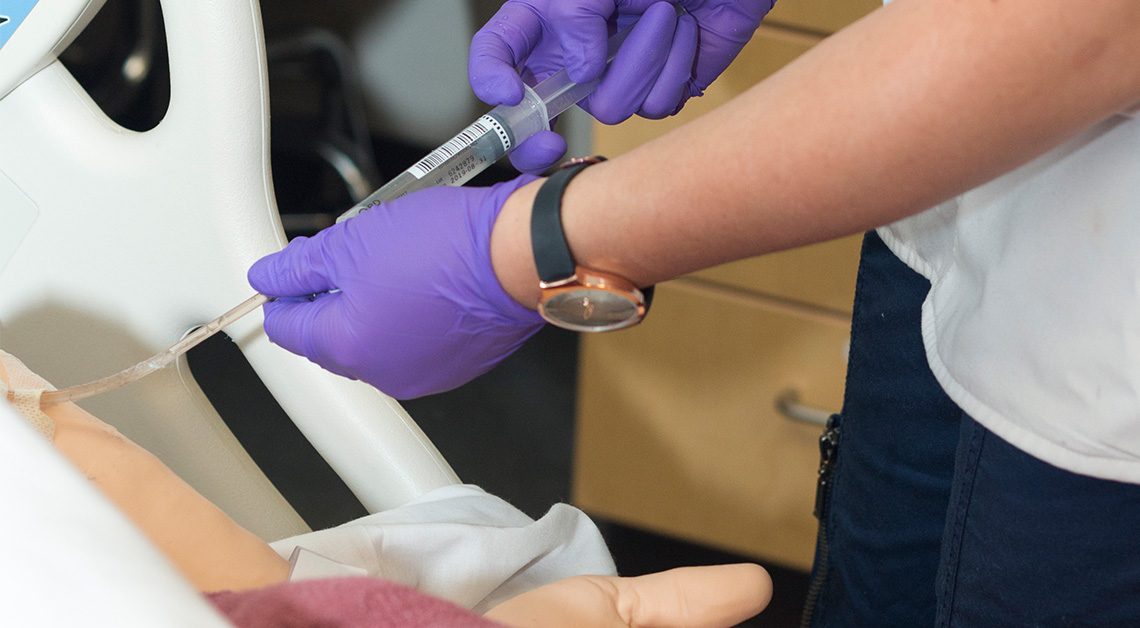 The fluids aren't real but our team alters them to look and feel authentic.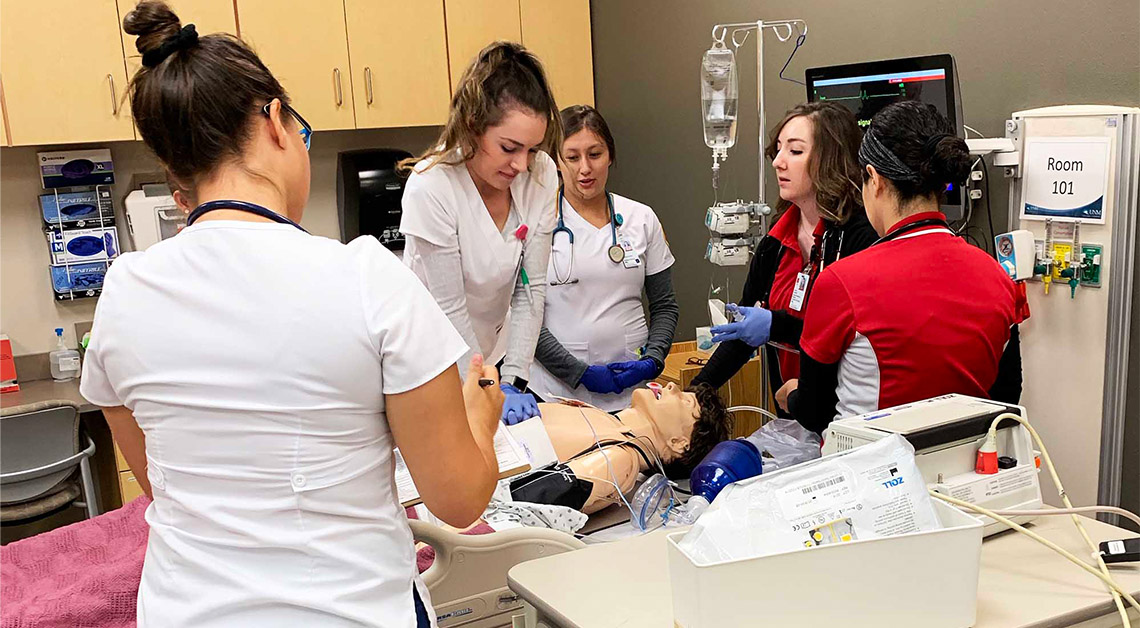 Together with a provider – our Adult-Gerontology Acute Care Nurse Practitioner student – these students are working to save the life of a patient in cardiac arrest.
Pulling out all the tools necessary to save this patient – manikin.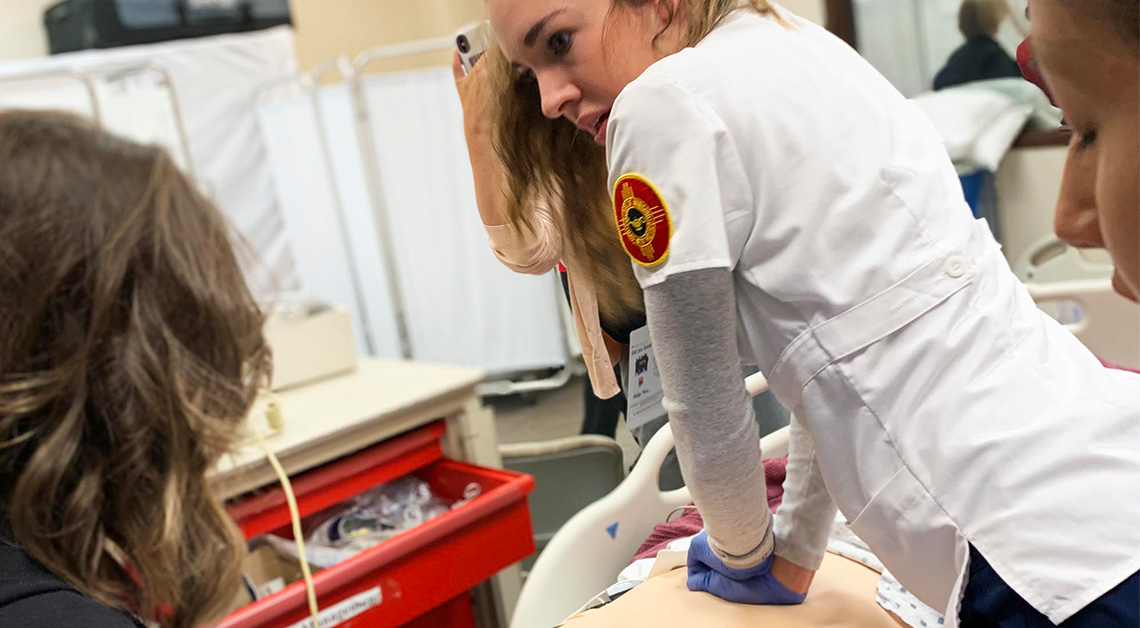 No matter the outcome of the simulation you will learn important lessons. You will be prepared to use those learnings on your next patient. A patient that will not be a simulation. But you will be prepared.
Skills Lab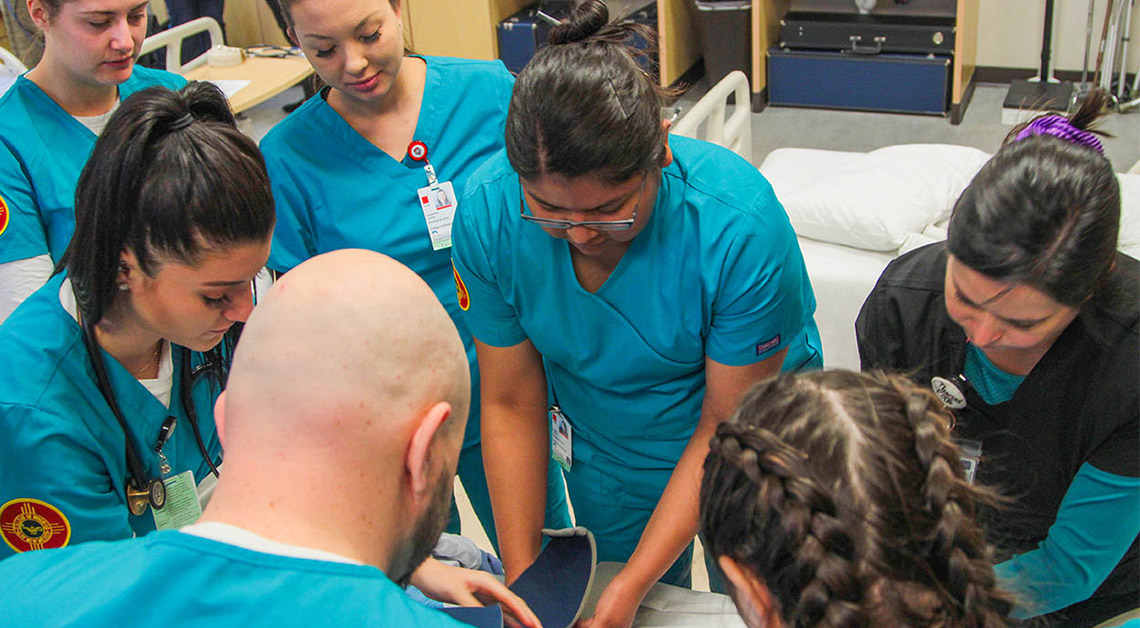 Gaining hands on experience in our skills lab.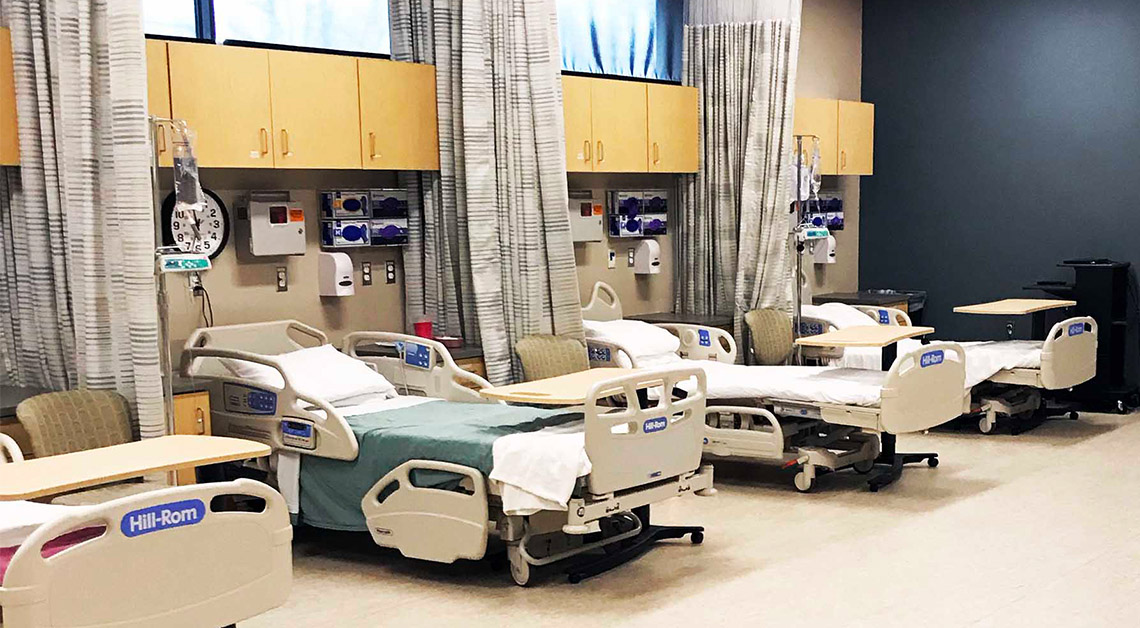 Our skills lab is designed to mimic a hospital setting with 6-8 beds in each room.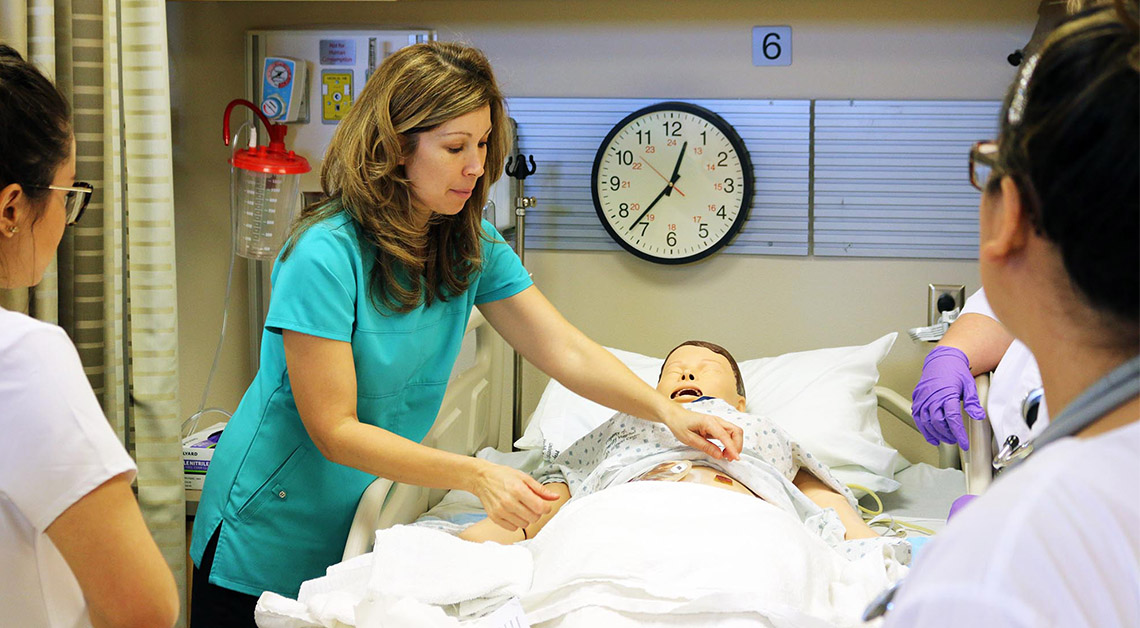 Our faculty will instruct you with the aid of our low-fidelity manikins.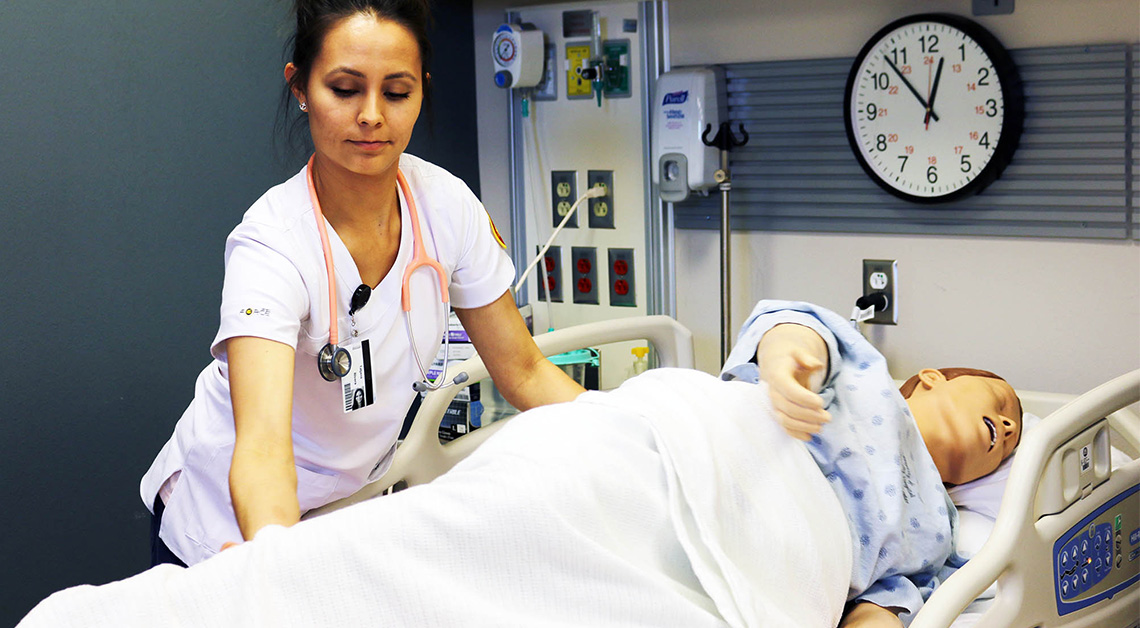 Then you will have time to practice your skills.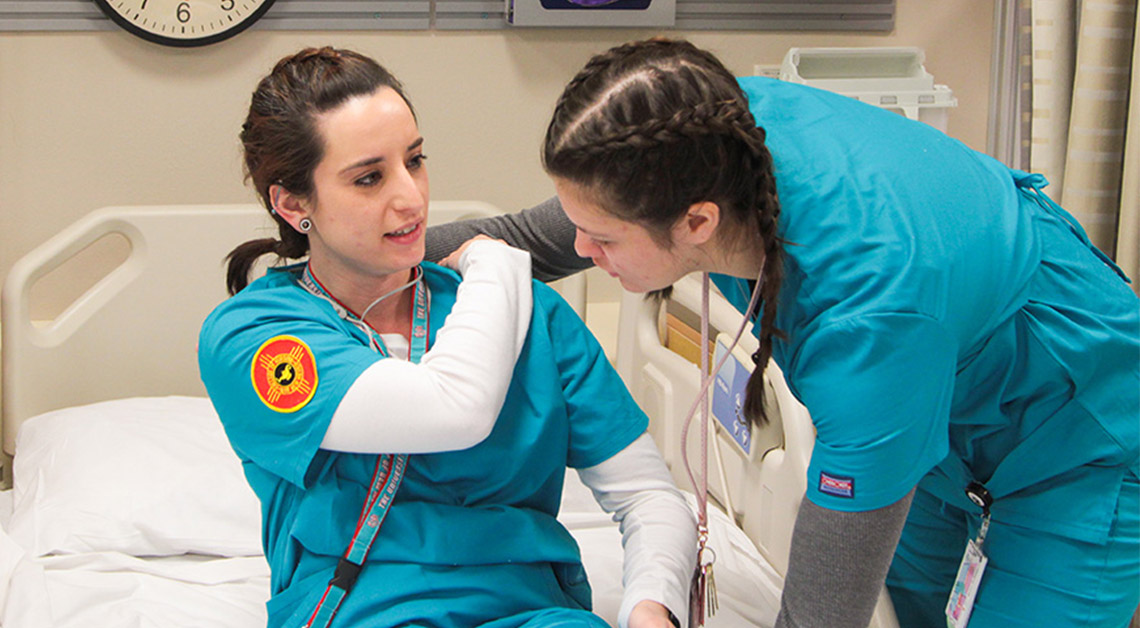 And move onto using your classmates as patients. Allowing for learning when you are both the nurse and the patient.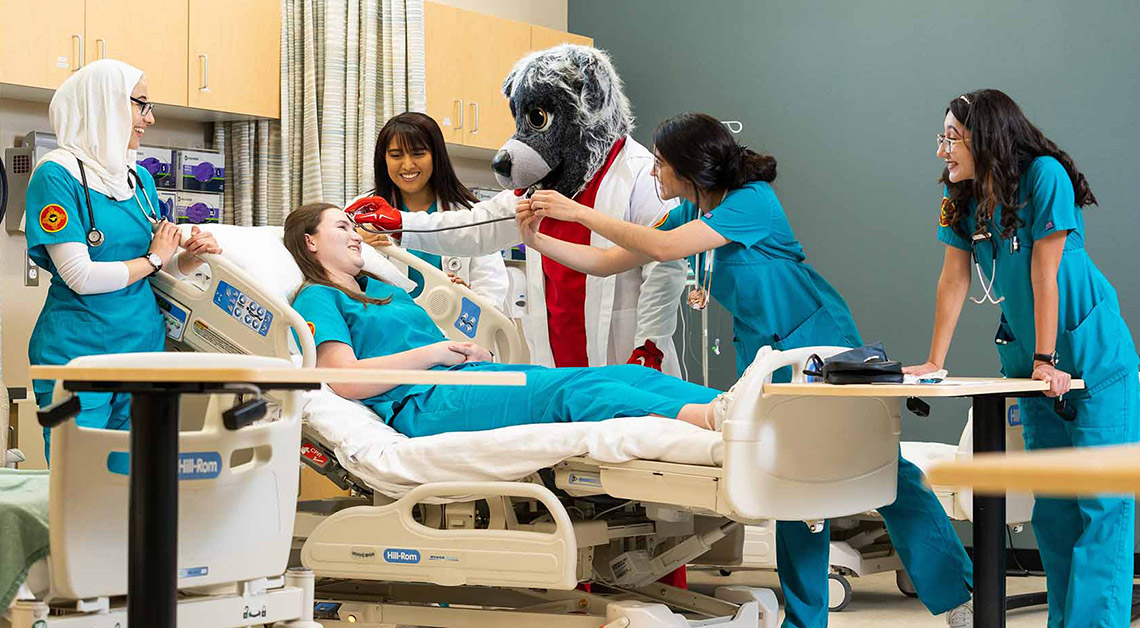 Lobo Louie stopping in for some fun and to learn a thing or two about how to become a nurse.