Research Overview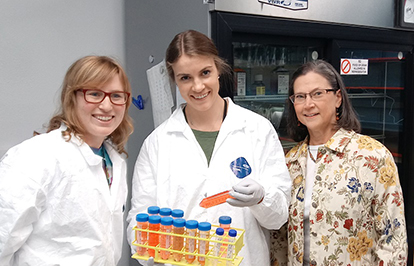 Our large and growing research program at The University of New Mexico School of Medicine is currently engaged in more than 30 projects both internally and in collaboration with other departments and institutions. They include clinical trials, basic research, educational studies, observational studies, and surveys, and they span the full range of patient populations. Our collaboration partners come from a variety of fields:
Neuroscience
Psychiatry
Child development
Biochemistry
Emergency medicine
Orthopedics and other surgical disciplines
We also participate in several national case registries to better understand practice patterns and rare complications.
New Lab Facilities
The department's new 6,000-square-foot Laboratory for Pain Relief Studies has generous facilities for cell culture, biochemistry, immunohistochemistry and autoradiography. Work in the lab is generally focused on the physiological mechanisms underlying chronic pain, and non-opioid treatments for it.
Team Support
We are proud to offer our faculty and residents both in-house and institutional statistical support, and we have a dedicated staff member to assist with study design, IRB review, FDA filings, grants, and manuscript preparation. Protected research time is available for faculty and advanced residents. The department has also instituted a Short Statistics Lecture series aimed at demystifying statistical concepts for residents and faculty with little prior experience.
Our department also utilizes resources offered by UNM's Health Sciences, including a Clinical Data Warehouse, biostatistics, numerous core facilities, a clinical trial center, grantsmanship training, funding searches, library/informatics assistance, and IT infrastructure such as RedCap.
We are dedicated to improving patient care, training the next generation of clinician-scientists, and providing our physicians with the tools they need.