Lab for Pain Relief Studies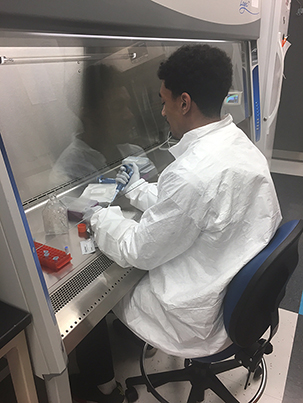 The Basic Science division consists of faculty from The University of New Mexico's Anesthesiology and Critical Care Medicine, Neurosciences and Neurosurgery departments and the College of Pharmacy. Extensive primary laboratory space is housed within the Department of Anesthesiology and Critical Medicine at the UNM School of Medicine.
The academic group is pioneering basic and translational research studies on chronic pain including testing of new and "new use" clinical drugs for pain stemming from:
Back
Arthritis
Orofacial disorders
Pancreatitis
Therapies tested include pain-relieving cannabinoid components and gene therapies to overexpress non-addictive natural opiates. Studies that are under development include imaging therapeutics for treatment of cancer pain, in collaboration with the Keck-UNM Imaging Resource in the College of Pharmacy, directed by Dr. Jeffrey Norenberg.
Studying Fetal Alcohol Exposure
One study area of aberrant neuroimmune mechanisms underlying peripheral neuropathic pain examines the effects of adverse conditions in utero, such as low dose fetal alcohol exposure, on the developing central nervous system. This is a collaborative effort with the New Mexico Alcohol Research Center in the UNM Department of Neurosciences.
Utilizing rodent models involving low levels of alcohol exposure during gestation, the potential pathological spinal and brain neuroimmune responses to minor peripheral nerve injury or immune activation in adult offspring are examined. Our recent findings reveal heightened glial reactivity and adult-onset susceptibility to peripheral neuropathy (allodynia; heightened sensitivity to light touch) as consequences of prenatal alcohol exposure.
Collaborative Research
A different area of study examines the role of spinal subarachnoid gene delivery of the anti-inflammatory cytokine, interleukin-10 (IL-10), to create IL-10-dependent long-duration pain relief. Immune-interrelated etiologies including chemotaxis, mitosis, and phagocytosis are explored.
The many areas of expertise related to these collaborative efforts (including neuropharmacology, clinical anesthesiology, molecular neuroscience, cell biology, and physical therapy) have facilitated a unique research platform at the UNM Health Sciences Center. Our central goals are developing novel non-opioid-based pain therapeutics and advancing our fundamental understanding of mechanisms critical for the initiation and maintenance of chronic pain.