Department of Neurology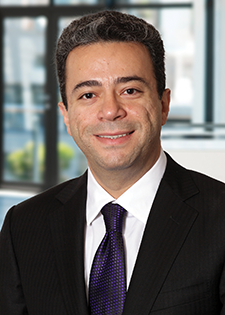 Michel T. Torbey, MD,
MPH, FAHA, FCCM,
FNCS, FANA
Neurology Chairman
As a leader in neurology education, research and patient care, The University of New Mexico Department of Neurology at the School of Medicine in Albuquerque offers a three-year neurology training program.
The department plays a critical role in the health of all New Mexicans. Our faculty has expertise in the major subspecialty areas of neurology, including:
Alzheimer's disease
Epilepsy
Movement disorders
Multiple sclerosis
Neurocritical care
Neuroinfectious diseases
Neuromuscular diseases
Neurological disorders in children 
Pain
Stroke
Vascular cognitive impairment
Cutting-Edge Research
The department has major research funding for stroke, multiple sclerosis, vascular cognitive impairment, epilepsy and Alzheimer's disease. These research programs involve scientists in both the clinical and basic sciences.
Exceptional Patient Care
We have advanced neuroimaging in computed tomography (CT), magnetic resonance imaging (MRI), angiography and magnetoencephalography (MEG) for patient care and research studies.
Faculty in Neurology work closely with our colleagues in Neurosurgery to provide state-of-the-art care for patients with surgically treatable conditions such as aneurysms, vascular malformations, hemorrhages, epilepsy surgery, deep brain stimulation for Parkinson's disease, and pain management. We are able to offer patients experimental treatments for many conditions.
Our Mission
To provide comprehensive neurological care for New Mexico, to excel in the education of medical students and residents and to prepare future neurologists by offering New Mexicans the latest developments in treatment of neurological diseases through advanced scholarship and innovative research.