Gary Rosenberg Lab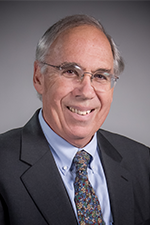 Contact the Laboratory
Lab Physical Address
Lab Mailing Address
Department of Neurology
MSC10 5620
1 University of New Mexico
Albuquerque, NM 87131-0001
Phone: 505-272-3315
E-mail: GRosenberg@salud.unm.edu
Research Interests
The Rosenberg Lab has for many years been a leader in the mechanisms of neurological disease. Members of the laboratory have done pioneering work in the areas of the cerebral vasculature, molecular mechanisms of injury, and drug development. The major role of matrix metalloproteinases in both injury and repair was discovered several years ago and has led to advances of understanding the pathophysiology of the blood-brain barrier and cell death.
Advances developed in the laboratory have been translated into patients with a variety of conditions involving injury to brain from ischemia and hypoxia. Collaborations have been important for these advances. Incorporation of high level technology into the experiments has been a major thrust of the laboratory.
Currently, several National Institutes of Health-funded projects are involved in identifying the mechanisms of injury to the white matter that is commonly seen in elderly patients. Working with an animal model of chronic hypertension, the research group has shown that an abnormal diet of low protein and high salt is very damaging to the blood vessels and leads to tissue hypoxia and breakdown of the blood-brain barrier by matrix metalloproteinases. The hypoxia was directly measured with minimally invasive long-term recording using electron paramagnetic resonance. Sites of injury were visualized with high-field animal MRI and confirmed histologically and behaviorally.
Human studies are ongoing in patients with vascular cognitive impairment. The same methods used to study the hypertensive rats have been used in patients. We have found that the white matter lesions that are progressive in a subgroup of vascular cognitive impairment patients are due to inflammation and that the regions of inflammation can be observed by MRI measurements of blood-brain barrier permeability. Drug treatments developed in the animal model are currently being tested in humans. As new drug treatments are designed, they can be readily translated into the patients, and the effects of the treatments can be followed with biomarkers.