On the Road to a BA/MD
By Rebecca Jones
Photos by Rebecca Lynn Gustaf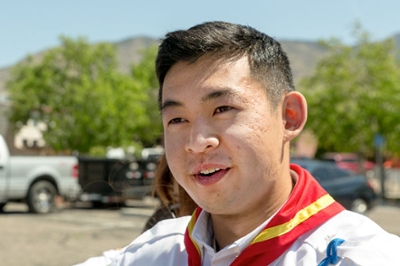 If it hadn't been for a trusty boat and a lot of perseverance long before he was born, Dang Vu just might not be a student in the UNM School of Medicine's Combined BA/MD Degree program.
Vu credits his father's harrowing story to get to the United States – and his work ethic that he passed on to his children – with Vu being able to pursue his dream of becoming a physician.
Vu, who grew up near White Sands Missile Range in southern New Mexico, is a third-year undergraduate student majoring in biochemistry. He is one of several students from southern New Mexico accepted into the Combined BA/MD program. The degree is designed to help address the state's physician shortage by training students committed to serving New Mexico communities. This partnership program between the UNM College of Arts & Sciences and the UNM School of Medicine is open to New Mexico high school seniors planning to begin college in the fall semester after their high school graduation.
The program, says Vu's former chemistry teacher Steve Ewing, is perfect for a student like Vu. He's not the kind of kid you have to keep checking on, Ewing says.
"He's very self-motivated… and he knew that's what he wanted to do," he adds. "I think it's great to have a program for a kid who knows what he or she wants to do. Our state can use that."
Vu credits Ewing with encouraging him to apply for the Combined BA/MD program.
Ewing says he expects Vu will accomplish whatever he decides he wants to do in life. Vu is a well-rounded kid who took part in the Science Bowl and the Chemistry Olympiad during his years at Oñate High School in Las Cruces. Vu also was in the Oñate Knights marching band, and is a black belt in karate as well as an Eagle Scout. 
On Sundays, you can find Vu volunteering as a youth leader at his church in northeast Albuquerque where he teaches youngsters about all kinds of handy skills such as Morse code, line formations and how to tie any type of knot. In fact, on a recent Sunday, he and fellow youth leaders tied themselves into a human knot and spent a good chunk of time trying to untie themselves.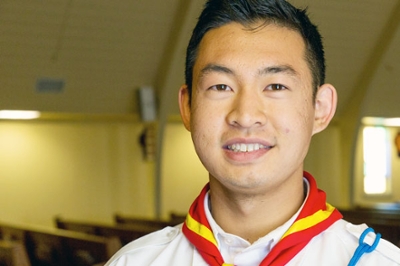 Being part of the BA/MD program has helped Vu to meet new people. "I'm having the time of my life right now," Vu says.
Even if that means nonstop studying.
As for his parents, they've always pushed him – and his sister, Thien-An, a student in the UNM College of Pharmacy - to excel.
"I have to give credit to them. They've pushed me to be who I am," he says, recalling starting the dreaded violin lessons at five years old.
"I remember picking up my violin with tears running down my face," he says of having to play. Now, he finds playing music to be a good stress-reliever, and he believes that the music lessons helped him to be a well-rounded person. He and his family used to play music for their church: Dang on keyboard, dad Chuong Van Vu (who goes by CV) on vocals, guitar and mandolin, his sister on violin and mom Hong "Daisy" Vu on backup vocals and manager.
Dang says his father's plight of arriving in the United States constantly motivates him to always do his best.
"My story begins with his story," Vu says, referring to his father's journey to the United States.
CV Vu was a member of the Boy Scouts of Vietnam, and when he was 16, communists arrived in Vietnam, a war started and everything changed for him. As a boy scout wearing his neckerchief, he was given the same responsibilities as a first responder such as a firefighter or police officer.
"He worked on saving people on the battlefield," Vu says.
CV Vu was captured and placed in prison camps three times before he found his way to the United States.
He was 18 or 19 years old when he and his boy scout troop finished building a boat in which to leave Vietnam. The day they left, a meteorologist friend said the weather should be fine. Another boat with women and children left at the same time. The young men rode in the newly built boat and decided that they would defend the women's and children's boat and be ready to take on pirates if necessary.
Bad weather rolled in along the journey, and the boats were separated. The boat carrying the women and children veered away but made it to India. Using only a map and a very inaccurate gyrocompass, the young men found their way to the Philippines. Rather than docking the boat, "they ruined the boat and swam to shore so they (the Philippines people) couldn't turn them away."
CV Vu eventually was taken in by a church in Colorado.
"He stayed in Denver, and went to college for 10 or 16 years. He was professional student," Vu says. He knew how to speak French and Vietnamese.
He couldn't speak English, yet took full loads of classes each semester not knowing how to speak the language. He was one thesis paper away from his doctorate when he got a call for a job at White Sands Missile Range. And that's how the Vus wound up in New Mexico.
Though the younger Vu is a couple hundred miles from home, his father's words follow him where ever he goes: "Whatever you do, you've got to do it with passion and perseverance, patience and prayer."