Economic Development at the HSC
 

Learn More

To learn more about Economic Development at the Health Sciences Center, call or email Dr. Richard Larson for more information at 505-272-6950 or RLarson@salud.unm.edu.
The Executive Vice Chancellor's Office provides leadership in many areas of the UNM Health Sciences Center, one of which is promoting economic development that starts at UNM and spreads throughout the state and beyond.
The EVC's office has created and oversees the following initiatives designed to strengthen New Mexico's economy.
---

Healthy Neighborhoods Albuquerque is an initiative for ANCHOR institutions to buy local, hire local and support business development in underinvested neighborhoods. The goal is to increase "Main Street" jobs. This project was initiated by the UNM HSC and includes six members. Each anchor has projects of their own, but there are two major joint projects, Operation: Carrots and a hiring pipeline.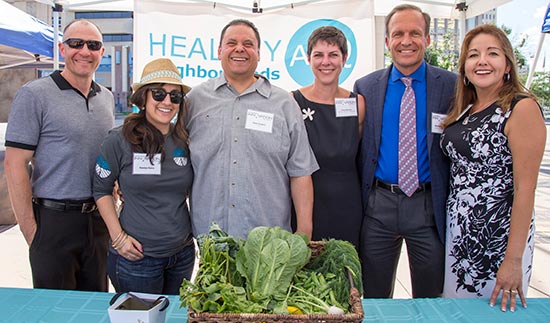 This sort of initiative is being tried by other hospitals in other cities as well. The premise is that 50% or less of a person's health or a community's health relates to the health care. The rest relates to their education, jobs, living environment, etc. If we improve their socioeconomic status we will increase their health and decrease health costs.
In the News - Three partnerships share in 'grant giveaway' (Albuquerque Journal - April 2017)
A check-up on New Mexico's health care workforce
The center is charged with tracking the ebb and flow of the number of health care providers throughout New Mexico. It's also tasked with studying our state's difficulty in recruiting and retaining doctors, nurses, surgeons and other health care professionals.
In 2012, the Health Care Work Force Data Collection, Analysis and Policy Act, became a state law that called for the following:
Licensure boards are required to develop surveys on practice characteristics.
Licensure data was directed to UNM HSC for stewardship and storage.
Establishing the New Mexico Health Care Workforce Committee, to include statewide constituents.
The committee is required to evaluate workforce needs and make recommendations.
The committee has produced a series of reports on the state of health care workers in New Mexico.
In the News
New Mexico adds health care providers, new study shows
New Mexico is making steady progress in adding doctors, nurses and other providers to meet a growing demand for services, the state's annual health workforce review has found.
Growing technology
The GrowBio initiative aims to unite public and private sectors to push biotechnology to the forefront of New Mexico's economy. By providing new, high-paying jobs, this initiative is aimed at improving the lives of New Mexicans.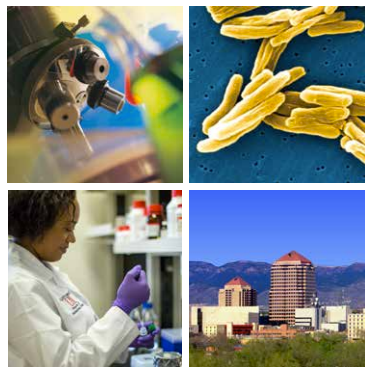 A recent comprehensive report suggests that New Mexico's current biotechnology development and recommendations are ripe for expanding current businesses and encouraging new businesses to plant roots here. So far, UNM can take credit for 38 biotech startups that have launched since 2004.
How it all began
Led by Richard S. Larson, Executive Vice Chancellor and Vice Chancellor for Research at the University of New Mexico Health Sciences Center, the GrowBio working group came together in February 2016 with the vision of creating an ideal environment to nurture the growth of biotechnology businesses in our state. The group's mission is to identify and advance strategies, and to increase awareness and support for our state's bioscience sector among public decision makers, capital investors and in the wider community.
Local business owners and health sciences leaders realize that our state has many assets that would enable the bioscience industry to play a more prominent role in our economy. A more vibrant bioscience sector in New Mexico would benefit other sectors such as:
Construction
Design and planning
Logistics and transportation
Banking
Information technology
Legal services
Participants
Agilvax
Biophagy, Inc.
Dekker/Perich/Sabatini | Architecture, Design, Inspiration
Bridgers & Paxton Consulting Engineers
GEN5 Development, LLC
Maestas Development Group
Mathis Shinnick
New Mexico Gas Company
Peacock Myers, PC – Patent & Intellectual Property Lawyers
Solaran Rx
US Bank
Yearout Mechanical
The BioScience Center
NM Bio
Technology Ventures Corporation
Verge Fund
City of Albuquerque Economic Development Department
New Mexico Economic Development Department
Sandia National Labs
Sandia Science & Technology Park
STC.UNM
Arrowhead Center
New Mexico State University
University of New Mexico Health Sciences Center
The University of New Mexico Clinical and Translational Science Center provides a variety of opportunities for faculty, students and the community to learn about efforts in advancing the biotech sector in New Mexico through a new program called NMBioventure.
Sparking Innovation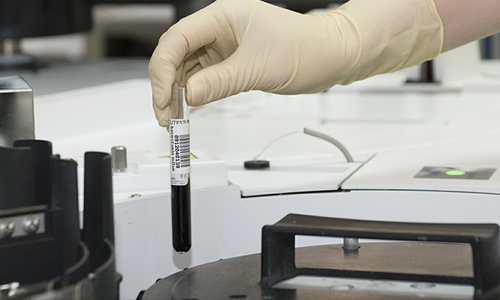 From training and education to mini-sabbaticals and networking gatherings, NMBioventure is providing new opportunities. Some of them are:
The UNM Clinical and Translational Science Center brings undergraduates and graduate students in both the UNM Health Sciences Center and the UNM School of Engineering together in the Biodesign Program.
The CTSC also provides training in development of intellectual property (invention disclosures and patents), licensing, small business start-ups and NIH grants (SBIR/STTR) applications. 
Synergy meetings cover areas such as new technology, protecting intellectual property and learning about entrepreneurship. The meetings bring together basic, clinical and translational researchers as well as core directors, members of the local biotech community, and scientists from Sandia National Laboratories.
The CTSC has developed a novel program with the NM Angel Investors, a New Mexico-based group of individuals focused on investing in early-stage companies across the country. The NM Angel Investors provide an avenue for UNM HSC research investigators to present early-stage ideas for investment and commercialization.
UNM HSC faculty meet new people and network at mixers with the local business community.