Research Mission
Approximately one in five people suffer from chronic pain. Several areas of expertise and collaborative efforts—including neuropharmacology, clinical anesthesiology, molecular neuroscience, cell biology, and molecular biology—facilitate a unique research platform at the UNM Health Sciences Center.
Our central goal is to develop novel non-opioid-based pain treatments that address the global health crisis of opioid drug abuse. Through research, we are unravelling molecular mechanisms of nociception and chronic pain in pre-clinical models and human patients.
Researchers work in our 6,000-square-foot Anesthesiology Pain Laboratories, which provide generous facilities for cell culture, biochemistry, behavioral pharmacology, electrophysiology, and immunohistochemistry. Work in the lab is generally focused on the physiological mechanisms underlying chronic pain and non-opioid treatments for it.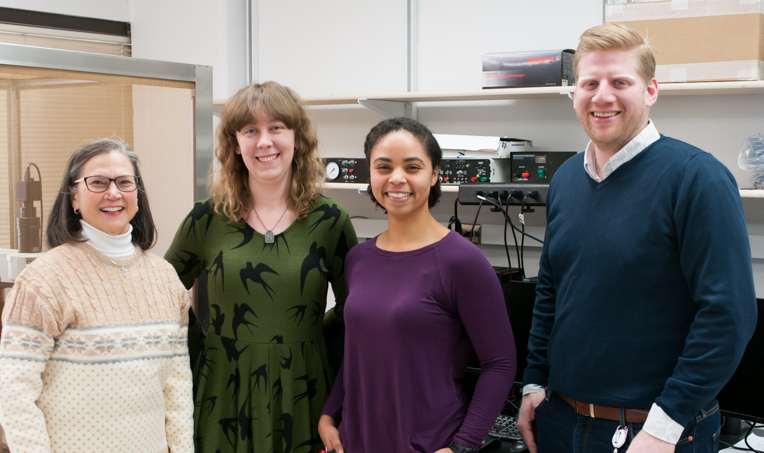 Gain Deeper Expertise
Reach out regarding graduate or postdoctoral studies in the laboratories.
Team Support
We are dedicated to improving patient care, training the next generation of clinician-scientists and providing our physicians with the tools and support they need, including:
In-house and institutional statistical support for faculty and residents. 
A dedicated staff member to assist with study design, IRB review, FDA filings, grants, statistics and manuscript preparation.
Protected research time available for faculty and advanced residents.
Resources offered by UNM's Health Sciences, including a Clinical Data Warehouse, biostatistics, numerous core facilities, a clinical trial center, grantsmanship training, funding searches, library/informatics assistance and IT infrastructure such as RedCap.
State of the art patch clamp electrophysiology and drug discovery.
Collaborative Research
Our research is heavily guided by patient chronic pain syndromes. The lab utilizes:
A combination of electrophysiological, imaging, behavioral, bioinformatic and molecular biology techniques with a focus on drug development and the physiology of pain neuronal circuits of the periphery, spinal cord and brain.
A collaborative approach with clinicians to identify novel genes and mutations involved in the pathophysiology of chronic pain.
A variety of animal models of nerve injury and neurological disease.
Learn more about our research in our Current Research Projects [PDF] and Recent Publications [PDF] 
Documents.  
Contact Us
Vice Chair for Research
Dr. Karin Westlund High
Department of Anesthesiology & Critical Care Medicine
Biomedical Research Facility
G37