Chien-An Hu Lab
Principal Investigator
Associate Professor, Department of Biochemistry and Molecular Biology
Dr. Hu received an MS (1991) and PhD (1993) in molecular genetics from The Ohio State University. He completed a postdoctoral fellowship in human molecular genetics in 1997 at Howard Hughes Medical Institute, McKusick-Nathans Institute of Genetic Medicine, Department of Pediatrics and Department of Molecular Biology and Genetics, Johns Hopkins University School of Medicine. He served on the research faculty at McKusick-Nathans Institute of Genetic Medicine until he joined UNM in 2001.
In 2004, his laboratory pioneered the cloning and characterization of human apolipoprotein L6 (ApoL6), which, when overexpressed, induced mitochondria-mediated apoptosis in cancer cells. The lab also identified and characterized ApoL1, another member of the same family, which induces autophagy and Atg5 and Atg7-dependent cell death.
Dr. Hu is an authority in proline metabolic enzymes, the apolipoprotein L (ApoL) protein family, and the crosstalk between apoptosis and autophagy. In the past 14 years, he has formed several international, cross- and transdisciplinary collaborative teams.
Interests
Dr. Hu is interested in the function and regulation of novel genes and proteins in health and disease.
He has published peer-reviewed papers in ROS generation, apoptosis and autophagy, human diseases, including cancer, atherosclerosis and end-stage kidney disease.
Recent Research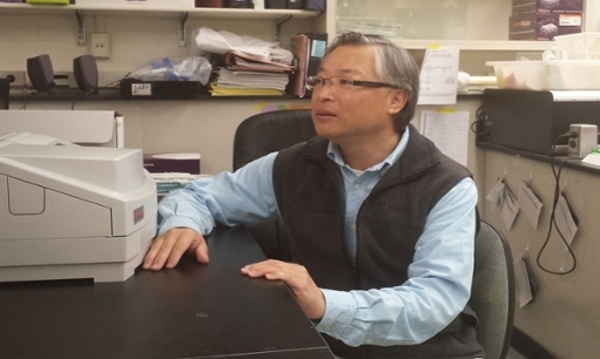 Dr. Hu's team has recently demonstrated that ApoL6 is an important factor regulating mitochondria-mediated apoptosis, Beclin 1-dependent autophagy and inflammation.
In this RO1 project, the group uses the unique cell models they recently developed to determine the mechanism by which si-APOL6 and nifedipine, a Ca++ channel antagonist, block apoptosis, enhance autophagic survival mechanism and regress inflammatory response.
Contact the Laboratory
Chien-An Hu Lab
Fitz Hall
Room 264
Department of Biochemistry and Molecular Biology
MSC08 4670
1 University of New Mexico
Are you a patient looking for care?