Meilian Liu Lab
Principal Investigator
Associate Professor, Department of Biochemistry and Molecular Biology
Dr. Liu received her MS in 2001 and PhD in 2004 in biochemistry from Xiangya Medical School, Central South University, China. She completed postdoctoral training in pharmacology at the University of Texas Health Science Center at San Antonio in 2009.
Interests
Adipose biology and immune metabolism
Thermogenic programming and beige adipocyte differentiation in adipose tissue
Adipose immune response, sympathetic nerve innervation in fat and browning of white adipose tissue
Recent Research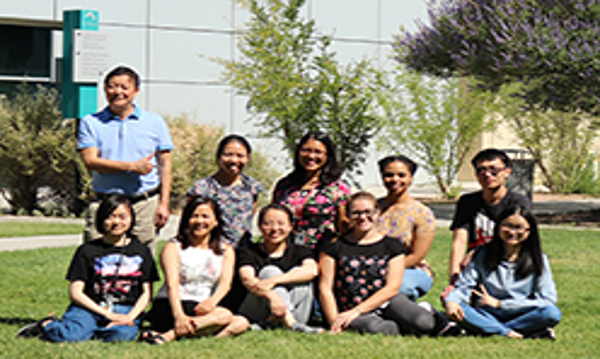 Dr. Liu's goal is to identify potential therapeutic targets for the treatment of obesity and its related diseases by studying the biology of white and brown adipose tissue (BAT). Her studies focus on the browning of white adipose tissue, adipose tissue remodeling, and cell-cell communication in adipose tissue using in vivo, ex vivo, cell culture and in vitro approaches.
BAT burns lipids and dissipates energy in the form of heat with anti-obesity property. Beige fat has potential thermogenic capacity and offers a new target to battle obesity and its related disorders. Therefore, beige adipocyte development and activation, named as browning of white adipose tissue, has attracted great attention in the past decade.
While there has been a great progress in understanding mechanisms regulating beige adipogenesis at the transcription level, much less is known on the upstream signaling pathways that impose hormonal control over the transcription machinery.
mTORC1 signaling in adipose thermogenesis and remodeling
mTOR exists in two distinct complexes, mTORC1 and mTORC2, which differ in subunit composition and biological function. mTORC1 regulates important metabolic processes including protein synthesis, lipogenesis, energy expenditure and autophagy, and is highly active in tissues of obese and high fat diet (HFD)-fed rodents. However, how mTORC1 signaling regulates induction and activation of beige adipocytes remains largely unknown.
Goal: To characterize the role of mTOR signaling transduction in regulating thermogenic program, adipose remodeling and energy metabolism.
Type 2 Innate lymphoid cells (ILC2) and ILC2-mediated type 2 immunity in metabolism
Adipose-specific type 2 immune response, which is characterized by infiltration of group 2 innate lymphoid cells (ILC2s) and eosinophils and production of type 2 cytokine IL-4 and IL-13, plays a critical role in regulating beige adipocyte development, energy expenditure and adipose inflammation.
ILC2s were shown to be present in adipose tissue and play a critical role in regulating browning of white adipose tissue (WAT). Increased ILC2 response limits the development of obesity. However, the mechanisms underlying the recruitment and activation of adipose resident ILC2s remains largely unknown.
Goal: To identify the novel roles and key regulators of adipose resident ILC2s in the context of beige adipogenesis and systemic energy homeostasis.
Major Funding
National Institutes of Health/National Institute of Diabetes and Digestive and Kidney Diseases
R01 DK110439-01
2017 - 2022
National Institutes of Health/National Institute of General Medical Sciences
P20 GM121176-01
mPI project/now co-director of Inflammation and Metabolism Core
2017 - 2022
American Diabetes Association, Innovative Basic Science Award
1-17-IBS-261
2017 - 2019
Affiliated UNM Researchers
Contact the Laboratory
Meilian Liu Lab
Fitz Hall
Room 257
Department of Biochemistry and Molecular Biology
MSC08 4670
1 University of New Mexico
Are you a patient looking for care?