Natalie Adolphi Lab
Principal Investigator
Research Associate Professor, Department of Biochemistry and Molecular Biology
Dr. Adolphi holds a PhD in Physics (1995) from Washington University in St. Louis, and an M.S. in Medical Physics (2013) from the University of New Mexico. She is the Director of the Center for Forensic Imaging at the New Mexico Office of the Medical Investigator. She is a course director and instructor for Physical Biochemistry (BIOC 451) and an instructor and facilitator for Responsible Conduct of Research (BIOM 555).
Research Interests
Forensic Radiology
Magnetic Resonance
Medicolegal Death Investigation
Nanotechnology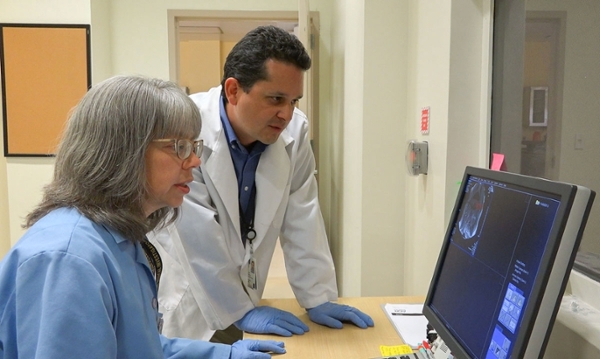 Recent Research
Current funded research focuses on applying advanced imaging methods (MRI and CT) for forensic investigation. Dr. Adolphi is also studying the use of post-mortem radiological imaging to inform clinical practice.
Recently completed research projects include:
Development of magnetic relaxometry methods for detecting targeted magnetic nanoparticles in vivo
Microcoil NMR methods for in vitro detection of magnetic particles
Novel MRI techniques for pulmonary imaging
Targeted magnetic nanoparticles for MRI detection of cancer
Major Funding
Evaluation of the Routine Use of CT Scanning to Supplant or Supplement Autopsy in a High-Volume Medical Examiner's Office.
PI: Adolphi. 2016-DN-BX-K002
2017-2020
$619,325
Goal: Determine how daily use of post-mortem CT impacts the practice of medicolegal death investigation at the New Mexico Office of the Medical Investigator from the standpoints of image interpretation, case management and cost.
Improving and Evaluating Computed Tomography and Magnetic Resonance Imaging in the Investigation of Fatalities Involving Suspected Head Trauma.
PI: Adolphi. 2016-DN-BX-0173
2017-2020
$714,891
Goals: Improve the radiological assessment of fatal trauma by 1) improving post-mortem CT reporting methods and 2) adding post-mortem MR. Evaluate the impact of this improved imaging protocol on the reliability of injury detection in fatal trauma cases.
Collaborators
Yohsuke Makino, M.D., Ph.D., Associate Professor, Graduate School of Medicine, University of Tokyo
Kana Unuma, M.D., Ph.D., Junior Associate Professor, Tokyo Medical and Dental University
Shamsi Daneshvari Berry, Ph.D., Assistant Professor of Biomedical Informatics, Western Michigan University Homer Stryker M.D. School of Medicine
Sharon Derrick, Ph.D., Director, Tidal Forensic Anthropology Services Laboratory, and Assistant Professor, Department of Life Sciences, Texas A&M University - Corpus Christi
Jennifer Spence, Ph.D., Post-doctoral Research Associate in Anthropology, Texas State University.
Are you a patient looking for care?