A Career in Family Medicine
Preparing you for your career in Family Medicine is our goal - whether it is primary care or subspecialty training, our mission is to provide you with outstanding instruction to assist you in becoming a leader in Family Medicine. 
This mission is realized through a diverse curriculum delivered in the clinic, in the hospital, in rural and urban New Mexico, and in conference and seminars. Each experience is designed to assist in the development of a well-rounded, self-motivated, confident and extremely competent Family Physician.
We endeavor to create individualized schedules that provide sufficient structure, with enough flexibility to facilitate participation in your areas of interest, from community-based and under-served medicine, to scholarship, to international experiences, to public health advocacy.

I chose this program because of its emphasis on community health, diverse patient-population, dedicated faculty, and supportive environment. UNM stood out to me as it truly strives to make a positive impact on the population it serves.
—
Dr. Sara Abla
, UNM FM Residency, Class of 2021
Supporting our Community Through the COVID Pandemic
Despite a global pandemic that dominated 2020, the Family Medicine Residency Program continued to support the education and growth of amazing health care providers. 
Our department and residency program continued to be leaders by stepping up in significant ways to support the health of our community of patients, and our Health Sciences community with a heart for team-work and excellent patient care. 
Our residents volunteered to take Critical Care shifts here at UNM and at Shiprock; they also took more inpatient shifts to help cover COVID teams as well as take Internal Medicine overflow.
Contact
Residency Program
Dolores Garcia
MSC 09 5040
1 University of New Mexico

Albuquerque, NM 87131
Phone 505.272.6607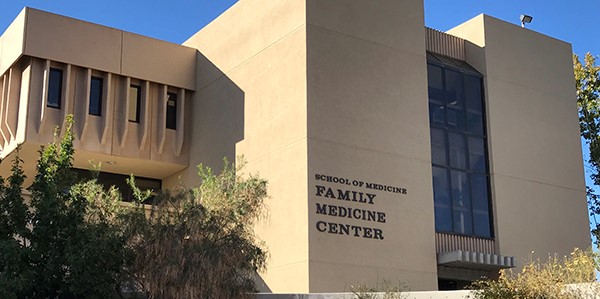 Are you a patient looking for care?