UNM Research & Neuroscience
UNM offers basic science and clinical research opportunities. This combination is unique at a smaller program, allowing residents choices and greater mentorship attention throughout their research.
Residents connect with faculty from neurology, neuroscience, neurosurgery and other departments to design and carry out research at UNM Hospital, UNM School of Medicine and the VA Medical Center. As a resident, your research can touch many subspecialty areas of interest, including ICU critical care, neuromuscular problems, epilepsy and neuroimmunology.
Participating in research projects will prepare you for a career or fellowship. Many residents present their results at professional meetings and co-author publications.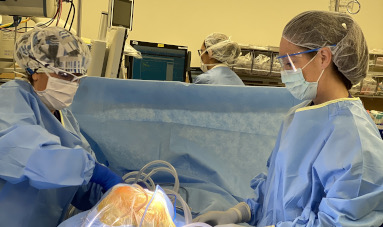 The Value of Research for Residents & Faculty
All neurology residents participate in research projects with faculty mentors. Researchers present their findings at our annual Resident Research Day every June. Projects are often clinical and translational but can also be basic science oriented. Contact us to learn more.
Research Facilities and Resources
Biomedical Research and Integrative NeuroImaging Center (BRaIN) Imaging Center
The BRaIN Center is a multimodal integrative neuroimaging facility for CNS pathophysiology research at the UNM Health Sciences Center.The facilities are open to all researchers, even researchers who are not studying neurological related diseases.
Established in 2001 with the support from a NIH COBRE Phase I grant, UNM's BRaIN Center houses a globally unique assemblage of imaging technologies for in-vivo and in-vitro studies including
magnetic resonance imaging
electron paramagnetic resonance spectroscopy and imaging
confocal laser scanning microscopy
Human Imaging Research Core (HIRC)
The HIRC provides administrative support for research conducted on clinical magnetic resonance imaging (MRI) scanners at the UNM Outpatient Surgery and Imaging Services (OSIS) center and at the UNM Hospital.
Based on fee-for-services, the HIRC will provide comprehensive research support to include budget development and pricing for grant submissions, registration and scheduling of research participants, and data transfer. Additional services include protocol development, data anonymization, medical physics QC and image storage on a dedicated research PACS.
Brain and Behavioral Health Institute (BBHI)
At the BBHI, we harness the efforts of our top UNM researchers, clinicians and educators along with our NM community of patients, families, advocates, and providers to deliver state of the art research initiatives and advocacy about brain and behavioral health.
Brain and behavioral illnesses are disorders that involve the brain and mind. These illnesses can affect multiple areas of a person's life including their movements, thoughts, moods, body functions and behaviors. Different disorders can strike at every stage of life.

In early childhood, developmental disorders can include Autism Spectrum Disorders, Fetal Alcohol Spectrum Disorders (FASD), Neonatal Opioid Withdrawal Syndrome (NOWS), and dyslexia.

Schizophrenia and depression are often diagnosed in early adulthood, and as we age we become increasingly susceptible to Alzheimer's disease, Parkinson's disease, stroke, and other neurodegenerative/neurological diseases.

Traumatic brain injuries are common and can happen at any point in time. Substance use disorders are also very common and affect people across the lifespan.
Our Commitment to Treating Brain and Behavior Disorders Improves Community Health
Most New Mexican families have been touched by at least one brain or behavioral disorder. Our neurologists and residents are devoted to treating these devastating disorders to improve community health.
Apply to an Adult Neurology Residency
Begin your application today through ERAS. Each year, 5 new residents who are dedicated to the health of New Mexicans join our program.
Contact UNM Neurology
Mailing Address:
UNM Neurology
MSC10 5620
1 University of New Mexico
Albuquerque, NM 87131
Physical Address:
UNM Hospital
2211 Lomas NE
Albuquerque, NM, 87106
Are you a patient looking for care?