Neurosurgery Opportunities for Medical Students
UNM's medical students get unparalleled experience in neurosurgery. You'll join a care and research team from your first day on campus.
Our patient-centric, integrated neurosurgery rotations provide endless opportunities to develop clinical and research expertise across your first four years at UNM. Upon graduation, you'll be prepared to apply for neurosurgical residency in the subspecialty you choose.
What to Expect in Your Neurosurgery Rotation
During your four-week rotation, you will experience the full spectrum of neurosurgery practice. Working alongside clinicians, neurosurgeons, advanced practitioners and faculty, you'll see patients, prepare clinical notes and observe complex neurosurgeries, from stroke procedures to traumatic brain injury treatment.
All clinical training is conducted at UNM Hospital, the only academic medical center in New Mexico. Plus, you can participate in neurosurgery research and projects beyond the tenure of your rotation.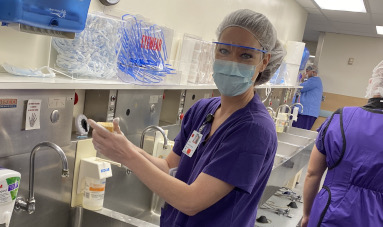 Interested in a Rotation?
Reach out to our coordinator to discuss opportunities for clerkships and away rotations.
New Mexico's Only Neuro ICU
Are you a patient looking for care?