Dual Degree

Option
Pre-Licensure BSN
Stay in your community and earn your Associates & BSN. 
This option is designed for students who want to stay in their New Mexico community. You will be based at your local community college or branch campus and co-enrolled at UNM to earn a Bachelor of Science in Nursing degree.
Minimum Requirements to Apply
 UNM or transfer sophomore enrolled in pre-nursing or equivalent 
2.75 GPA in prerequisites
HESI A2 exam, scoring a minimum of 75%
Successful completion of nursing prerequisites
Application criteria and deadlines may vary by institution.
For the full list admissions criteria and application
20

Month to Graduation

5

Consecutive Terms

93%

Licensure Pass Rate
Your Education
Three semesters of prerequisites
Five consecutive terms, including summers, upon admission to the UNM College of Nursing
Coursework on your community college or branch campus
Experiential clinical courses in a hospital or clinical setting
Curriculum
You will start with your prerequisites and begin your nursing courses in the 2nd semester of your sophomore year.
Upon completion of the curriculum you with finish with 122 credits. Well worth to care for New Mexico and beyond.
Program Length
Central New Mexico Community College (20 months)
San Juan College (24-28 months)
Santa Fe Community College (24-28 months)
University of New Mexico – Gallup (24-28 months)
University of New Mexico – Taos (24 months)
University of New Mexico – Valencia (24-28 months)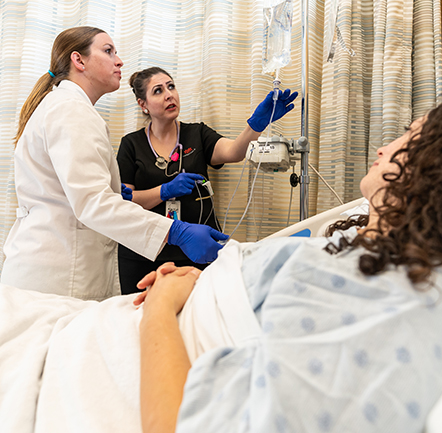 Clinical Experiences
In your in-person or tele-health clinical experiences, you will develop your skills with practice, as you interact with your patients. 
Simulating Real-World Experiences
From IV pumps to high-fidelity manikins. Our simulation labs allow for clinical experiences in a safe, low risk environment.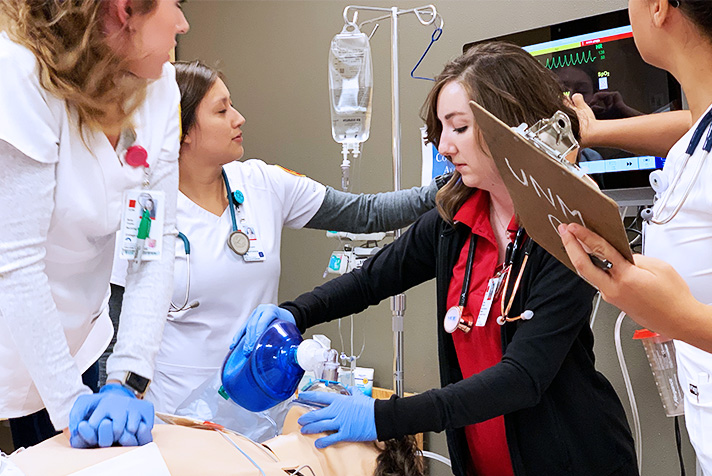 Your Objectives
In our program you will meet the following objectives:
Engage in professional nursing practice that is patient-centered and culturally appropriate for individuals, families and communities.
Integrate principles of quality improvement and safety into nursing practice within healthcare organizations and systems.
Deliver nursing care that is evidence-based.
Demonstrate leadership behaviors through the application of policies that apply to healthcare delivery.
Engage in effective interprofessional collaboration in the delivery of healthcare for quality patient outcomes.
Use technologies for the management of information and delivery of patient care.
Support for Your Education
The majority of our students received some form of financial aid – scholarship, grant, loan, work study or teaching assistant position.
We also offer more than $270,000 in UNM College of Nursing scholarships. Individual scholarship amounts range from $200-$4,000 annually.
Admissions, Tuition & Financial Aid
Ensuring Your Success
We are dedicated to your education and providing ongoing support for all of our students. That is why we have Student Success Coordinators. We offer services to individual students and small groups.
Virtual Campus Experience
Explore the UNM College of Nursing's Virtual Campus Experience and what being an undergraduate UNM student nurse means.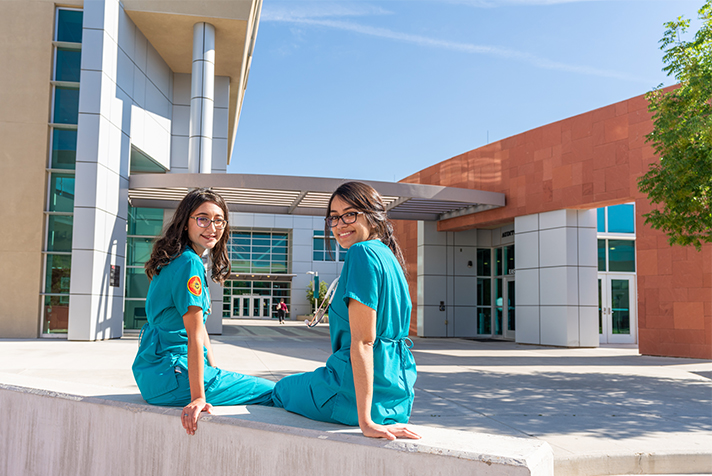 Questions?
Moving forward with the next steps to becoming a BSN prepared nurse is exciting. There is lots of information to consider as you prepare to apply.  We know you have questions. We have answers. Just reach out to us.
Our experienced advisors and BSN Pre-Licensure Program Director, Susan Koronkiewicz, MSN, RN, CNE, CCRN are ready to answer your questions. 
BSN Program Contact
Pre-Licensure Program Director, Principal Lecturer 

Susan Koronkiewicz, MSN, RN, CNE
College of Nursing
Building 235
Room 230
1 University of New Mexico
Schedule an Appointment with Our Advisors